Wright relied on 'subtle' leg kick to start season
Mets third baseman believes in tweaking mechanics to find rhythm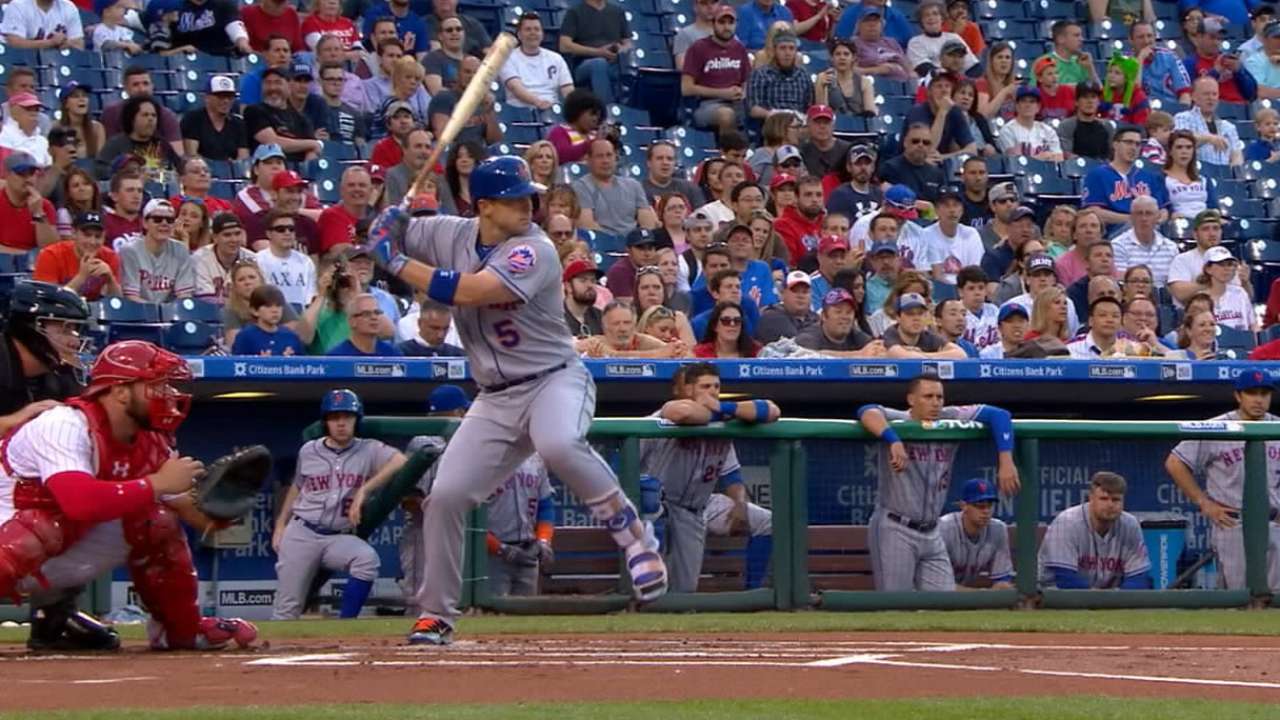 NEW YORK -- The sight of David Wright in the batter's box inspires double-takes now because he is, literally from the ground up, a different hitter than he was before. Marlins infielder Martin Prado learned this on a sunny day in Florida this spring, when he noticed something new in his old friend.
Wright and Prado are contemporaries, having debuted two seasons apart. And for so many of Prado's 116 career games against the Mets, he's watched Wright's swing unfold a certain way.
• Cast your Esurance All-Star ballot for Wright and other #ASGWorthy players
For the majority of his career, Wright would plant his front foot when the pitcher first showed the baseball. Then he would coil on it, his front leg and back elbow twisting in unison, creating potential energy as he turned his hips. His bat now cocked forward, Wright recognized the pitch with his head still. Then he drove his back hip through the zone against his stiff front leg, the tension creating the compact three-part swing that produced the most hits in Mets history.
"I'm a mechanics guy," Prado said. "So I noticed he wasn't doing that anymore."
Wright was using a leg kick, a high-risk, high-reward approach to hitting he started considering after last year's World Series appearance. Wright texted Mets hitting coach Kevin Long in December with two reasons to rationalize playing around with the new approach. First, he wanted to alleviate some of the strain his torque-heavy swing put on his spinal stenosis. Second, the former All-Star sought a "rhythm" he believed was lacking last season while he slashed .277/.381/.437 following his return to the lineup on Aug. 24.
"In general, it allows the natural transfer of getting off your back side. It allowed me to do that a little easier," Wright said of the leg kick. "The main thing is just trying to control it. I want it very subtle, as opposed to a big thing where I get it too far up."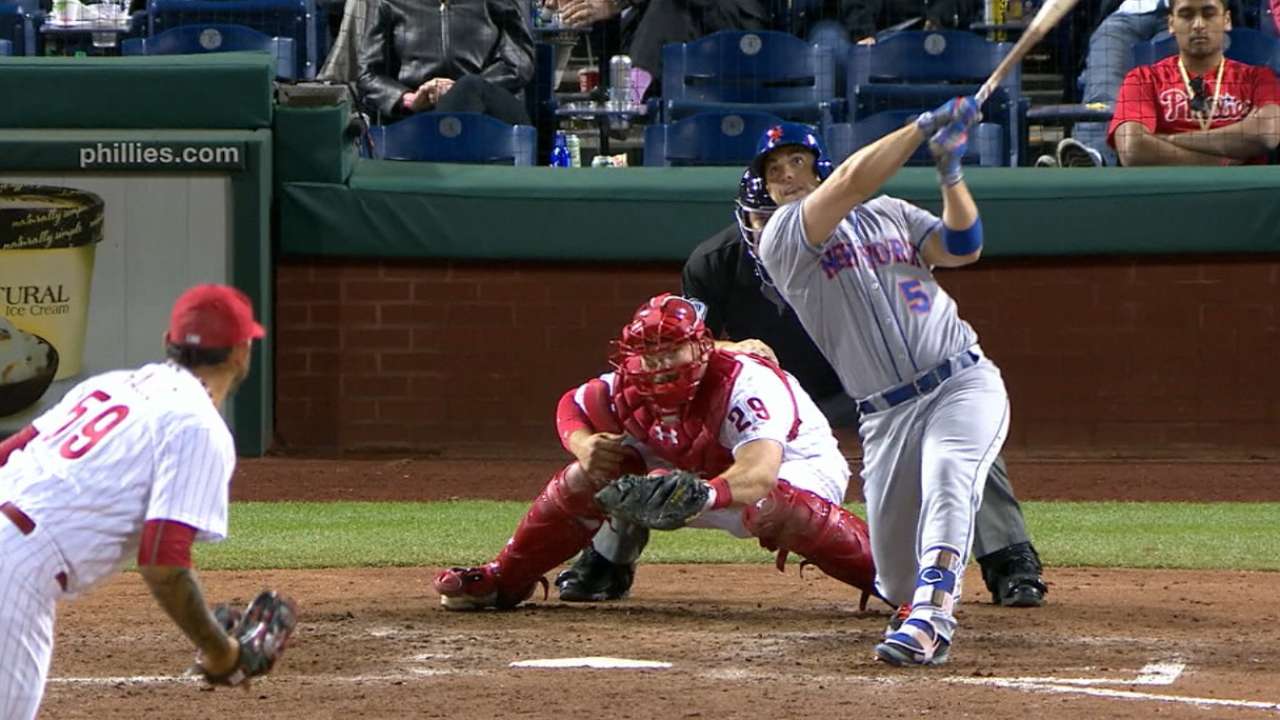 "Timing is everything," said Long, who helped convert former Mets infielder Daniel Murphy to the school of getting his front foot down early last season, to historically productive results. "The point at which it comes down and your ability to control your stride foot are two of the biggest factors in being consistent."
Some hitters are petrified to mess with their swing unless they're really struggling. Some are constantly tinkering, like anxious mechanics on a show car. Wright is of the latter category, and he has strayed from getting his front foot down early before. Every time, he eventually returned to what he finds most comfortable.
That happened again Tuesday, when Wright abandoned the leg kick for the first time this season. He had a .238/.342/.444 slash line to that point, ranking second in the National League with 26 strikeouts. He was missing more fastballs (19.6 percent) and breaking balls (27 percent) than since 2007 (9.4 percent and 21.8 percent, respectively), when Brooks Baseball began tracking such data.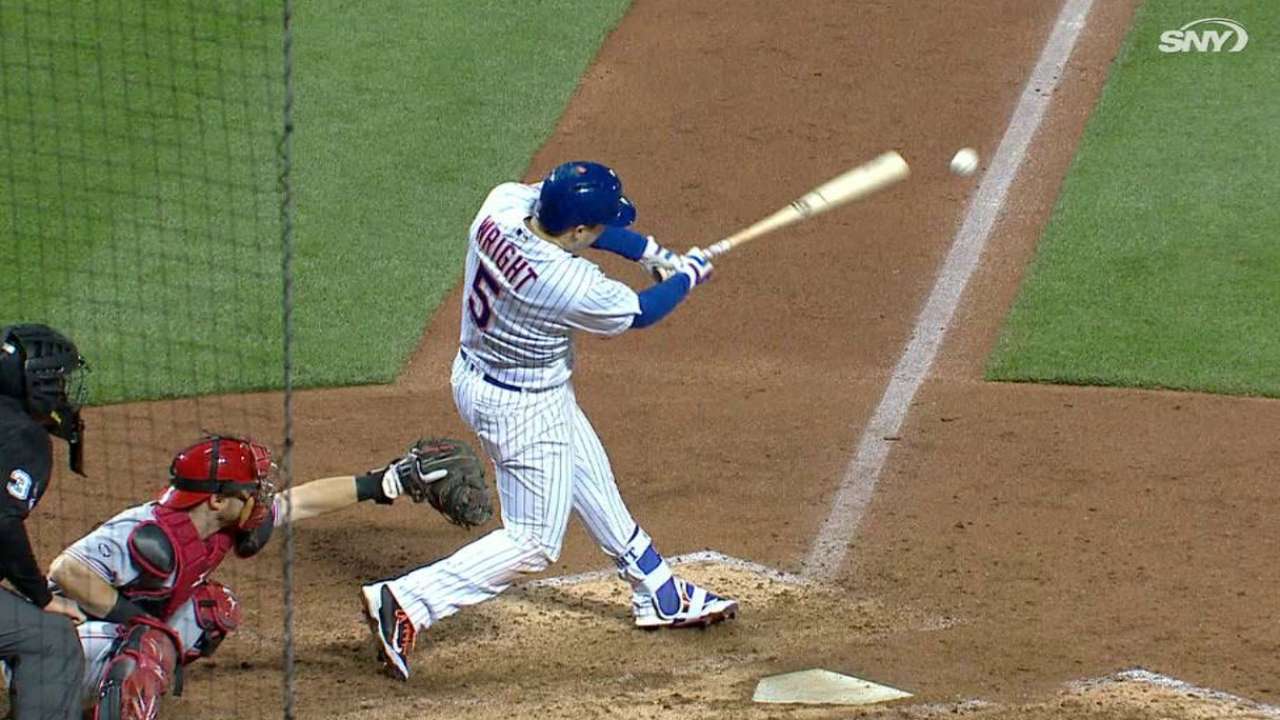 Though Wright's line-drive rate soared to 34 percent (well above his career average of 23 percent), he wasn't using the middle of the field like he once did. He has hit the ball to the center of the diamond 33 percent of the time over his career. With the leg kick, Wright did so just 17 percent of the time. A hitter succumbing to both pull and opposite-field extremes is indicative of a timing issue.
And though Wright found initial success with the new approach -- posting a .289/.426/.526 slash line through his first 10 games -- his recent slump follows a pattern set by hitters attempting similar transitions.
"Hitters who switch to a leg kick can have a lot of success at first, because they don't know how to mess it up," Marlins assistant hitting coach Frank Menechino said on April 12. "They have all this recognition and the ball looks really big to them. Eventually, they're going to speed up again, get out of whack. I call it getting disconnected. They lift up their foot and their body starts coming forward. The head starts moving, speeding the baseball up."
"I've kind of gone back and forth based on timing, how I feel," Wright said. "I'd like to find something and stick with it, but over the course of the season, sometimes things don't go your way."
Joe Trezza is a reporter for MLB.com based in New York. Follow him on Twitter at @joetrezz. This story was not subject to the approval of Major League Baseball or its clubs.