Franco signs brand contract with Fantex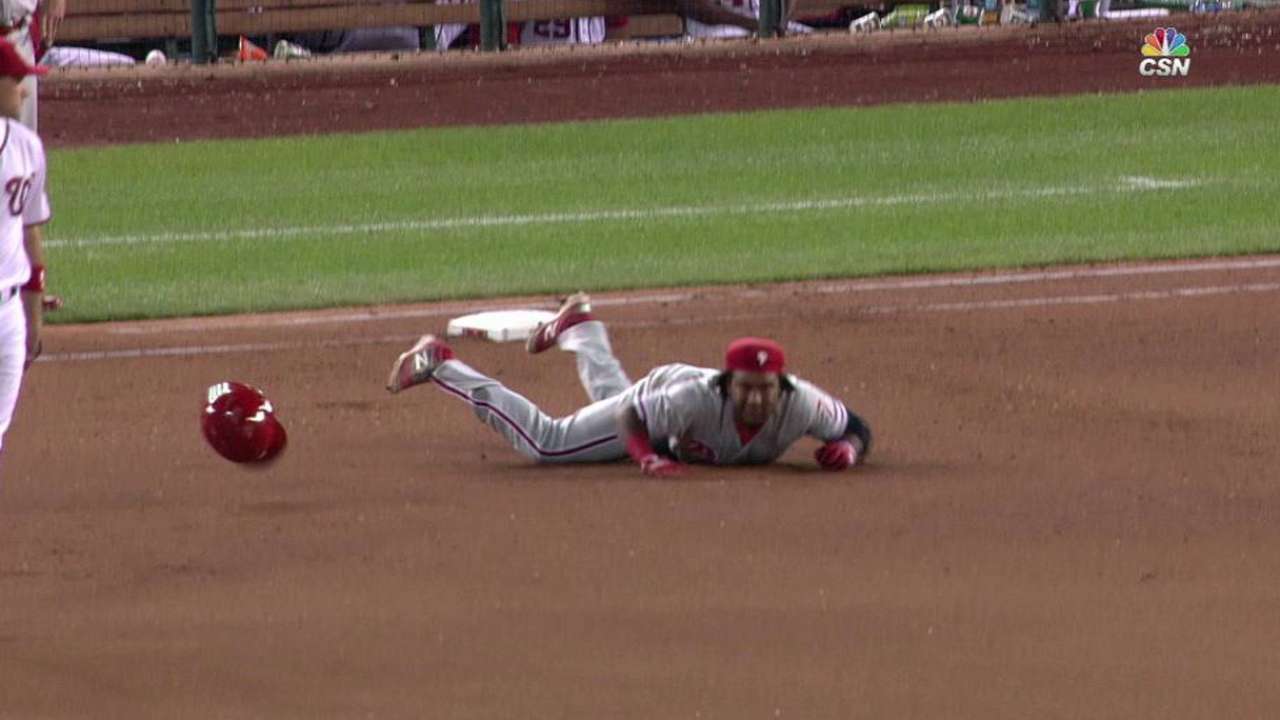 WASHINGTON -- Phillies third baseman Maikel Franco has been heating up the past few days.
Entering Wednesday's 3-0 win over the Nationals, Franco had hit .444 (8-for-18) with one double, three home runs and nine RBIs in his last four games. He went 1-for-3 with a walk from the third spot in the lineup.
There could be many reasons for that, but one reason might be that he is more relaxed on the field. Franco recently signed a $4.35 million brand contract with Fantex, which will receive 10 percent of Franco's future earnings on and off the field.
In the future, Fantex expects to sell shares of Franco "stock" to public investors. In this case, those investors will see a profit if Franco earns more than $43.5 million in his career.
MLB and the MLBPA each have approved agreements like this in the past. Notably, Angels pitcher Andrew Heaney agreed to a $3.34 million deal with Fantex last year.
"It feels great," Franco said through the Phillies' interpreter. "I'm able to play baseball in a calmer way now. I'm more relaxed now when I take the field because it brings stability."
"Maikel is really excited about working with Fantex," Franco's agent Ryan Royster wrote in a text message. "This deal allows him to invest in himself and his future and frees him to focus on his performance and helping his team win ballgames. … Maikel, his family and myself (BTI Sports ) are all on board with this decision."
Essentially, Franco is taking a payday before he is eligible for salary arbitration and free agency in exchange for a potential windfall in the future. It is possible that the deal could affect the way Franco approaches future contract talks.
In other words, if Franco already has $4.35 million in earnings, he might be less apt to take a contract extension that would guarantee security but could limit his earnings potential if he becomes a star.
Clearly, Franco values the financial security the Fantex deal could bring.
"It was definitely part of it," Franco said. "It's an important factor that I took into account. My lawyer and I decided that it would be a good deal for us, and we agreed to do [it]. Obviously, I feel comfortable. Now, I can take care of my family. Everything is good. Now, I just can play baseball."
Todd Zolecki has covered the Phillies since 2003, and for MLB.com since 2009. Read his Phillies blog The Zo Zone, follow him on Twitter and listen to his podcast. This story was not subject to the approval of Major League Baseball or its clubs.