Belt spearheads 'shifty' offense with 5-RBI day
First baseman among handful of Giants who take advantage of Padres' shift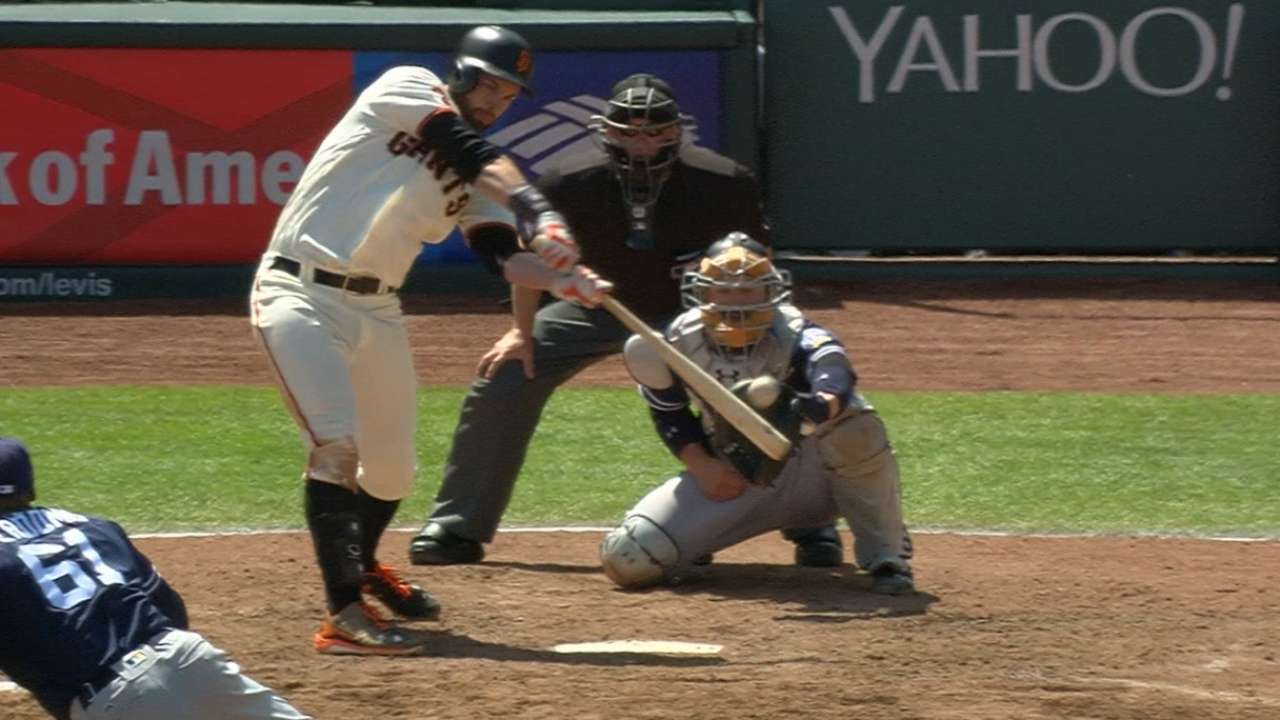 SAN FRANCISCO -- Brandon Belt said he didn't pay much attention to the shift. Matt Duffy said it was the first time he tried to beat it.
Either way, the approach worked as Belt recorded three hits and drove in five runs and Duffy added three hits, including a triple, in the Giants' 13-9 victory over the Padres on Wednesday at AT&T Park to complete a three-game sweep of their National League West rivals.
"Any game within the division is big because you don't want to give up a game to a team you're directly competing against," Duffy said. "When we lose four to start the homestand and finish 5-5, we'll take it. It's big to turn it around the way we did."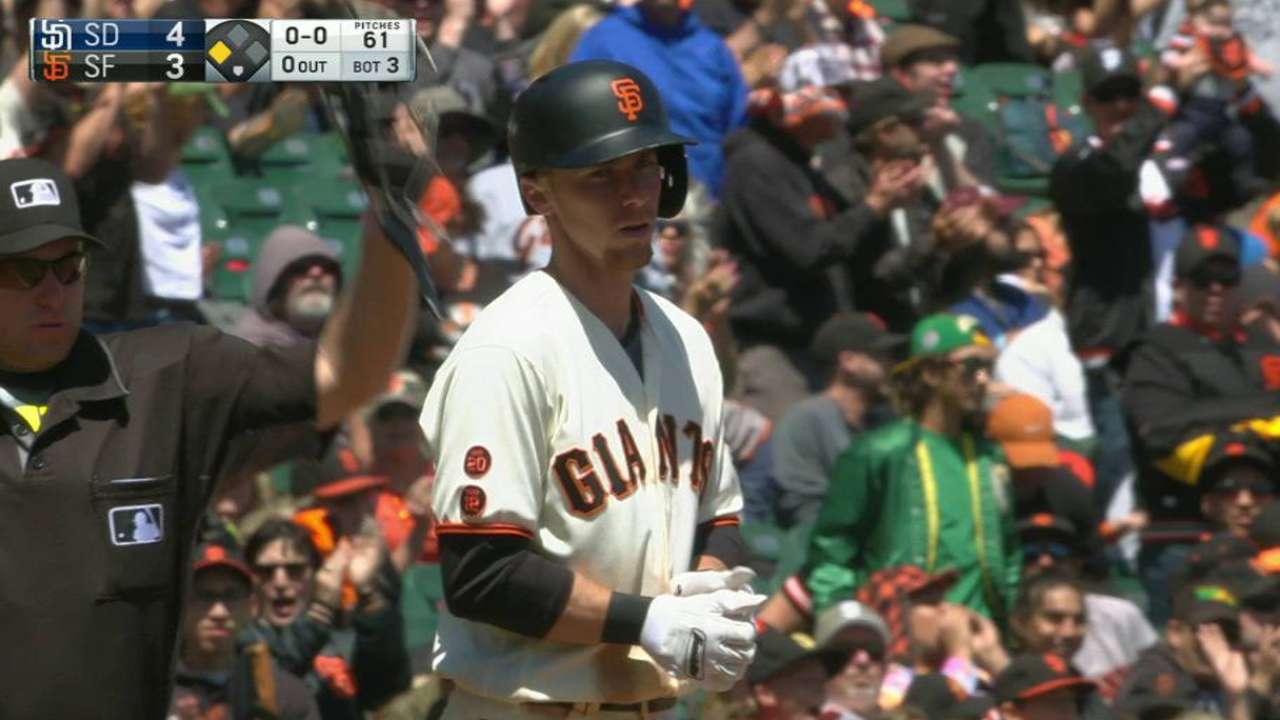 Belt, who was a home run shy of the cycle, hit the ball hard every time. He thought his sacrifice fly in the first inning could have left the yard -- which would have made it a grand slam -- if the the wind hadn't held it up.
As for hitting against the shift, well, Belt likes to think he doesn't take it into consideration.
• Cast your Esurance All-Star ballot for Belt and other #ASGWorthy players
"I don't think about it," he said. "I stick with my approach and try to find something good to hit and hit it hard. If I do that, I have a better chance against the shift."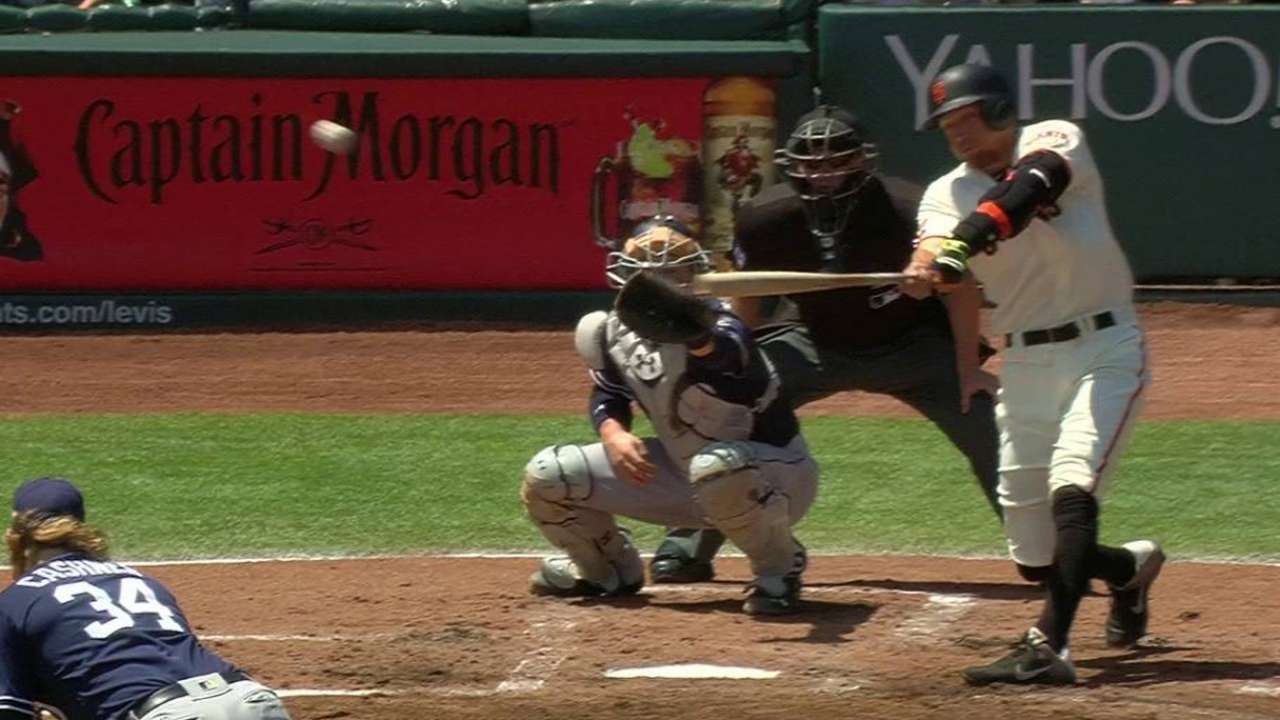 The Giants scored a season high in runs and collected 16 hits, one off their season high. Duffy was the only hitter who acknowledged trying to beat the shift. He singled twice, grounded out to second base and walked in his other at-bats.
All nine starters and pinch-hitter Gregor Blanco got into the swing of things as the Giants broke loose after collecting just four hits in a 1-0 victory on Tuesday night.
"We had it in us to score a lot of runs," Belt said. "We stuck with our approach and finally made things happen."
Hunter Pence also had three hits, including a triple, and drove in a pair of runs. He walked twice and reached base in all five of his at-bats.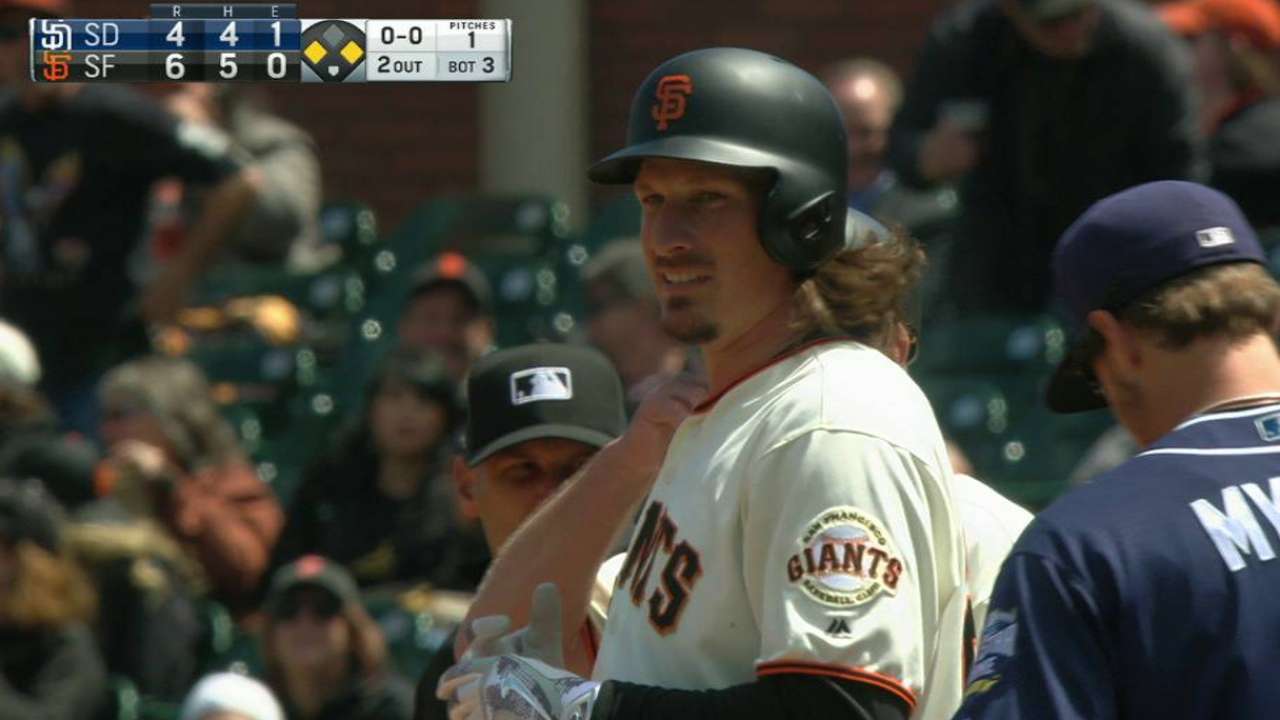 Starter Jeff Samardzija (3-1) even added a two-run single as every Giant either drove in a run or scored.
"A broken bat bloop single at the right time," Samardzija said. "If you make contact, there's a lot of green out there."
Joe Panik and Trevor Brown each added a pair of hits and an RBI, while Brandon Crawford and Blanco also drove in runs.
With the pair of RBIs, Samardzija pushed his season total to five, a total shared by Crawford.
"I think that's a testament to our offense," Duffy said. "We have the ability to hit a couple of homers, but if not we can hit a team to death. I feel like we were able to do that today. Someone pointed out in the eighth inning we hadn't hit a home run. And that's all right, obviously, so it was definitely a big day for us."
Rick Eymer is a contributor to MLB.com based in the Bay Area. This story was not subject to the approval of Major League Baseball or its clubs.