Myers pushes hit streak to 12 with long ball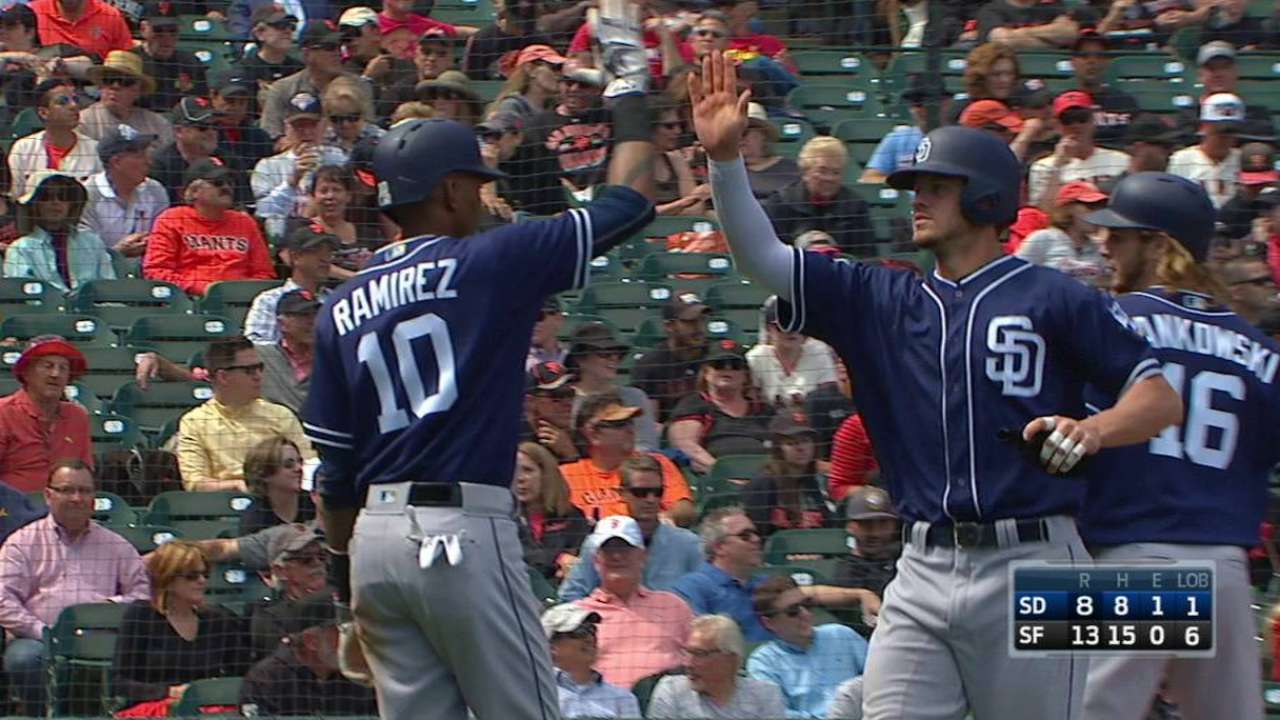 SAN FRANCISCO -- Wil Myers loudly and emphatically tied his career-high 12-game hitting streak Wednesday, crushing a three-run home run into the left-field seats at AT&T Park during the seventh inning of the Padres' 13-9 loss to the Giants.
Myers equaled a personal mark set in July 2013, his first full month in the Major Leagues. The home run exited his bat at 111 miles per hour and was projected at 392 feet by Statcast™.
"I just feel that I have my approach at the plate," Myers said. "I'm seeing the ball well. I'm zoning them up. I'm not really chasing out of the zone, and that's the biggest thing."
Myers' hitting streak began on April 15, the day Padres skipper Andy Green moved him to the second spot in the batting order. In that time, Myers is hitting .372 with three homers.
Wednesday's long ball came on a 1-0 fastball from Giants reliever Steven Okert. Myers was sitting dead red and got exactly the pitch he was looking for.
It's been an impressive stretch for Myers, who started sluggishly and couldn't seem to keep his strikeout rate down for the first two weeks of the season.
Recently, however, Myers has been much tougher for opposing pitchers to put away.
"When he has a supreme focus in an at-bat, he's as good as anybody in the game," said Green. "I challenge him every day, like, 'Don't give an at-bat away. Every at-bat builds on the one in front of it.' When he does that, he's really, really good."
AJ Cassavell covers the Padres for MLB.com. Follow him on Twitter @ajcassavell. This story was not subject to the approval of Major League Baseball or its clubs.