Padres unable to balance hitting, pitching in SF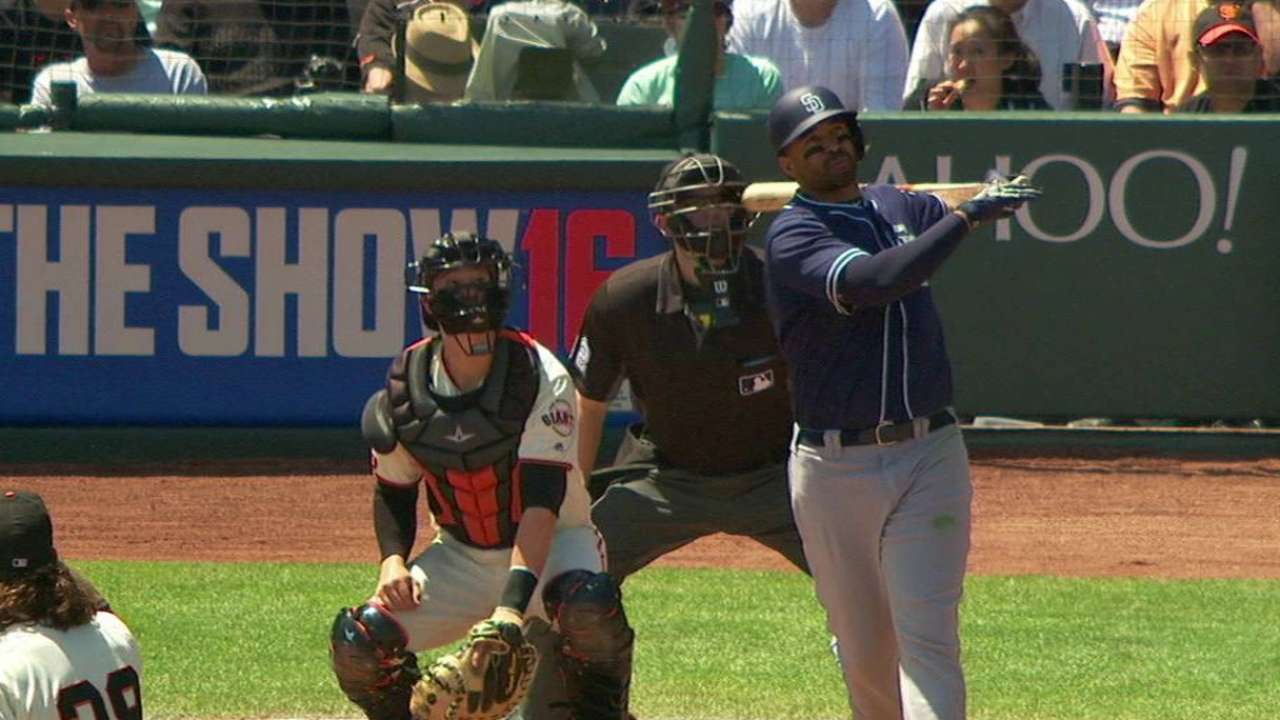 SAN FRANCISCO -- It's certainly understandable that the Padres would qualify their three-game sweep at the hands of the Giants this week as more frustrating than usual.
During Wednesday's 13-9 loss, they got plenty of offense, but none of the pitching needed to back it up. That came one day after Padres pitchers allowed one run but didn't get the offense needed to back them up. And that's not to mention Monday's game, which may have been the most maddening of the three, as San Diego rallied late but never broke through with a timely hit.
The Padres did a lot of things right in San Francisco this week. Problem is, they didn't do any of those things at the right times, and they came away empty-handed.
"In all reality, we had every opportunity to win the first two games of the series, and then [we put] nine runs on the board today," said manager Andy Green. "Very competitive games for us, just not getting over the hump right now."
"It's something we've got to change. We've got to start winning baseball games. Instead of just competing, we've got to get over the hump."
The Padres showed some fight early on Wednesday, rallying from a three-run deficit with a four-run third inning capped by Matt Kemp's homer.
But starter Andrew Cashner struggled mightily, lasting only 2 2/3 frames, his shortest start since 2013. Then, on his first pitch as a Padre, reliever Michael Kirkman surrendered a go-ahead two-run single to opposing pitcher Jeff Samardzija. The floodgates opened on the Padres' bullpen from there.
"You get down 3-0, you battle back, you get four runs, then you give it back," Green said. "They kind of separated from us at that point."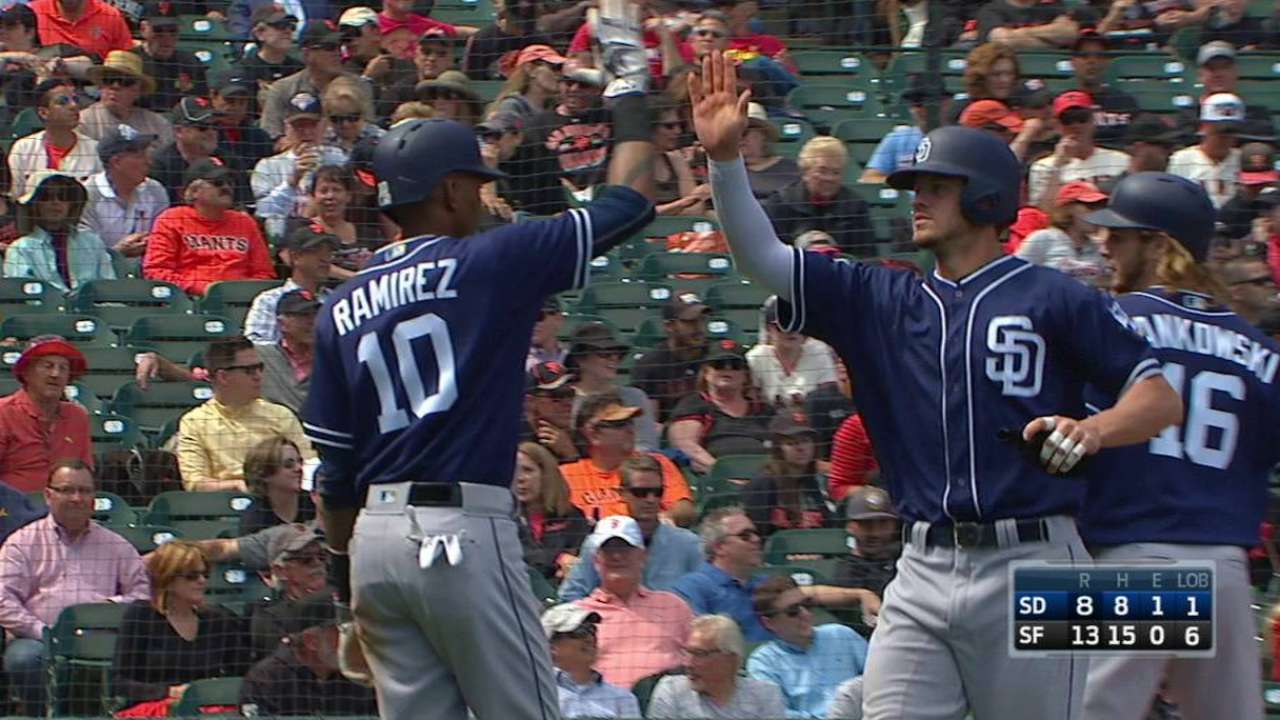 Wil Myers, who extended his hitting streak to 12 games with a seventh-inning dinger, acknowledged the positives from the series -- namely James Shields' stellar effort on Tuesday and the nine-run, three-homer outburst on Wednesday. But without wins to show for it, those positives don't mean much to the Padres' first baseman.
"Any time you lose a few in a row like that, that's tough," said Myers. "You always want to come out with a win. But that's the way the game goes sometimes. You've just got to keep going."
The series in San Francisco marked the second time the Friars have been swept this season -- the first coming during their season-opening set against Los Angeles. They bounced back to win two of three that weekend in Denver.
This time, however, the Padres will be looking to bounce back against those Dodgers, who have had their number of late.
"You obviously have your ups and downs," Myers said. "Every team -- whether it's a first-place team or a last-place team -- goes through their ups and downs. It just so happens we kind of went through a whole series with a lot of downs. We've got to bounce back and have a good series in L.A."
The Padres have lost five straight, putting a damper on a solid stretch last week. But Green believes things can change for the better just as quickly as they changed for the worse.
"Baseball does turn -- it turns fast and it turns quickly," Green said. "As fast as momentum snowballs in the wrong direction, it snowballs back in the right direction, too, if you stay the course and keep believing and doing the right things."
AJ Cassavell covers the Padres for MLB.com. Follow him on Twitter @ajcassavell. This story was not subject to the approval of Major League Baseball or its clubs.