A's add McBride for temporary roster depth
DETROIT -- Continuing to use their last roster spot to provide depth, the A's called up utility man Matt McBride on Wednesday and optioned right-handed reliever Andrew Triggs to Triple-A Nashville.
Additionally, left-hander Felix Doubront was transferred to the 60-day DL on Wednesday after undergoing Tommy John surgery earlier this month, opening a 40-man roster spot for McBride.
Triggs was brought up earlier this week to help a taxed bullpen get some rest, and he threw a perfect inning in his Major League debut during Monday's 7-3 loss to the Tigers.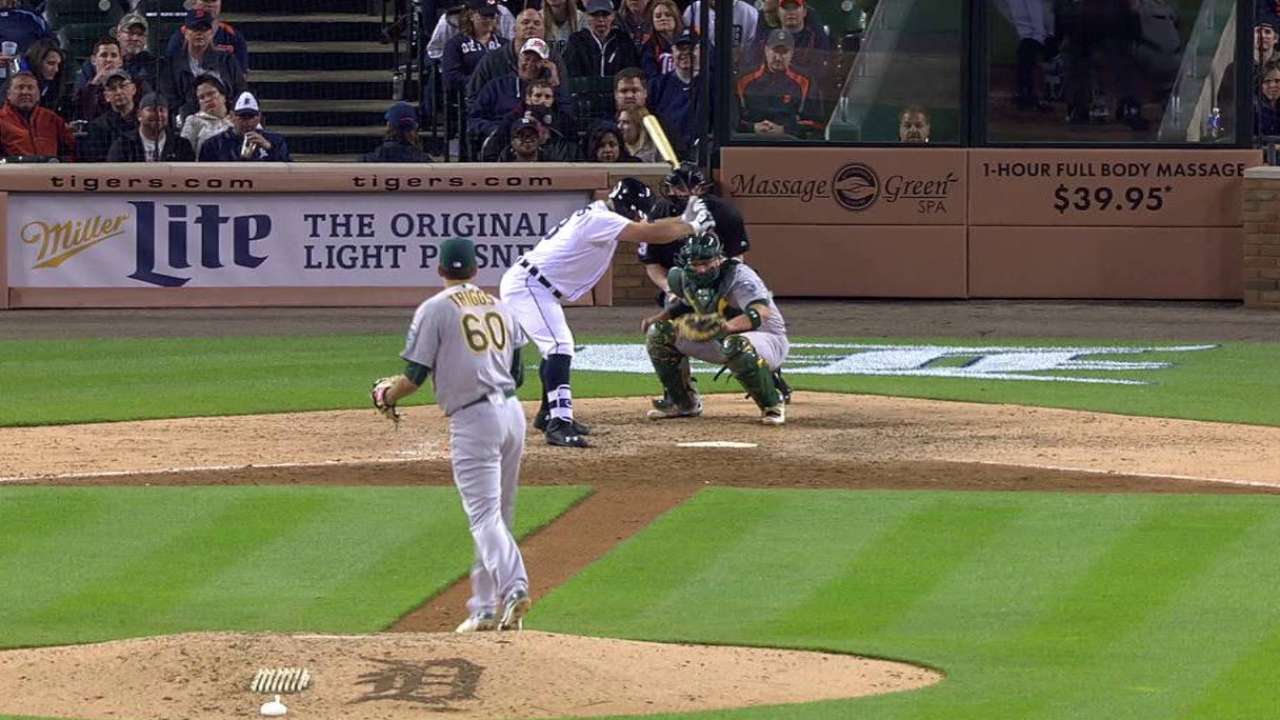 McBride brings the ability to play several positions if needed on Wednesday and Thursday, before the arrival of the organization's No. 2 prospect, Sean Manaea, who will be called up from Nashville to join Oakland's rotation and start on Friday.
McBride has played in 72 career Major League games with the Rockies, for whom he mostly played outfield and first base. Since the A's signed him in the offseason, he has gone back to a catching role.
"What he does is give us whatever we need off the bench, and it's always good to have a third catcher," A's manager Bob Melvin said. "If you start one and bring another in the game, you're not on pins and needles that something happens. He can play first and he can play the outfield.
"We felt our bullpen was in good enough shape to get another position player here. When you have a guy who can do what he does, it gives you some options during the course of a game."
McBride was hitting .188 in Nashville this season. He was admittedly surprised by the callup, even if it's for a short period. He has played seven games at catcher and three in the outfield this season at Nashville.
"[Melvin] just said to be ready and get my work in," McBride said. "Outfield, ground balls, catching and whatnot -- I'm going to be ready for whatever role I need to be in."
Chris Vannini is a contributor to MLB.com based in Detroit. This story was not subject to the approval of Major League Baseball or its clubs.