Corbin done in by walks, pitch to Wainwright
PHOENIX -- At one point Wednesday night, Patrick Corbin looked up at the scoreboard, saw he had thrown almost an equal number of balls and strikes, and figured it had to be a mistake.
But it wasn't. The D-backs left-hander struggled with his command, walking five, as the Cardinals won for the second night in a row, this one by an 11-4 score.
"I felt like I had a good fastball and was just trying to stay down in the zone and mix things up," Corbin said. "Five walks is too many."
Despite the walks, Corbin managed to keep the D-backs in the game and they held a 3-2 lead heading into what proved to be a disastrous top of the sixth inning.
After Corbin retired the leadoff hitter, the Cardinals got a pair of singles and then a walk to load the bases for pitcher Adam Wainwright, who is no easy out at the plate.
Corbin missed with a fastball for ball one, and then tried to go down and away with a second fastball, but the ball wound up more down the middle and Wainwright hit a grounder down the third-base line for a triple to give the Cardinals a 5-3 lead.
"Just left it a little bit too middle there, and he's definitely sitting fastball there," Corbin said. "So if I just make a better pitch, maybe he rolls it over, but he got it down the line. In that situation, I need to make a better pitch to Wainwright and not let him beat us."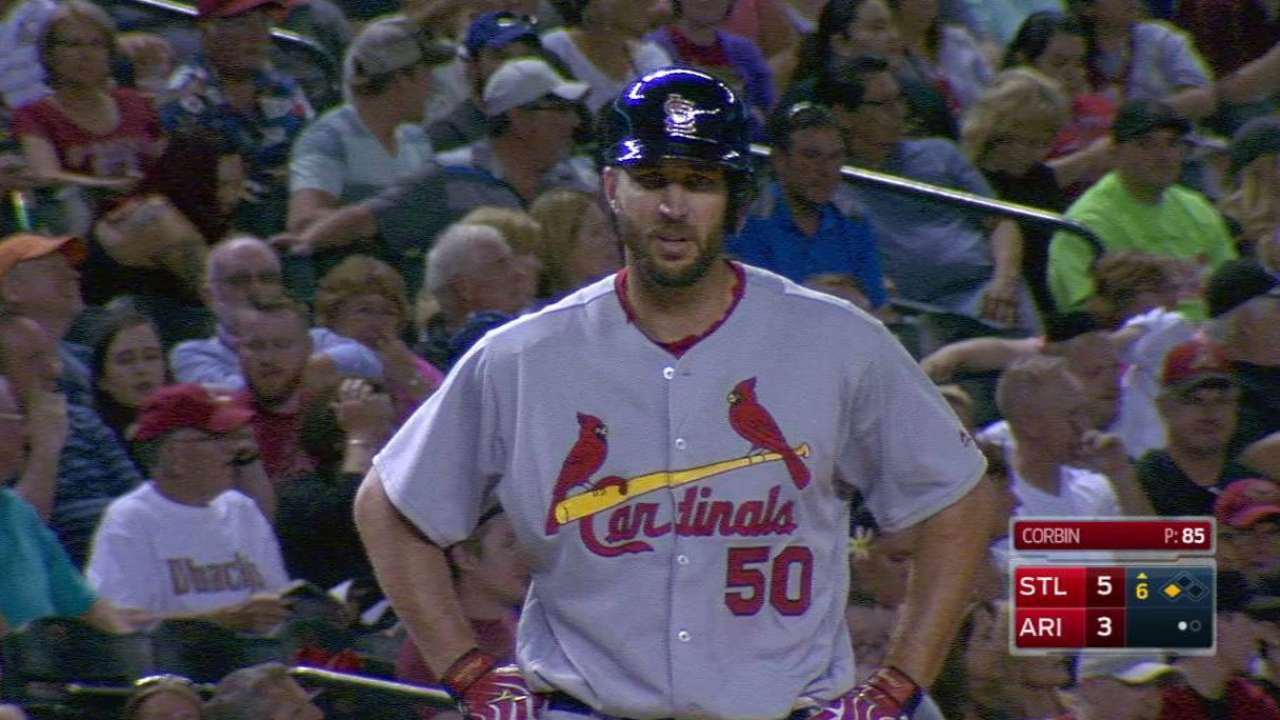 Said D-backs manager Chip Hale: "Bases loaded and the pitcher hits one right down the line. That was a killer for him."
On the plus side, it looked like Corbin had better stuff this time out than he did in his last start, when he allowed five runs (four earned) in five innings against the Pirates.
"Those walks in this ballpark are tough to get around, especially as good of hitters as he's facing," Hale said. "I thought his stuff was good. His breaking ball was real good and sharp, he got a lot of ground balls early. He just ran into trouble in the sixth."
Steve Gilbert has covered the D-backs for MLB.com since 2001. Follow him on Twitter @SteveGilbertMLB. This story was not subject to the approval of Major League Baseball or its clubs.