Small in stature, Torreyes puts up big numbers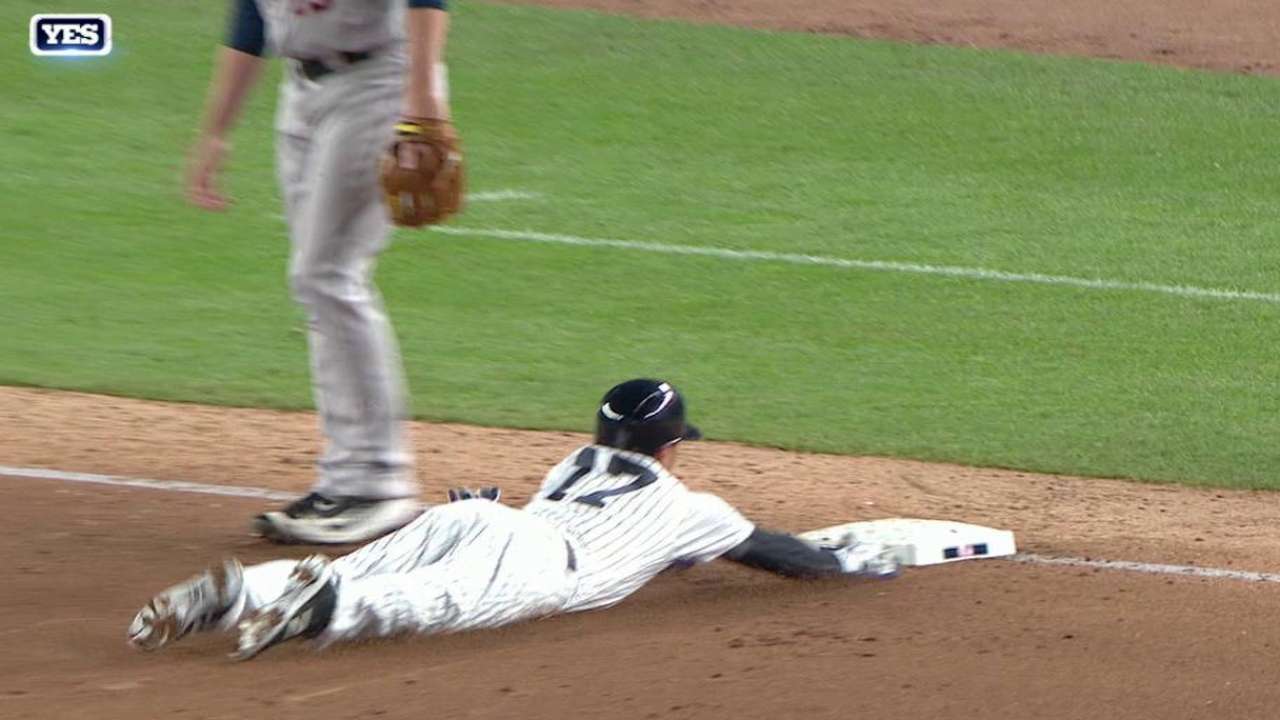 ARLINGTON -- The shortest player on the Yankees happens to have the highest batting average right now, and the reputation of diminutive rookie infielder Ronald Torreyes is growing.
Listed at 5-foot-10, but in reality at least a couple of inches shorter, Torreyes went 2-for-3 on Tuesday night against the Rangers and has multiple hits in three of his five starts this season. He has succeeded despite inconsistent playing time; when he started Wednesday's game against Texas, it marked the first time this season he played on consecutive days.
"He's been really good," manager Joe Girardi said of the 23-year-old Torreyes, whose .471 batting average led the club entering Wednesday's game against the Rangers. Torreyes' .435 average through the first 16 games of his career is the third highest since 1900 among hitters with at least 20 at-bats.
"He gets the barrel of the bat to the ball, and he understands who he is," Girardi said. "You don't see him overswing. You see him just try to put the ball in play and hit it hard, and he's really good at it."
"The key is hard work. I come every day and do my job -- I work extremely hard if I'm playing or not," Torreyes said. "My job is to be ready when they need me. When I come to the ballpark, I work with my hitting coaches, and it's a constant routine I go through every day. I'm just glad I've been able to have good results."
The Yankees claimed Torreyes off waivers from the Angels on Feb. 1 after he made his Major League debut with the Dodgers last September. He has attended Spring Training each of the past four seasons, previously with the Reds, Cubs and Astros, but he never made an Opening Day roster until this year.
Torreyes' size may have been a factor in his bouncing from organization to organization, but the Yankees were willing to take a chance.
"I was really curious about him," Girardi said. "I knew that he was up with the Dodgers and has been a good player in the Minor Leagues. Sometimes with that stature, you wonder exactly what you're going to get."
Bombers bits
• With his club in danger of a losing April, Girardi said the lack of run production is the most bothersome aspect.
The Yankees entered Wednesday hitting just .191 with runners in scoring position, the second-worst among American League teams (only last-place Houston, at .180, was lower). The Yankees had also tied for the fewest runs scored (70) in the AL.
"Our struggles to score runs has probably been the most frustrating," Girardi said. "I don't like the word 'disappointing,' because I think the effort's there. So you get frustrated with it, because I see they're frustrated. But that will change. We have more guys in the .200s instead of the .100s, we're starting to get more hits. The at-bats are better, they're hitting the ball harder, you're starting to see more people contributing in the lineup getting hits. That usually leads to better production."
• After missing the past two games with an oblique injury, Alex Rodriguez was back in the lineup at designated hitter on Wednesday night and contributed a homer, the 690th of his career.
• Aaron Hicks, who missed four consecutive games with a shoulder injury sustained on a diving attempt last Friday, pinch-ran for Rodriguez late on Wednesday.
• Carlos Beltran collected his 2,473rd hit on Tuesday night, passing Ted Simmons for 10th on the all-time switch-hitters' list. Beltran needs 132 hits to catch the ninth-place Tim Raines (2,605).
Dave Sessions is a contributor to MLB.com based in Arlington. This story was not subject to the approval of Major League Baseball or its clubs.