MLB.com Columnist
Tracy Ringolsby
World Series title, not accolades, drives Cutch
Face of franchise determined to earn ring with Pirates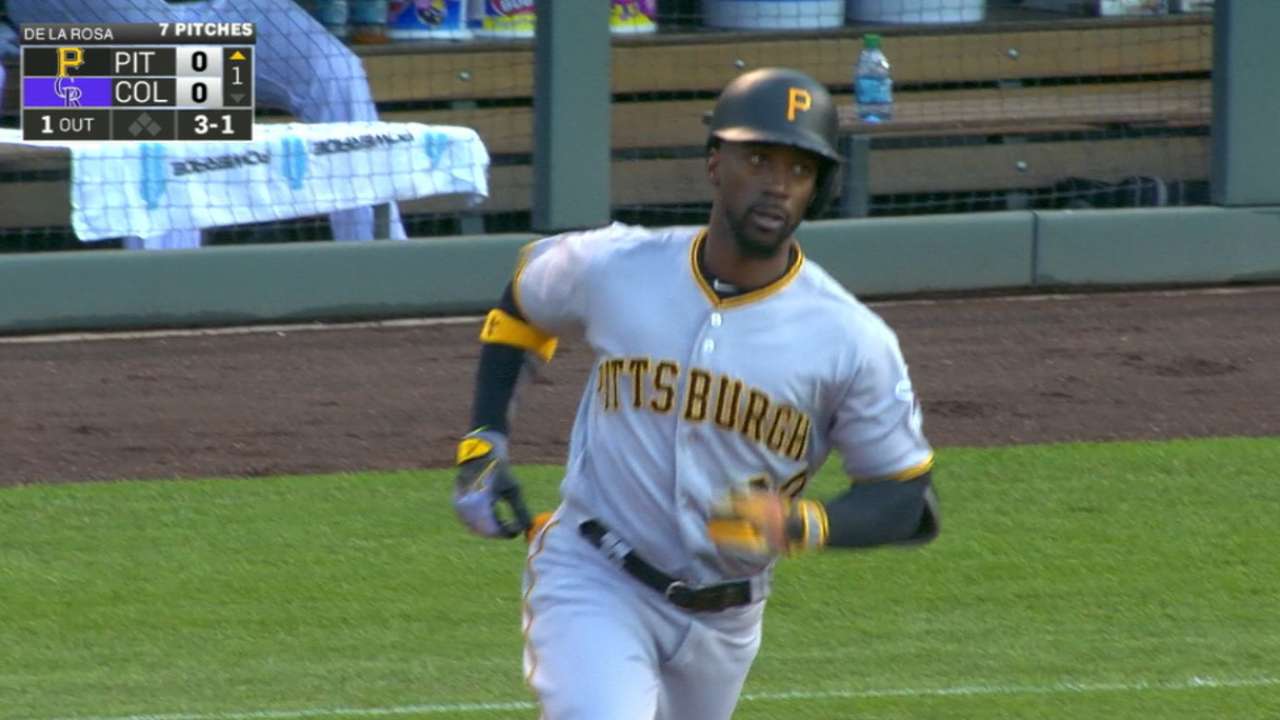 DENVER -- For Andrew McCutchen, the accolades and the accomplishments are nice. They, however, are not fulfilling.
Oh, McCutchen can cherish the moment of a Tuesday night when he joined Hall of Famers Willie Stargell, Ralph Kiner and Roberto Clemente as the only Pirates to have multiple three-homer games, particularly when it was a key part of a 9-4 victory against the Rockies at Coors Field.
It is, McCutchen admits, "awesome to hit one home run. Hitting three is really cool."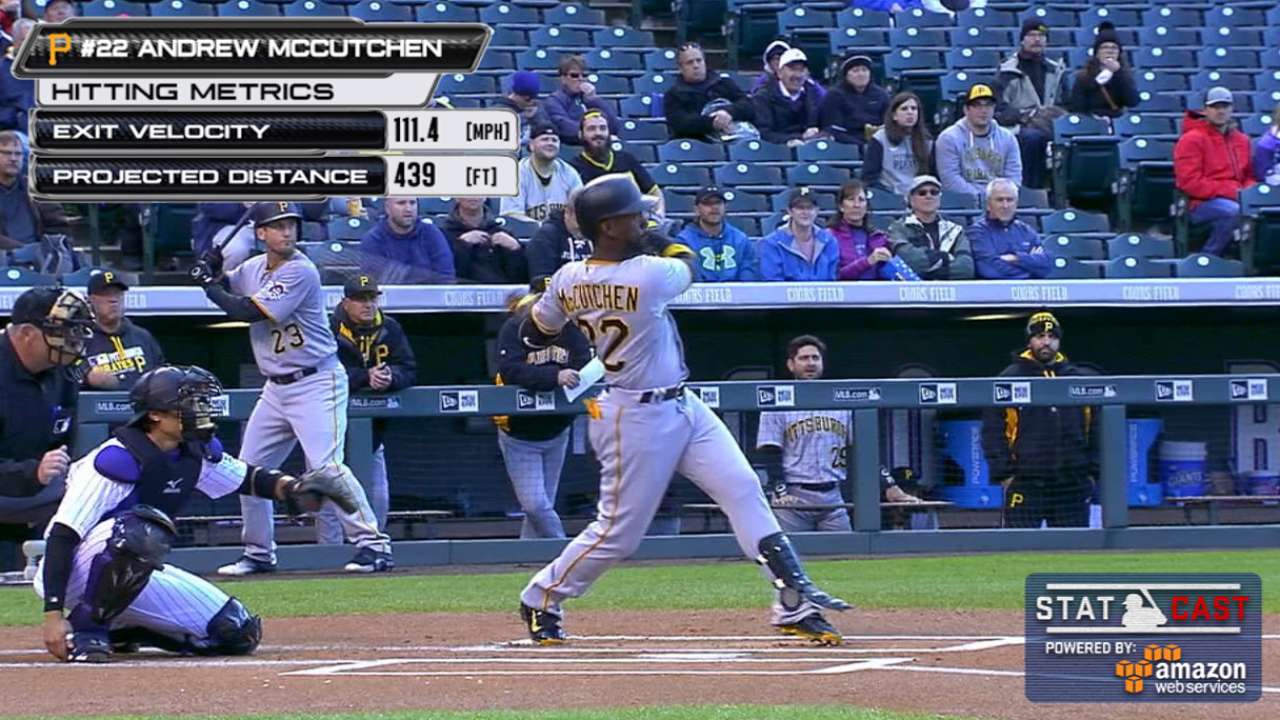 That, however, is like every other moment of every other day of the season. It is a part of "the process." The process isn't about what McCutchen or his teammates do individually. The process is about the team's success, regardless of what any particular individual does.
"I don't think there is any doubt he is as tied to bring a world championship to Pittsburgh as much as anybody in this organization," said manager Clint Hurdle. "He's the one who puts the blood and sweat into every day. He is the one who has made the commitments. He wants to be the guy."
McCutchen is only 29, but he is the face of this franchise. He has been on the roster longer than anybody else. McCutchen debuted in 2009, enduring the final four years of the two decades of losing seasons, and he has been a part of postseason appearances each of the past three years.
McCutchen won the NL Most Valuable Player Award in 2013, and he has been a top-five finisher in the NL MVP Award voting each of the past four years. He has been an All-Star each of the past five. He has won four Silver Slugger Awards and one Gold Glove.
McCutchen, however, has never been able to be a part of the final celebration, those moments after that World Series-clinching victory, and that, more than any individual accomplishments, pushes him.
"This isn't about me, it's about taking us to that [championship] moment," McCutchen said. "I want to win and I want to win here. It's special being here. It's about the city, the fans, the franchise. I have been here from the start [of the current resurgence]. I want to be here when we get to that final accomplishment."
Those aren't hollow words. Those are words of reality. Those are words that are underscored by the commitment McCutchen has shown to the franchise. He signed a six-year, $51.5 million contract before the 2012 season that includes a $14.5 million option for '18, which ties him to the Bucs three years beyond when he could have become a free agent.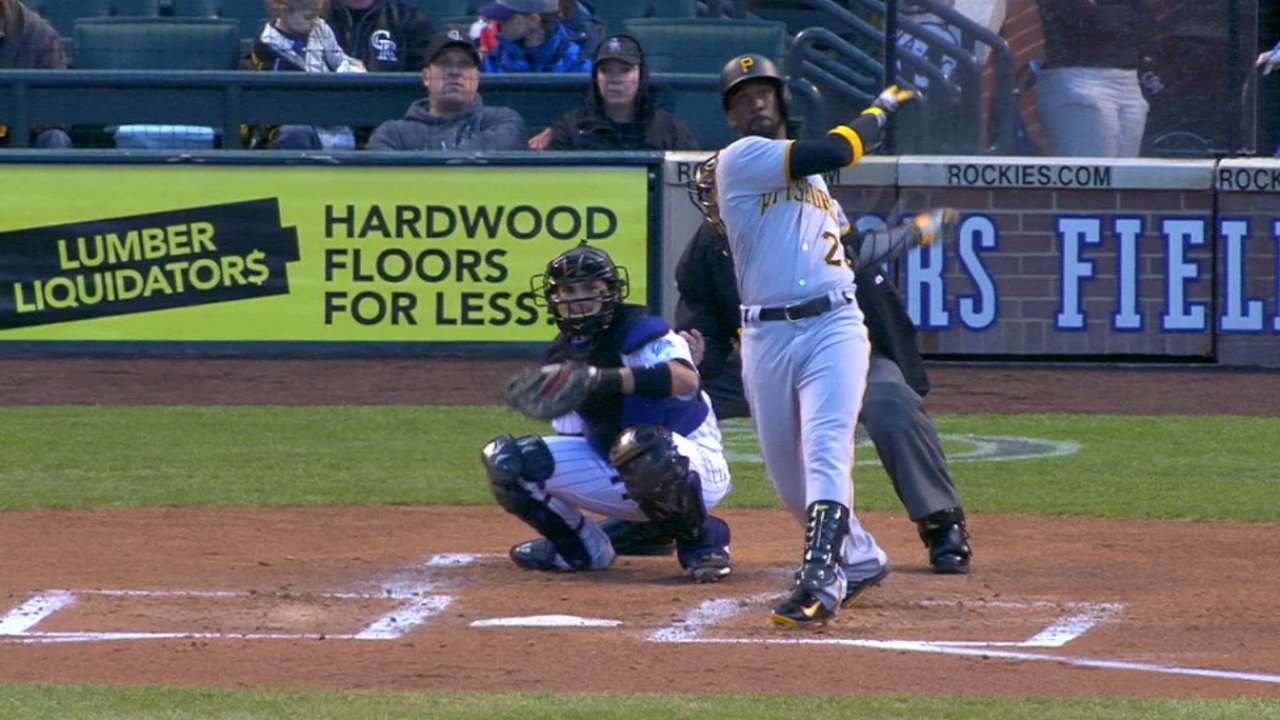 McCutchen accepted the decision to move him from third to second in the batting order, and he adjusted his defensive position as the request of the organization without any hesitation.
"Never a hesitation on his part," said Hurdle. "He has done everything he has been asked to do. He is committed to this uniform."
It hasn't always been easy. The Pirates lost 377 games his first four seasons.
McCutchen has had 200 teammates since his arrival in '09. He has two years' seniority on the next closest members of the roster -- left-handed reliever Tony Watson, left-handed starter Jeff Locke, second baseman Josh Harrison, and injured right-hander Jared Hughes, all of whom debuted in '11.
McCutchen has played in 1,057 games with Pittsburgh. That's 550 more than Harrison, who is No. 2 among current Pirates.
"I want to win, and I want to win [with the Bucs]," McCutchen said.
How bad does he want to win?
So bad that when McCutchen was given a game off for the first time this season Monday, he welcomed the chance. He was, after all, hitting a very un-McCutchen-like .213 with only two home runs and five RBIs in the first 19 games. He had one more home run and just as many RBIs Tuesday.
Yes, it was at Coors Field, but no, that doesn't carry any guarantees for McCutchen. He had, after all, hit only three home runs in 112 previous plate appearances at the park.
And in the aftermath, McCutchen spoke of that rest he was given as a blessing, not a curse like so many players who seem to feel their worthiness is questioned by not being in the lineup.
"I was able to sit around and watch the game," he said. "I can learn [from watching]. I am able to focus on things I don't see when I am playing the game. It is a part of the process."
And it is a process that McCutchen is intent will eventually allow him to be standing on that stage, joining his Pirates teammates and club management in hoisting the World Series trophy.
Tracy Ringolsby is a columnist for MLB.com. This story was not subject to the approval of Major League Baseball or its clubs.