Strong Shields again goes unrewarded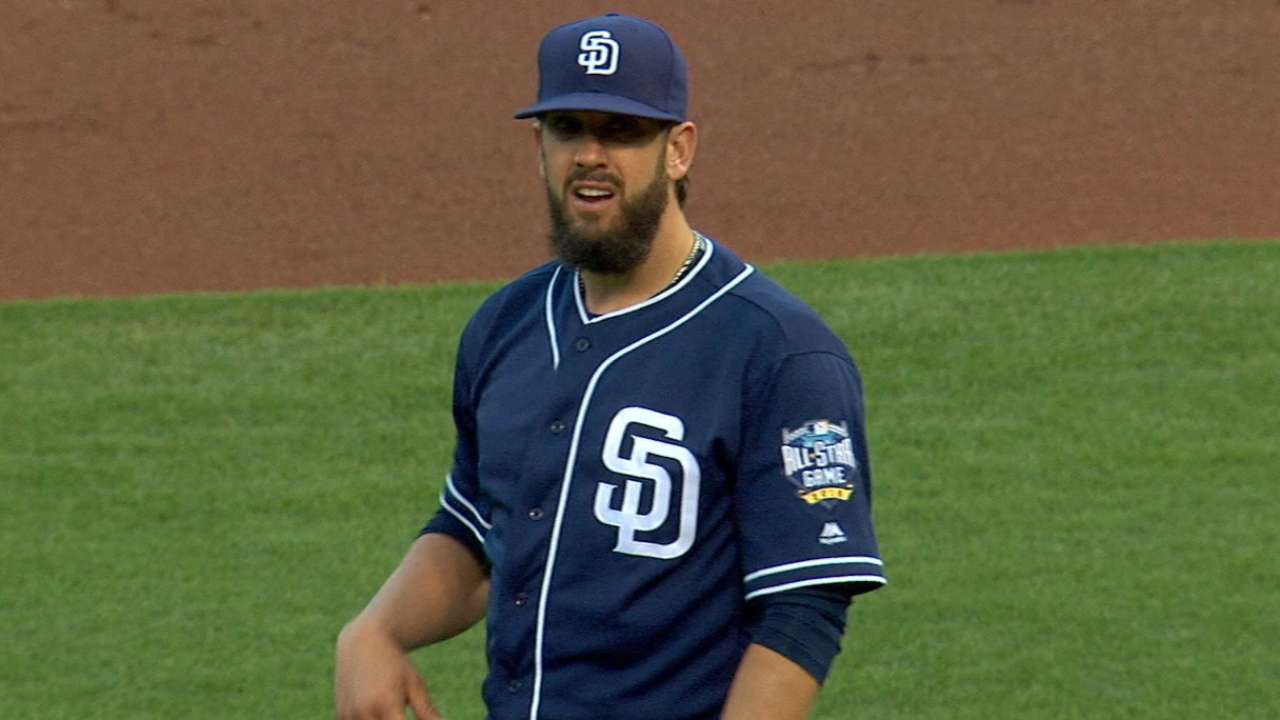 SAN FRANCISCO -- Johnny Cueto will receive all the accolades for his role in San Francisco's 1-0 win over the Padres on Tuesday, and deservedly so. The Giants righty was brilliant.
In the eyes of the Padres, however, their own veteran right-hander was just as good. They simply didn't back James Shields with the offensive support that a start like his truly deserved.
Shields allowed one run on three hits over seven solid innings, but he came away empty-handed once again.
"That's probably the best game we've thrown all season," said Padres manager Andy Green. "If we had the lead or it was tied, he would have had every opportunity to complete the game, just like Cueto did. If you look at it pitch by pitch, [Shields] might've even outpitched him."
The lack of run support has become a familiar theme for Shields, who has tossed at least six innings in all five of his outings this season. In those five games -- all Padres losses -- the offense has combined to score just six runs.
Shields, an 11-year veteran, has long since learned to compartmentalize the aspects of pitching that he can't control.
"I try to throw quality starts and get deep in the game," Shields said. "Our bullpen's been kind of taking the brunt of it the last few games, and it was nice to just go deep in the game and give them a rest. So did my job tonight."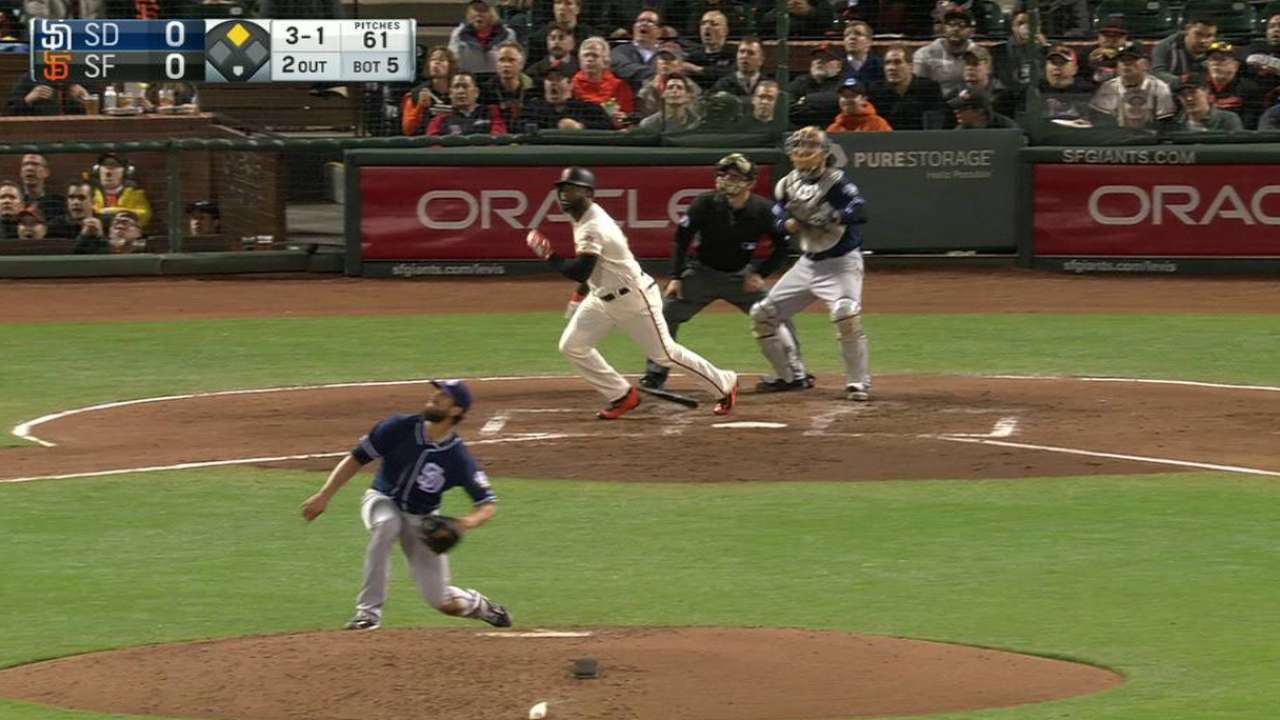 The only mistake Shields paid for Tuesday night was a 3-1 fastball that Denard Span launched off the right-field wall, plating the game's only run.
"It was a hitter's count; he just tried to sink it down and away, and it leaked a little bit to the middle," said Padres catcher Derek Norris. "[Span] did what they pay him to do. He put a good swing on a pitch to hit."
Shields didn't feel as though he was in top form Tuesday, but he had Giants hitters off-balance for most of the night anyway. He didn't surrender a hit until Brandon Crawford bounced a seeing-eye single through the middle in the fifth.
"I didn't really feel like I had the best stuff in the world," Shields said. "But I'm going to go out there and try to pitch and keep my team in the game as long as I can. But the bottom line is we didn't win the game. We've got to get better at that. We've got to get better at winning those games right there."
The Padres had their share of chances, three times stranding a runner at third after putting him there with fewer than two outs. Without a run on the board in the top of the eighth, Green's hand was forced, and he pinch-hit for Shields with Brett Wallace.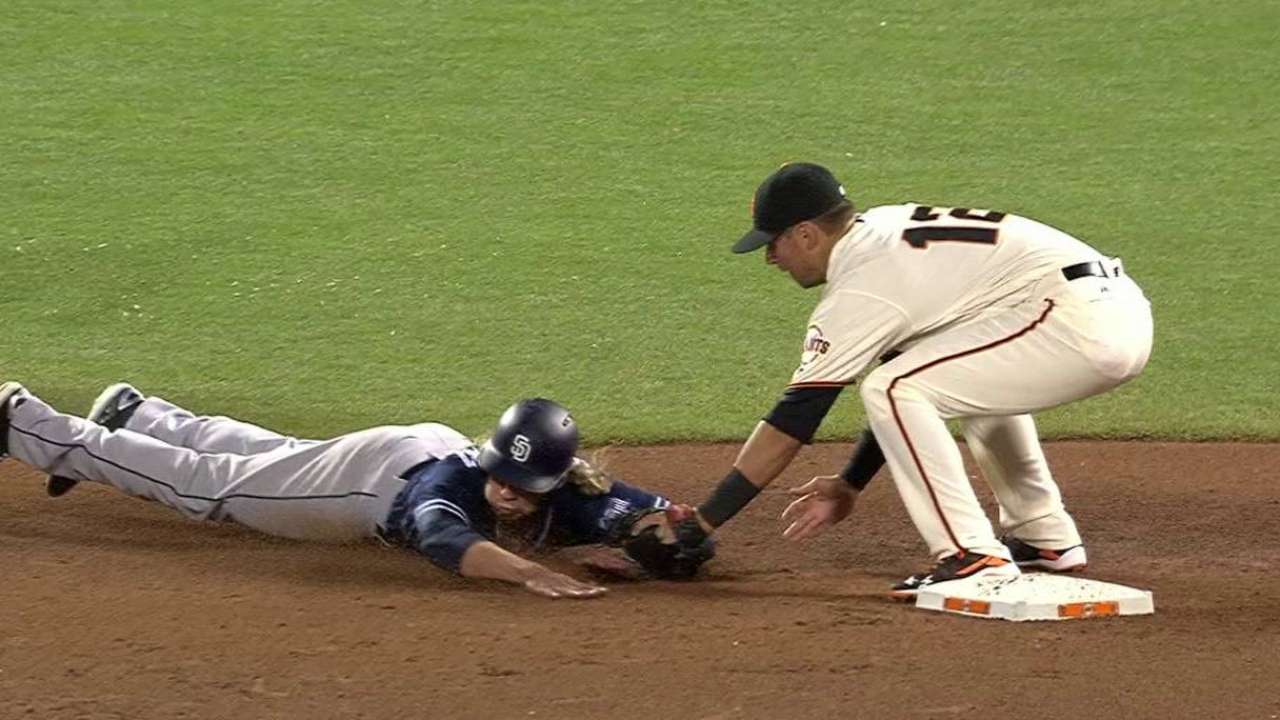 The move paid off in the short term with Wallace lining a single down the first-base line. But pinch-runner Travis Jankowski was thrown out attempting to steal second, and the Padres wouldn't threaten again.
"I think everybody's frustrated, and rightfully so after a game like that," said Green. "There's no doubt he's giving absolutely everything he has on the mound and he's competing to win every day. I'm sure there's frustration for him now, but he knows he did absolutely everything he could possibly do."
AJ Cassavell covers the Padres for MLB.com. Follow him on Twitter @ajcassavell. This story was not subject to the approval of Major League Baseball or its clubs.