Giavotella torments former team in victory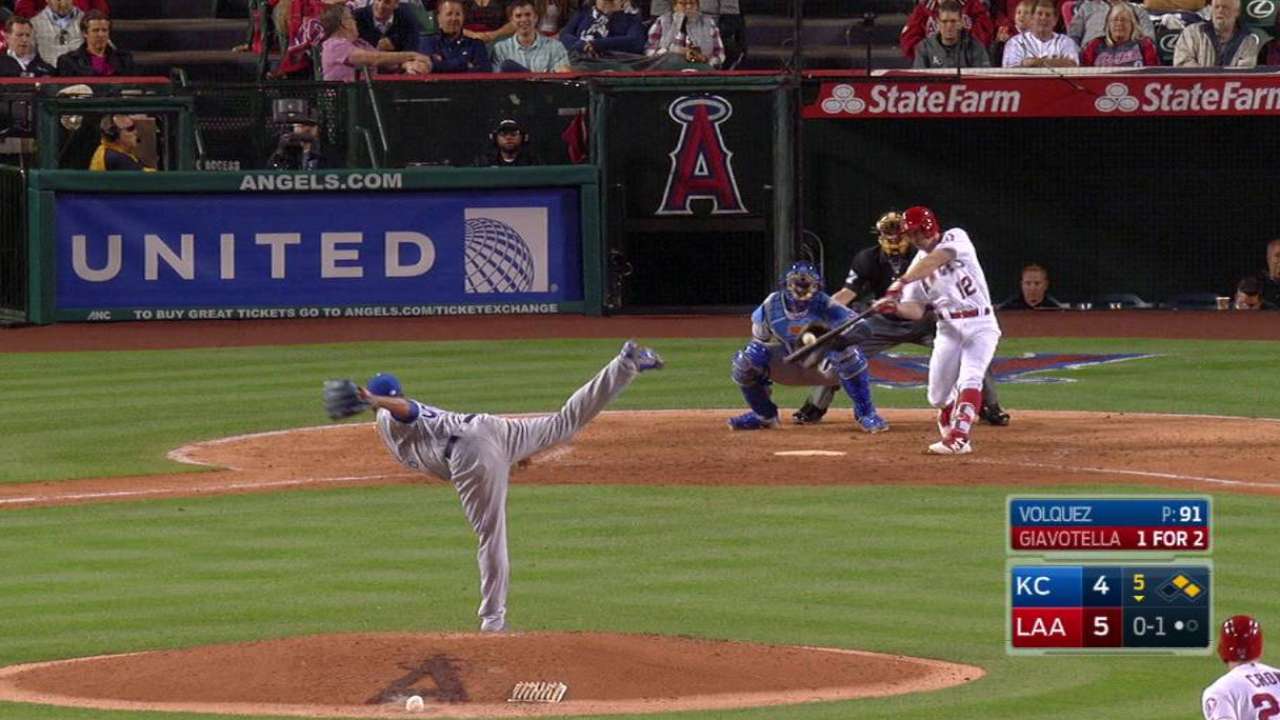 ANAHEIM -- Johnny Giavotella let out a primal yell in the vicinity of right field as he jogged towards second base in Tuesday's fifth inning. He had turned on a hanging slider and lined it over the left-field bullpen for a three-run homer, pushing the Angels' lead to four and registering his first extra-base hit in 47 at-bats -- against the Royals team that drafted him, no less.
So he yelled as he rounded the bases, yelled some more when he saw C.J. Cron and Carlos Perez waiting for him beyond home plate, yelled again as he made his way into the dugout. Later, Giavotella was asked if it meant more to do that on this night, against this team.
He paused.
"I think so," Giavotella said, moments after delivering the decisive blow in the Angels' 9-4 victory over the reigning World Series champions. "I didn't perform as well as I could have when I was in Kansas City. I know that I underperformed with the opportunity that I had. For me to have a big night like this kind of meant a lot, to kind of prove to them, as well as myself, that I'm capable of playing this game at the highest level."
Giavotella was the Royals' second-round Draft pick in 2008 and navigated through their system as the second baseman of the future. He was supposed to be a part of their core, along with Eric Hosmer and Mike Moustakas and Salvador Perez and Jarrod Dyson and all the others who won it all last fall.
But his defense never caught up to his offense, so the Royals gave up after the 2014 season, sending him to an Angels team desperate for help at second base, for a journeyman Minor League reliever and nothing else. He's a little different now, though.
"He's definitely gotten better defensively," Royals manager Ned Yost said of Giavotella. "He's always played with a lot of energy. But he's making strides. You can tell he's been working really, really hard on his defense. He's a better all-around player."
And that's part of what had been so odd about Giavotella's season.
His defense, the tool that always eluded him, had been sound. But his offense, the skill he could count on, lagged behind. He entered the week batting .136/.156/.136, then sat on Monday, getting benched in favor of Cliff Pennington for the second time in three nights. It looked as if he was starting to lose grip of the everyday job he worked so hard to finally earn in 2015.
"Every player performs better when they get every day at-bats," Giavotella said. "Unfortunately that's not my role right now, but I'm not going to get discouraged by it. I'm going to help the team any way I can."
Giavotella did that on Tuesday, providing the kind of spark he showed so frequently last summer.
He singled up the middle in the second, homered in the fifth, then wreaked havoc on the bases in the seventh. He lined a base hit to shallow right field, motored to second after the ball trickled away from a diving Dyson, then scored on a grounder to the left side that bounced off the glove of Royals shortstop Alcides Escobar.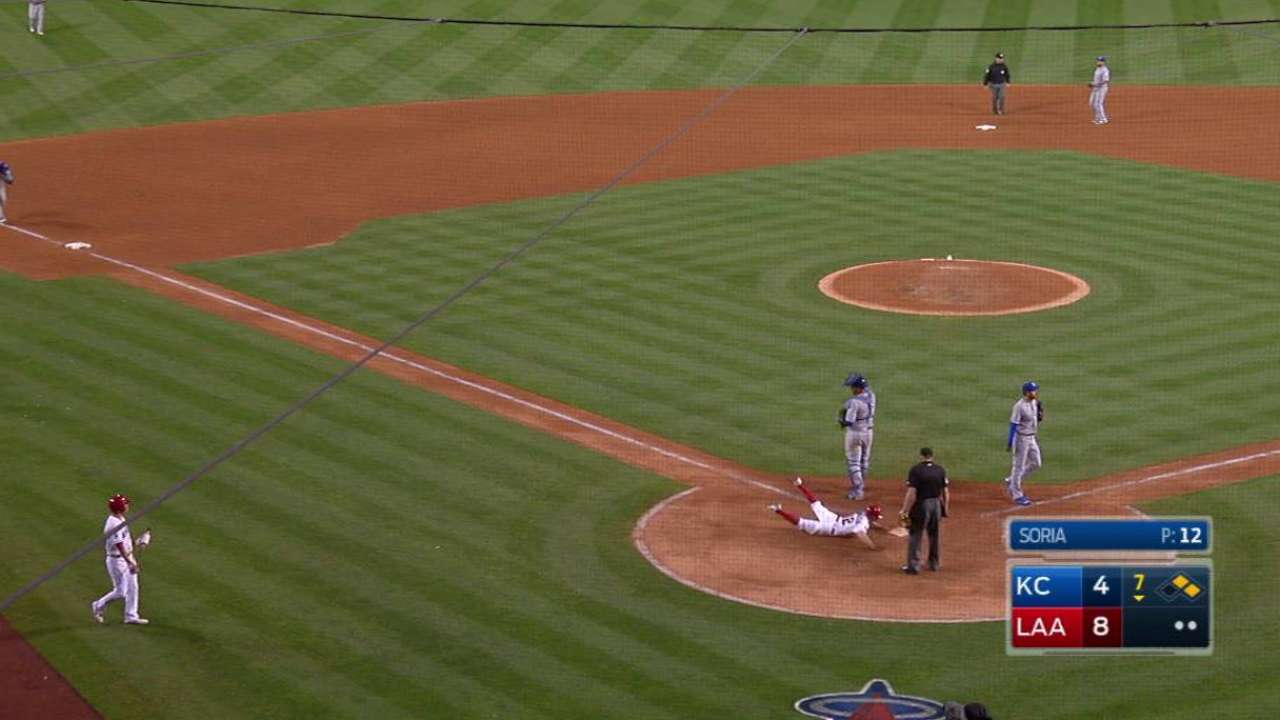 Giavotella scored with one of his patented headfirst, belly-flop slides, the type he developed while diving for pylons as a high-school football player in New Orleans.
His teammates had a good laugh.
"That's just how I play," Giavotella said. "I play every game like it's the last game I'm going to play. I just give it my all, and wake up the next day hoping to be OK."
Alden Gonzalez has covered the Angels for MLB.com since 2012. Follow him on Twitter @Alden_Gonzalez and Facebook , and listen to his podcast. This story was not subject to the approval of Major League Baseball or its clubs.