Walking Mauer to get to Sano pays off for Twins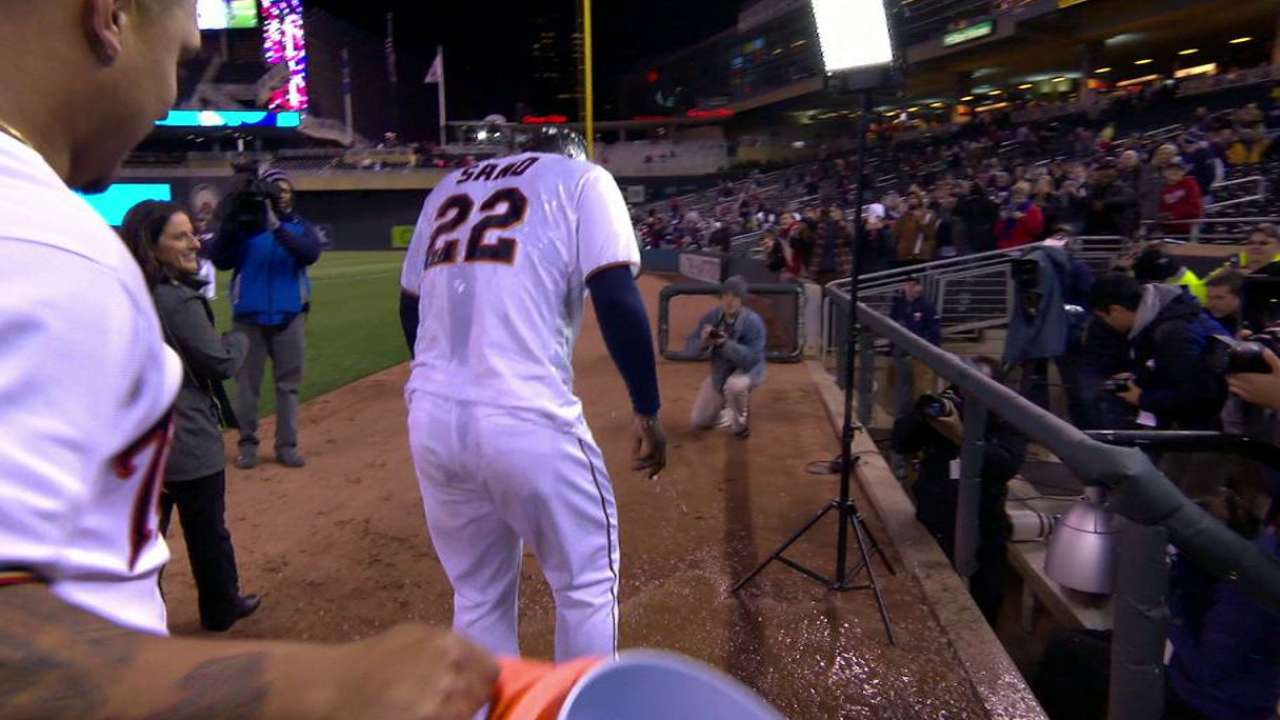 MINNEAPOLIS -- Before he walked to the plate with two runners on base after the Indians intentionally walked Joe Mauer in a tie game in the ninth inning Tuesday night, Miguel Sano received some advice from Oswaldo Arcia.
Arcia came through with a walk-off homer on a fastball in the ninth inning on Monday, and he told Sano to look for the same pitch from Indians closer Cody Allen. Sano listened and lined a 1-1 fastball into center field to score Brian Dozier from second and hand Minnesota its second straight walk-off win with a 6-5 victory over Cleveland at Target Field.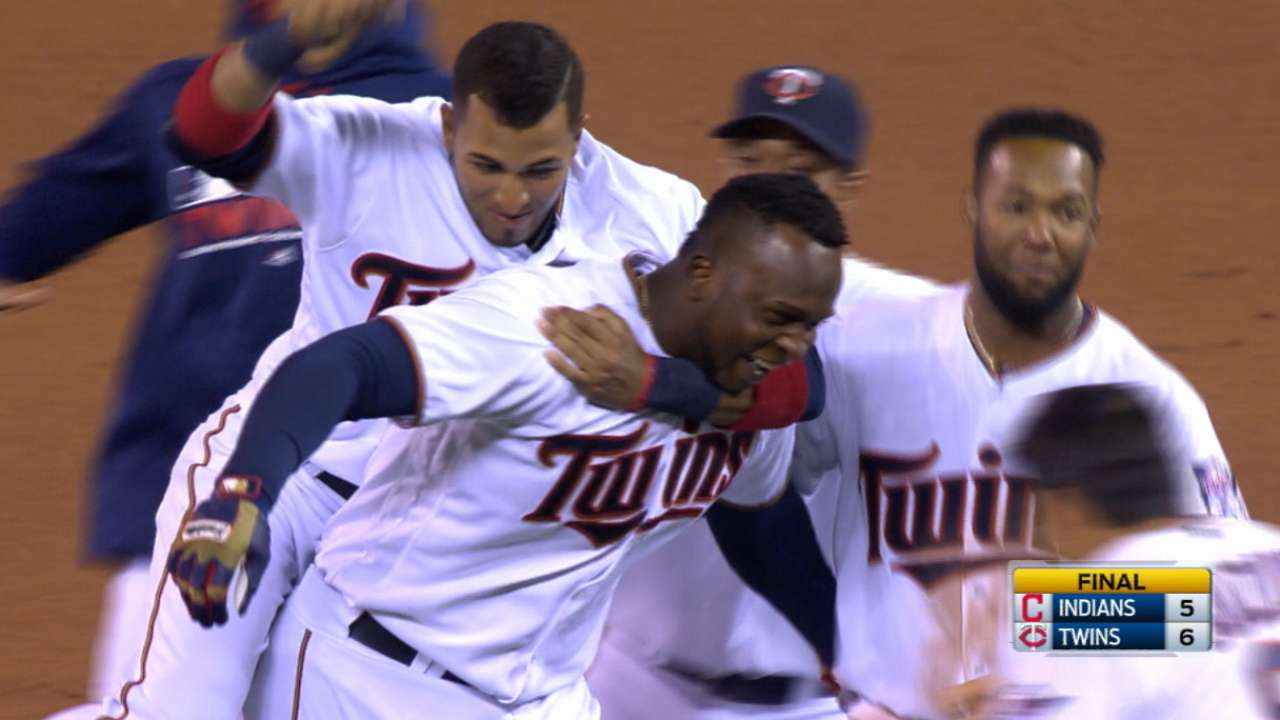 "Arcia told me [to] be ready for a fastball and end the game," Sano said. "Don't swing at a breaking ball he told me, and I listened. So it's like [Monday], when I told Arcia to look for a fastball and he hit a homer. So I'm so happy. It's a great moment. Arcia told me I could be a leader and be the big guy at the end of the game."
• Cast your Esurance All-Star ballot for Sano and other #ASGWorthy players
Sano only received that opportunity because the Indians decided to intentionally walk Mauer to get him. It was the fifth time Mauer has been intentionally walked this season, but only the second time it was to get to Sano. It also happened on Monday, and Sano was able to connect on an RBI single in the fifth inning of the Twins' win.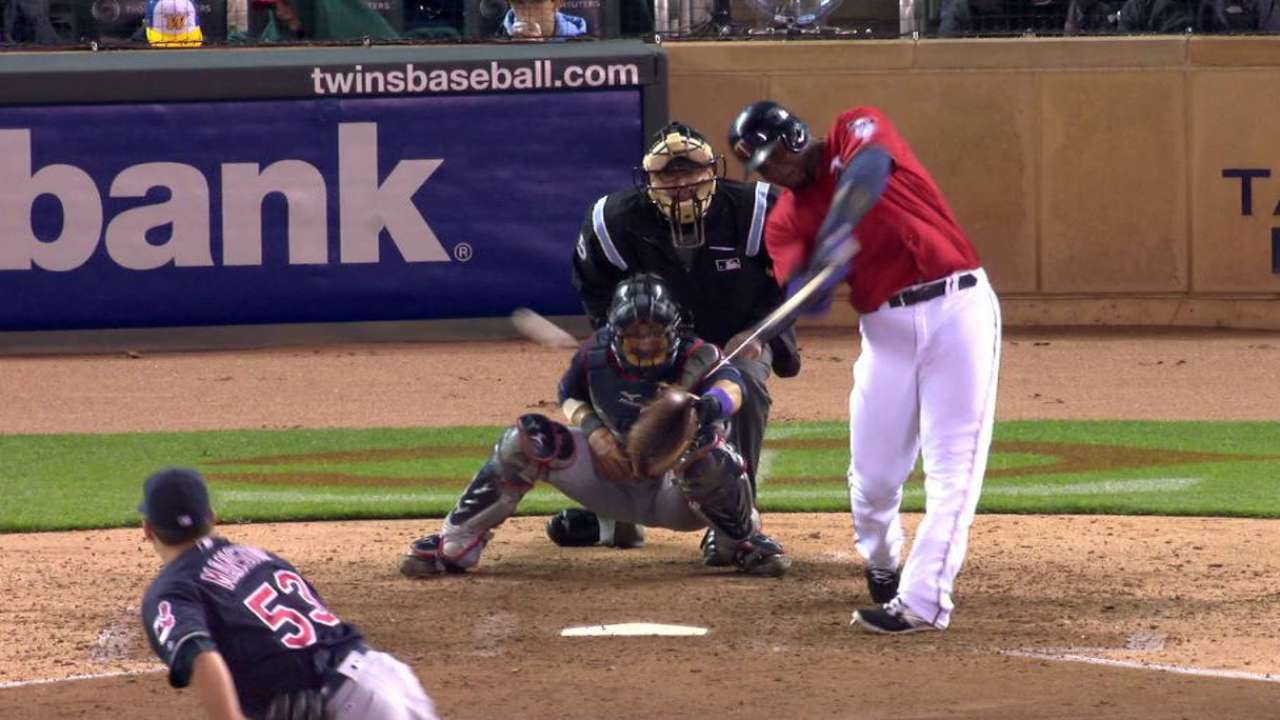 Sano said he understood why the Indians made the move -- Mauer is hitting .329/.462/.466 this year -- but he added that he likes hitting in those situations.
"I'm a rookie so I'm inexperienced, and Mauer is a good hitter and better than everybody here," Sano said. "He's a professional hitter who can hit .300 every year. So it's easy for him to hit a single or a double. Today, I had a couple popups and a walk and struggled in the beginning of the game, so they didn't want to pitch to Mauer and wanted me to ground into a double play."
But that double play didn't come, as Sano laid off two curveballs from Allen before he left a fastball up and over the plate. Twins manager Paul Molitor was impressed by Sano's approach and said hitting coach Tom Brunansky has been working with Sano to hit more line drives instead of swinging for the fences in every at-bat.
"Tom preaches to these guys all the time to know the situation and try to hit a line drive," Molitor said. "He's strong enough to hit a line drive out of the park, but it increases his chance of getting a base hit. The more you don't look at the fence, the better chance you have in those situations."
Sano started off slow this season, but he's now hitting .243/.371/.392 with three homers and nine RBIs in 21 games. The Twins like the patience he's showing at the plate, and they believe it's a matter of time before things click and teams will stop pitching around Mauer to get to him.
"Miggy has been battling," Molitor said. "He has runs where it looks like he's getting it going and then it backs off a day or two. But he's putting together good at-bats consistently as of late."
Rhett Bollinger has covered the Twins for MLB.com since 2011. Read his blog, Bollinger Beat, follow him on Twitter @RhettBollinger and listen to his podcast. This story was not subject to the approval of Major League Baseball or its clubs.