Max seeking quick fix to early season 'funk'
Nats' ace finishes strong in 6-inning, 7-strikeout start vs. Phils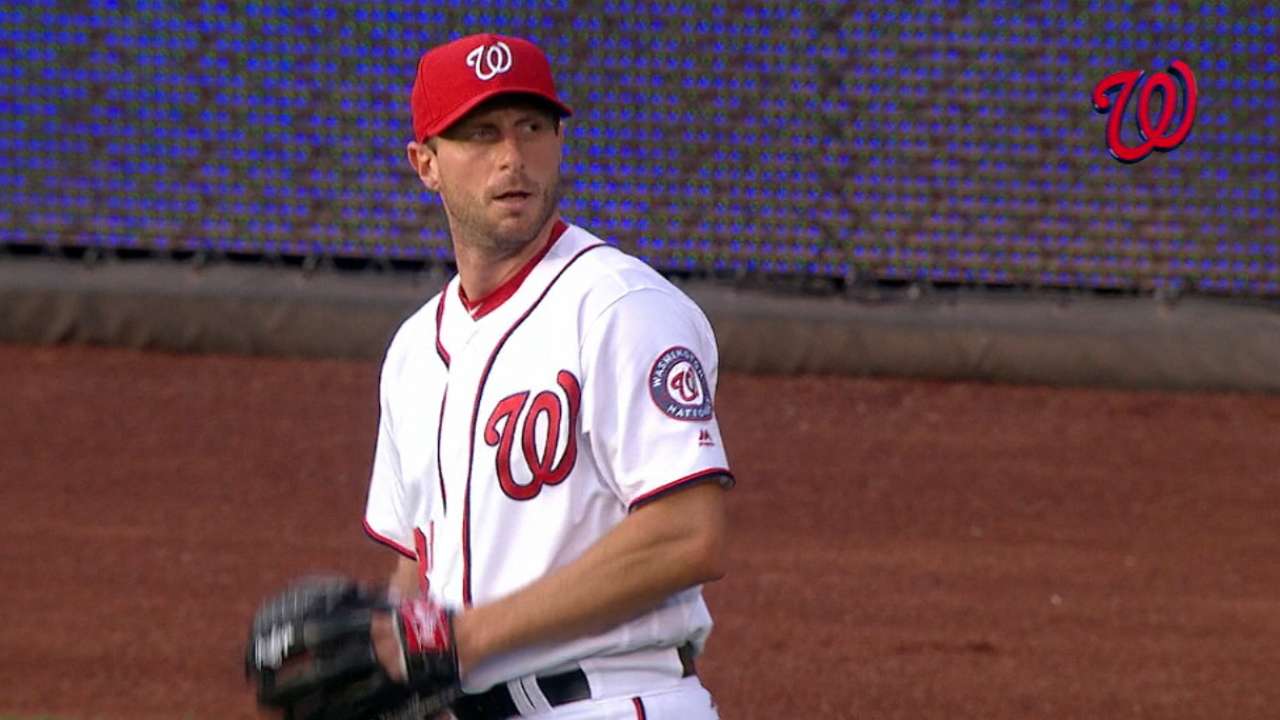 WASHINGTON -- Max Scherzer was the Nationals' most reliable pitcher last season when he posted a 2.79 ERA and tossed a pair of no-hitters. He made his second consecutive start on Opening Day for the Nationals and entered the season their unquestioned ace.
So it is a bit surprising that after his first five starts this season, Scherzer owns the highest ERA on the Nationals' pitching staff at 4.35 after laboring through his latest outing during the Nationals' 4-3 loss Tuesday against the Phillies.
Scherzer issued a season-high four walks, the most since he joined the Nationals, and gave up three runs on seven hits in six innings. He struggled to locate his fastball and his mechanics were a bit off for the second consecutive start, although he considers the issues an easy fix.
"You go through funks and right now this is a funk," Scherzer said. "But at the end of the day, this is an easy thing to correct. This is just a minor tweak. You get through it."
Scherzer's troubles began from the opening batter when he issued a walk to Phillies outfielder Odubel Herrera then promptly surrendered a two-run home run to Andres Blanco. It highlighted two of Scherzer's biggest recent problems: first-inning runs and home runs.
Dating back to June of last season, Scherzer has allowed 29 home runs, the most in the Majors. That includes five home runs through his first five starts this season and eight first-inning runs, an issue he came into the game trying to correct.
"I even came out focused tonight trying to make something different," Scherzer said. "Six pitches in, there was a home run. As much attention that I did have to it, right now it's just happening. If you do start thinking about it, then it's going to happen. You just have to trust your stuff."
He settled down a bit and battled to finish strong for the Nationals although a high pitch count kept him from pitching deeper into the game. Scherzer did have seven strikeouts, but he needed 116 pitches -- his highest total since Sept. 25, 2014 -- to get through the outing.
It might be too early for the Nationals to feel concern about Scherzer, who insists it's not time to panic, but still they are hoping to get Scherzer to return to the dominant form he possessed for most of last season.
"We've got to find a way to get him out there deeper in a game," manager Dusty Baker said. "He's our ace and our No. 1. We'll help him figure it out."
Jamal Collier covers the Nationals for MLB.com. Follow him on Twitter at @jamalcollier. This story was not subject to the approval of Major League Baseball or its clubs.