Phillies' strategy vs. Harper a walk in the park
Philadelphia deals Nats' star three free passes in 4-3 win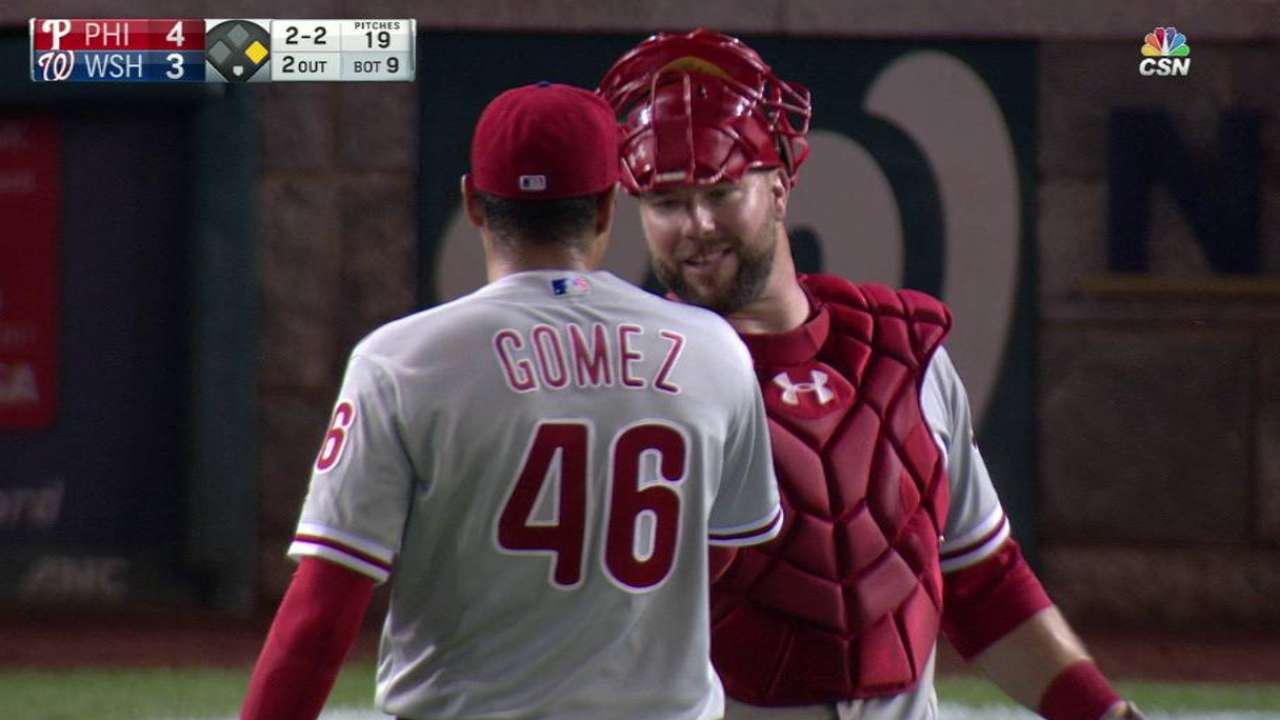 WASHINGTON -- Phillies manager Pete Mackanin said Tuesday afternoon he had some ideas for handling Nationals right fielder Bryce Harper. He said he conveyed those ideas to Phillies pitching coach Bob McClure.
"Just throw him fastballs down the middle of the plate," Mackanin joked before Tuesday night's 4-3 victory at Nationals Park.
In reality, the Phillies walked Harper in the first, intentionally walked him with a runner on second and two outs in the third and intentionally walked him with a runner on second and two outs in the seventh. It paid off each time as Nationals first baseman Ryan Zimmerman flied out, fouled out and struck out looking to end those innings.
But the Phillies also pitched to Harper twice. He singled with runners on first and second and two outs in the fifth to cut the Phillies' lead to 3-2. He then grounded out to end the game with the tying runner on first base in the ninth inning following an eight-pitch at-bat against Phillies closer Jeanmar Gomez, who had allowed two hits in two at-bats in his career against Harper, including a go-ahead homer in the 10th inning April 17 at Citizens Bank Park.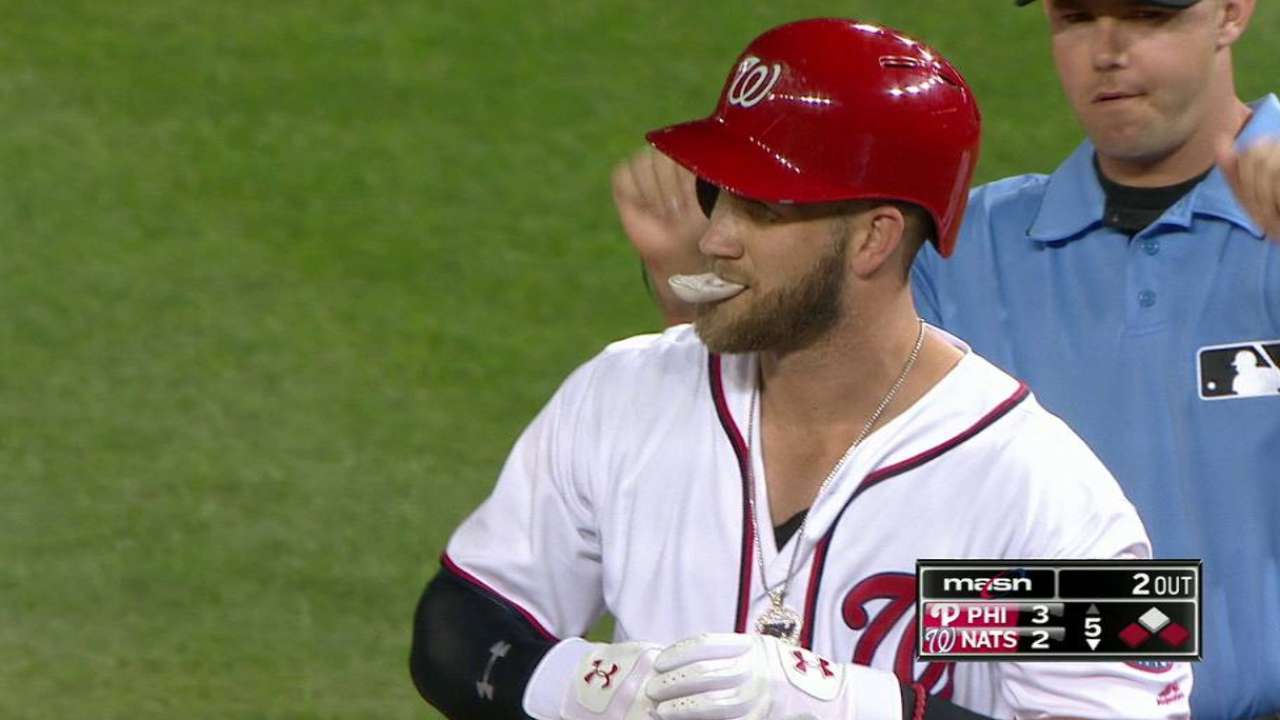 "That certainly had a lot of drama to it, that game with that guy," Mackanin said of Harper.
Gomez's first seven pitches to Harper were a mixture of sinkers and splitters. He made his eighth pitch a changeup.
"The last out was a really good battle," Gomez said.
Mackanin said he had no plans to intentionally walk Harper there, even with Stephen Drew standing in the on-deck circle.
"I wasn't going to walk him and put the tying run at second base where a single could tie up the game," Mackanin said.
But they were cautious earlier. Phillies right-hander Vince Velasquez, who allowed three runs in six innings, once played on a travel team with Harper, so they know each other. He discreetly pointed to the Phillies' dugout when he intentionally walked Harper in the third, letting his former teammate know it wasn't his call.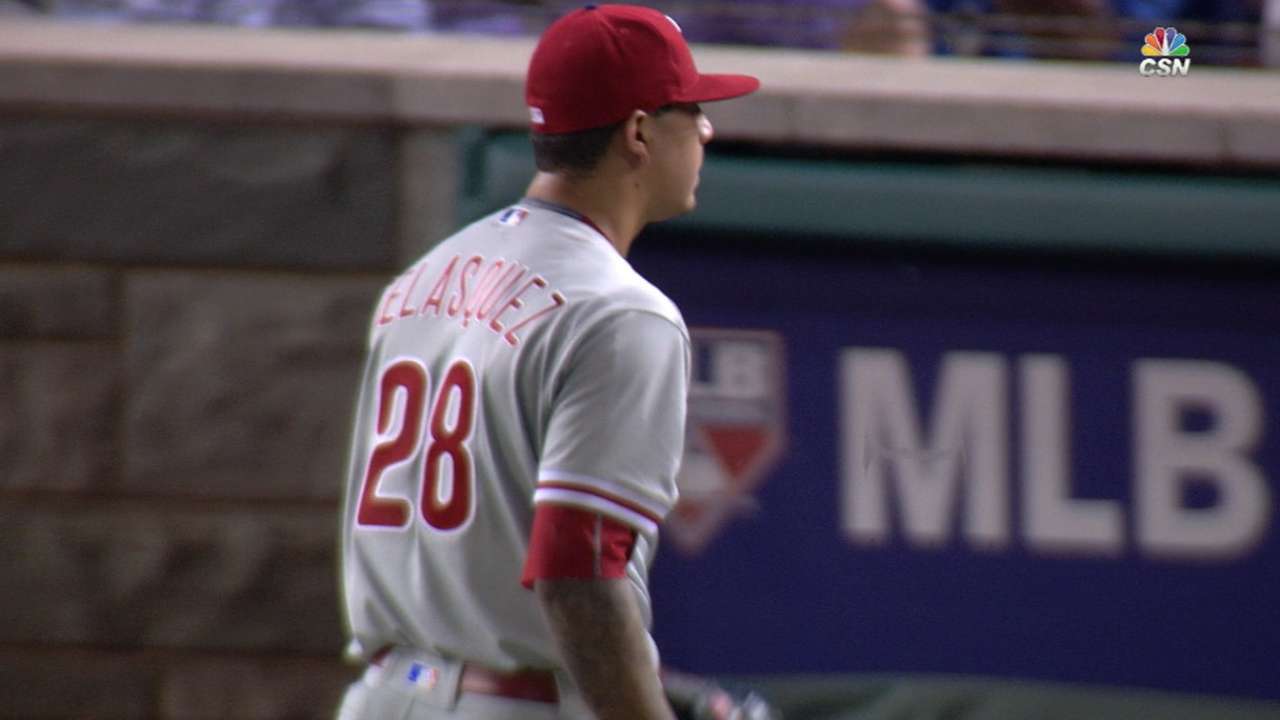 But the Phillies' cautious nature against Harper makes sense. Harper got Velasquez in the fifth.
"His approach is just flat out ridiculous," Velasquez said.
But it is tough to hold down Harper for long. He gets another crack at the Phillies on Wednesday night.
Todd Zolecki has covered the Phillies since 2003, and for MLB.com since 2009. Read his Phillies blog The Zo Zone, follow him on Twitter and listen to his podcast. This story was not subject to the approval of Major League Baseball or its clubs.