Longoria makes 'difficult plays look easy'
Third baseman's fourth-inning fielding key in shutting down O's offense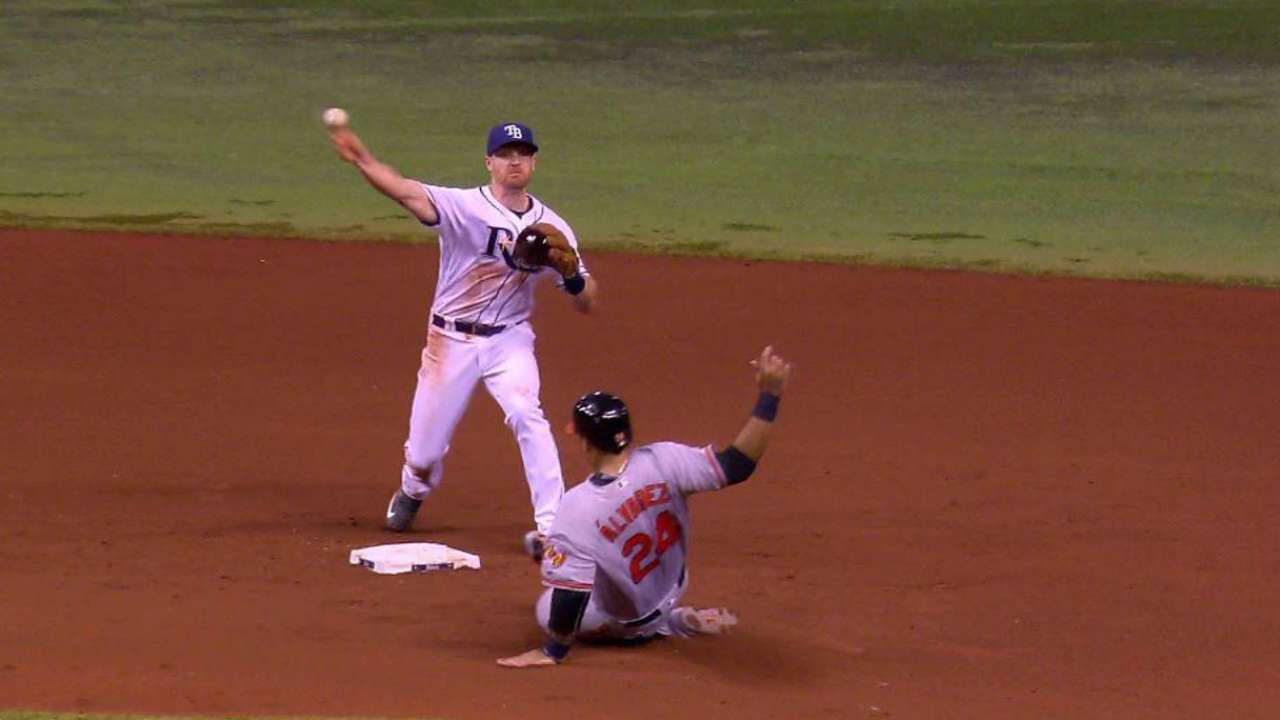 ST. PETERSBURG -- Rays fans have seen the highlight reel so many times in the past in which Evan Longoria flashes the leather to save runs.
Tuesday night, in the Rays' 3-1 win over the Orioles, Longoria came up big in the field and made what likely turned out to be the play of the game.
The Orioles had the bases loaded with one out in the fourth and appeared to have Rays starter Jake Odorizzi on the ropes. Enter Longoria.
• Cast your Esurance All-Star ballot for Longoria and other #ASGWorthy players
Caleb Joseph pulled a ball that seemed like it would get between third and short. But Longoria came up with the ball, threw a strike to Logan Forsythe, and the Rays' second baseman made a successful relay to first to complete the inning-ending double play and keep the score tied at 1.
According to Rays manager Kevin Cash, had that double play not taken place, "The game basically unravels right there. Because Jake, for everything Jake did, he just didn't have it tonight. He just battled, battled, battled. And one slipup ... very close to getting through. Tremendous play."
Cash noted that Longoria has a way of making "difficult plays look easy."
"That's how special he is," Cash said. "We know, watching other third basemen, how they react, he makes it look really easy."
Longoria has won two Gold Gloves during his career, yet he's known primarily for his hitting. Longoria understands that hitting "is going to come and go," but "defense is one of those things that can and should always be there."
"We see it by KK [Kevin Kiermaier]," Longoria said. "Last year, what did he save, 42 runs or something like that? That's the difference between a ton of wins. If I can do that, I figure, even on half or a third of that scale, you're adding wins to the team. And that's ulimately the goal. And that's why I take so much pride in the defense, because I know how much it can change the outcome of a game."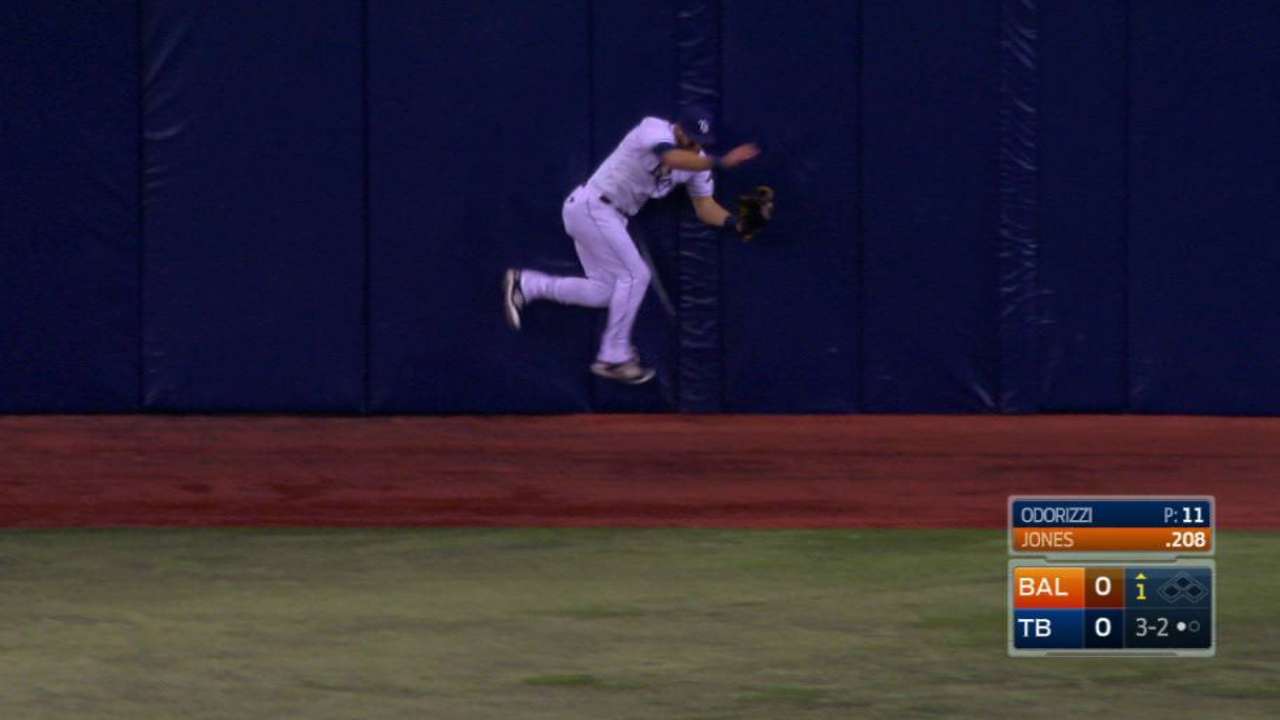 Longoria pointed out that a player can drive in two runs or "go out there and make a diving play and save two runs."
"I mean, essentially the same thing," Longoria said. "Although it's not as sexy. It's not going to be up on ESPN every night. But ultimately, our goal is to win games."
Longoria has always liked be praised for his defense.
"It's something that, definitely every day, I care about," Longoria said. "And, it's fun to talk about it, because I never do. For the most part, it's about what you did offensively after the game. I understand that. That's the part of the game that people want to see. People want to see you hit home runs and drive guys in, and I do, too.
"But defense, I think is the thing that keeps you around a long time in this game. A good defender who can play his position well goes a long way. I mean, you see how many times defense hurts teams, too. You make a costly error or you're in the wrong position, it's just as hurtful as punching out with the bases loaded."
Well stated, Mr. Longoria. Tuesday night's fielding gem felt like a grand slam to Rays fans.
Bill Chastain has covered the Rays for MLB.com since 2005. This story was not subject to the approval of Major League Baseball or its clubs.