Working over Scherzer pays off for Blanco
Shortstop calls time twice before HR in 1st inning of Tuesday's win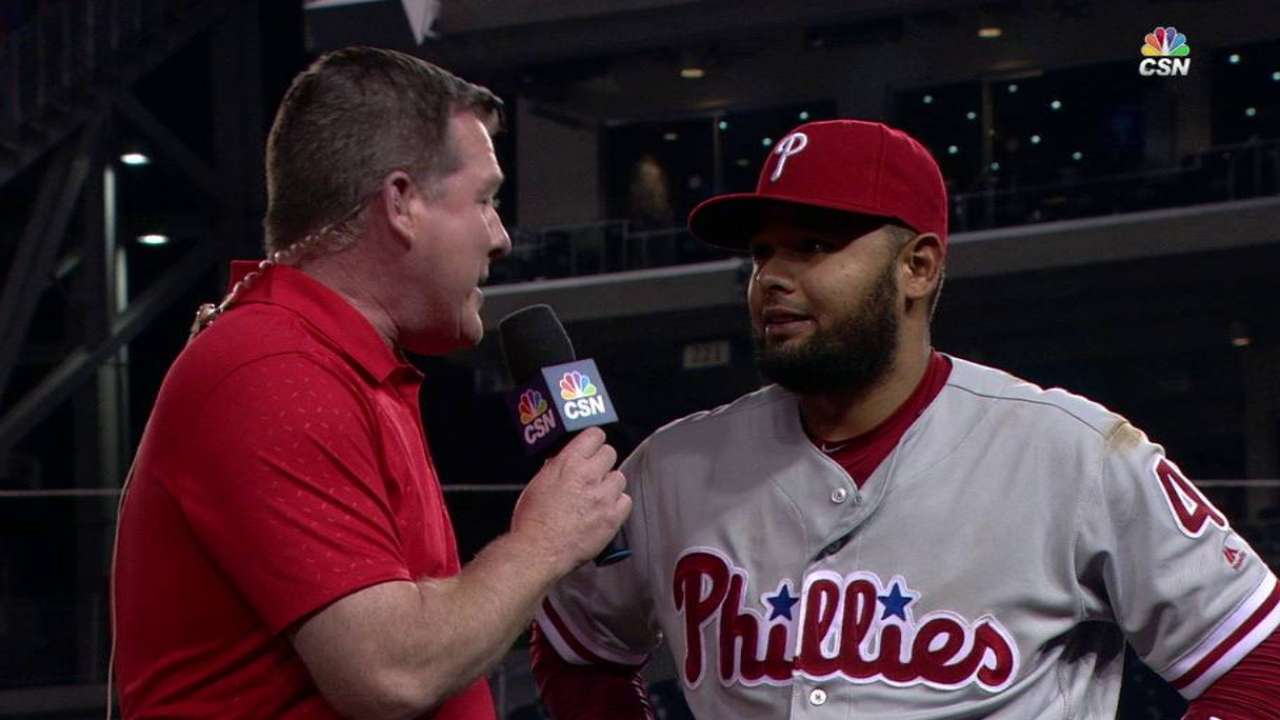 WASHINGTON -- Give Andres Blanco a break. He just wants to get comfortable, too.
He had a big night Tuesday in a 4-3 victory over the Nationals at Nationals Park. He hit a two-run home run against Nationals ace Max Scherzer in the first inning and made Scherzer work hard in a nine-pitch at-bat in the third. Blanco then hit a first-pitch fastball for a single against Scherzer in the fifth and doubled and scored the go-ahead run in the seventh against Oliver Perez.
"It's not approach," Blanco said. "It's just getting a chance to play and just having your best swing. He attacks the zone and he found my bat right away."
Blanco truly shined in those first two at-bats.
Scherzer issued a leadoff walk to Phillies center fielder Odubel Herrera in the first. Scherzer got a first-pitch strike on Blanco, but Scherzer got preoccupied with Herrera at first base and held the ball an inordinate amount of time out of the stretch.
Blanco called time once.
He called time twice.
He then smacked a two-run homer to right-center.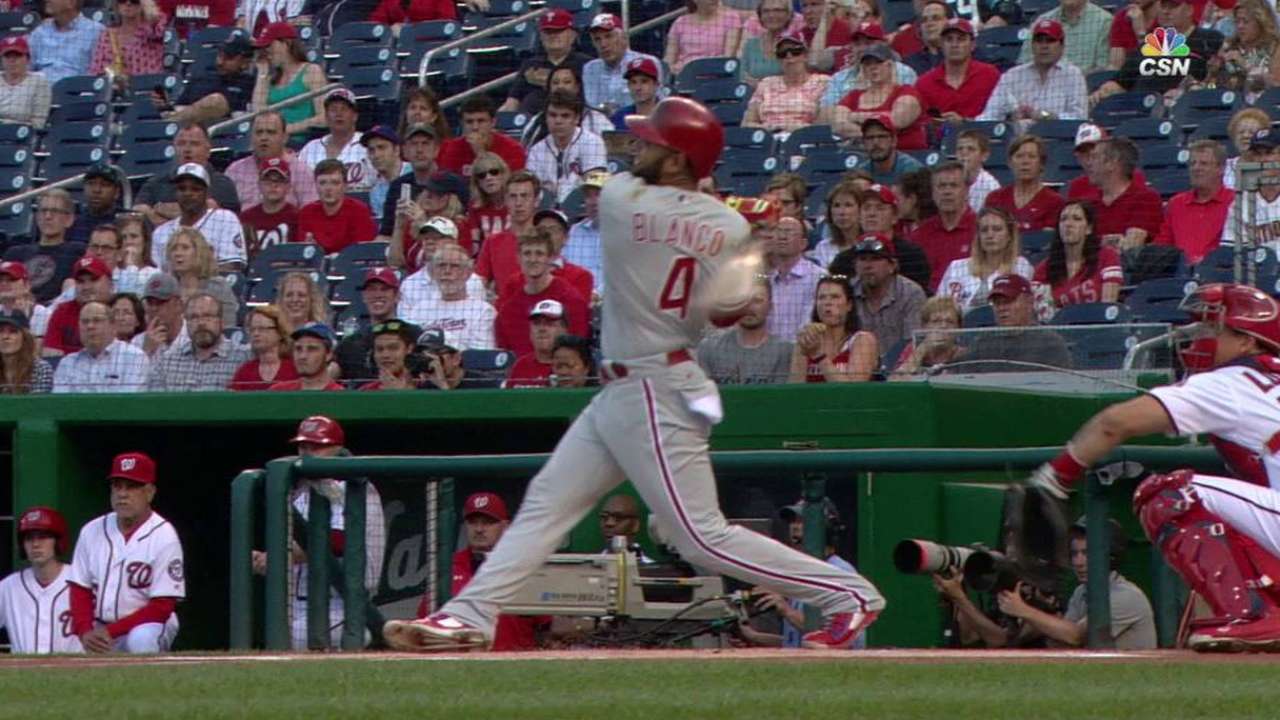 "I thought he was holding Herrera," Blanco said. "I was wondering if he was holding him or messing around with my high kick. He got mad. You can tell in his face he wanted to say something to me, but he can't. Come on, it's the game. It's baseball."
"I'm going to hold the ball," Scherzer said. "I know how to shut down the running game. Herrera's a good runner. He can steal a base at will. I don't get frustrated when the hitter calls time. He can call time all he wants. I don't get frustrated by that. I understand he probably doesn't want to sit there. If he calls time, that's on him. It's up to the umpire."
Blanco called time three more times in his third-inning at-bat against Scherzer, who was visibly annoyed on at least one occasion. Blanco then smashed a ball to Nationals second baseman Daniel Murphy for a double play.
But the point is Blanco made Scherzer work.
"He feels comfortable on the mound and I want to feel comfortable at the plate, too," Blanco said. "It's baseball. It's not something I'm just doing because I'm Blanco. Buddy, I'm not playing every day. Let me get comfortable, too. Yeah, take time out. I have a big high kick."
Blanco is hitting .346 (9-for-26) with three doubles, one home run, five RBIs and a 1.010 OPS in 14 games. One wonders if Phillies manager Pete Mackanin could find more places for him to play.
Left field, maybe? The Phillies have had the lowest production in baseball in left field.
"[Bench coach Larry] Bowa asked that during the game," Mackanin said. "[Blanco] is who he is, and I think if he played every day he might not be the same player, but it's hard to find a player who can do what he does. He's the best utility man I've ever seen."
Todd Zolecki has covered the Phillies since 2003, and for MLB.com since 2009. Read his Phillies blog The Zo Zone, follow him on Twitter and listen to his podcast. This story was not subject to the approval of Major League Baseball or its clubs.