O's offense struggling to 'cash in' with RISP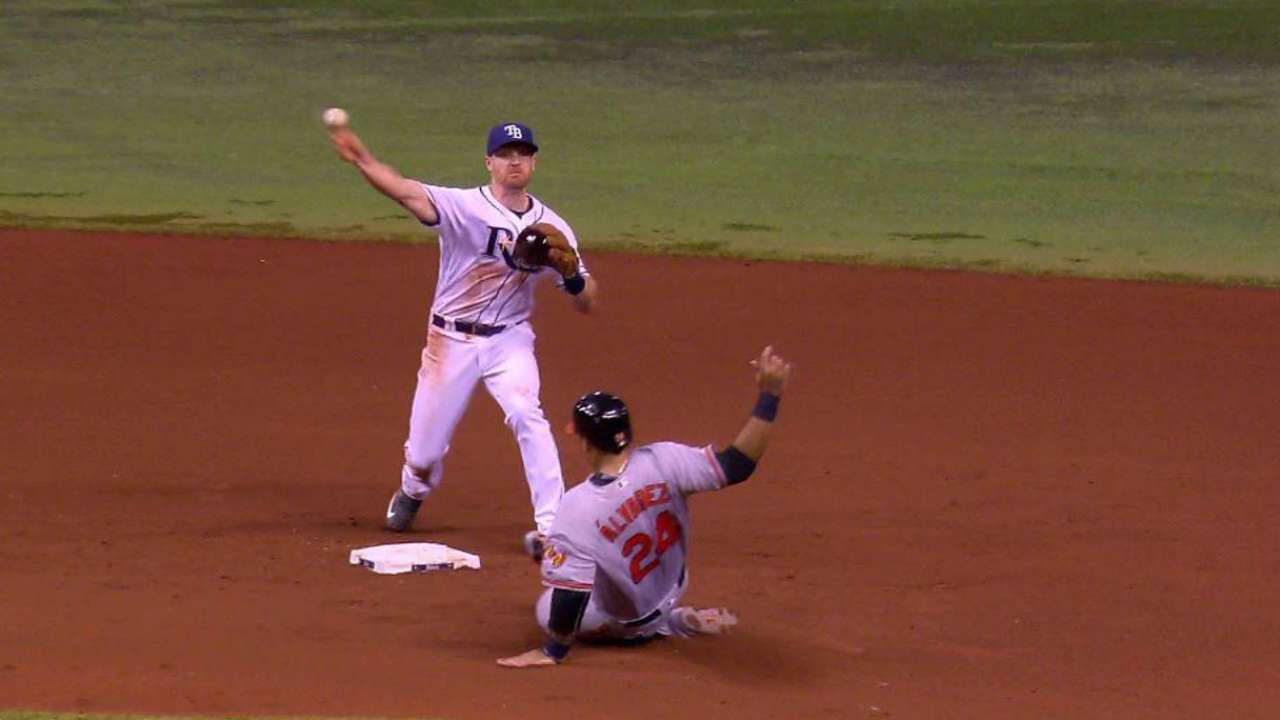 ST. PETERSBURG -- Where has the Orioles' high-powered offense gone?
A group that stormed out of Spring Training scoring three or more runs in 13 of the first 14 games -- including two nine-run spots and one that reached 11 -- has begun squandering some solid pitching performances. The end result, Tuesday's 3-1 series loss to the Rays, has Baltimore reeling, dropping four of its last five games.
The past three games have been particularly rough for the offense, which was touted early on as perhaps one of the best and deepest in all of baseball. The O's were held to a season-low one run in Sunday's defeat in Kansas City, setting up a scoreless stretch of 20 innings that didn't end until the fourth frame of Tuesday's game.
"We had him just a swing away," Orioles manager Buck Showalter said of Rays starter Jake Odorizzi, who the O's worked for a lot of pitches early but couldn't chase from the game. "I think the key to the game was them, defensively. We hit four balls on the button that they defended. That's a tribute to them. Would have liked to create a couple opportunities we could cash in on."
The Orioles hit into three double plays on Tuesday, but perhaps the most devastating was leaving the bases loaded on Odorizzi in the fourth inning. Following Mark Trumbo's RBI single, J.J. Hardy walked and Pedro Alvarez singled to put the O's in a threatening spot. But Jonathan Schoop popped up and Caleb Joseph hit into a double play to squander a major opportunity.
"I think the past two games you could probably put a little bit more on there," Joseph said of an Orioles club that has scored one run in the past 26 innings. "We had their guy on the ropes, we had him right where we wanted to and we just didn't execute.
"Bases loaded, we need to score some runs there and take a little bit of pressure off Ubaldo [Jimenez]. He had some high-stress innings. We've got to execute a little better in that situation. More times than not this season, we have. Me personally, we've got to pick it up. We've got to get that run in. Multiple runs."
The Orioles also hit into double plays in the seventh and eighth innings and Adam Jones, who had a one-out single, was picked off of first base in the fifth.
"The difference was we couldn't find a spot to fall in," Showalter said. "And thats a tribute to them. We didn't create enough opportunities, and [when] we did create them, we couldn't cash in."
Brittany Ghiroli has covered the Orioles for MLB.com since 2010. Read her blog, Britt's Bird Watch, follow her on Facebook and Twitter @britt_ghiroli, and listen to her podcast. This story was not subject to the approval of Major League Baseball or its clubs.