Karns puts it all together to dominate Astros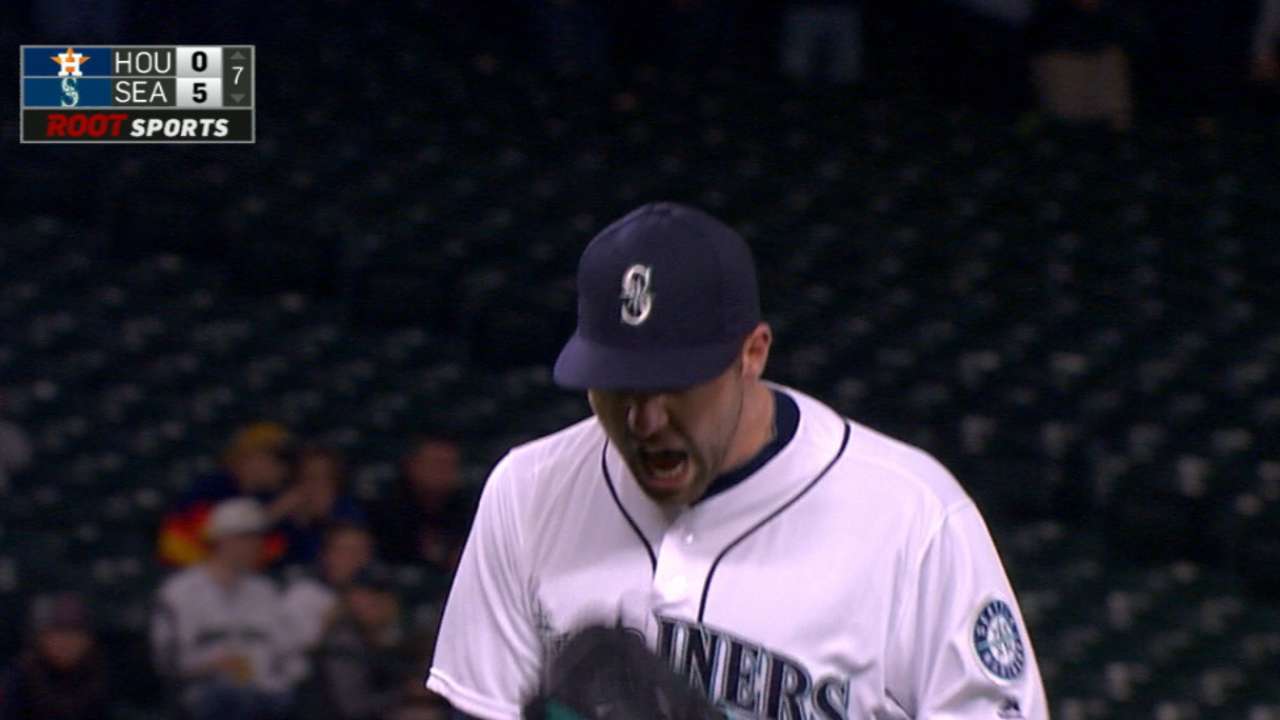 SEATTLE -- Prior to Tuesday night's 11-1 victory against the Astros in which Nathan Karns would make his fourth start in a Mariners uniform, Seattle manager Scott Servais was asked to assess his right-hander's body of work this year.
Servais replied that he had seen plenty of positives and even occasional flashes of brilliance in three- or four-inning spurts. All Karns needed to do was put it all together for an entire outing.
This, like a lot of things that the Mariners have been hoping for lately, arrived right on time. Karns shut out the Astros in seven innings of work, giving up only two hits, three walks and fanning six batters along the way.
"We saw a complete effort," Servais said. "That's the best he's thrown the ball all year. … It was great to see for him, a confidence-builder getting a little bit deeper in the game."
The team's run of solid play that has vaulted them into first place in the American League West continued Tuesday night, and Karns' emergence was one of the latest contributing developments. Karns started off perfect, retiring the first eight Astros he faced, wiggled out of trouble in a two-walk third, escaped trouble in the fourth despite surrendering a hit and a walk and was on cruise control after that.
Holy Nathan Karns!! Nasty stuff. Also 1/2 a dozen rbi's for Ñolo including his 1000. #KeepPushing #GoMariners #PlayEveryPitch

— Manny Acta (@MannyActa14) April 27, 2016
Karns struck out the side in a perfect fifth, with each third strike coming on baffling breaking balls. He lasted a season-high seven innings and threw a season-high 104 pitches.
On the heels of Taijuan Walker's 11-strikeout tour de force in Monday's win over Houston, it was another show of strength for Seattle, which improved to 11-9 for the season and won its second game of the homestand and third overall at Safeco after dropping the first five games of the season at home.
And it was no coincidence that Karns displayed dominance the day after Walker. Karns said he combined the knowledge provided in the scouting reports compiled by pitching coach Mel Stottlemyre Jr. with "notes" that he took while watching Walker on Monday to come up with his game plan.
"I guess I was just tired of not doing what I'm capable of doing," said Karns, who came into the game with a 5.28 ERA and lowered it to 3.63. "I just really wanted to get a good performance today."
Karns did, and he did it without even acknowledging that he was up against Astros left-hander Dallas Keuchel, the man who easily won the Cy Young Award as the best pitcher in the AL last year.
"I don't face him," Karns said. "I face their lineup and he faces our lineup.
"It was a tight ballgame. Fourth inning we got a run in, I went back out in the fifth, really tried to put up a zero and then our offense came back and put four more on the board. So right there gave me so much more breathing room. It really simplified my game."
Doug Miller is a reporter for MLB.com based in Seattle. Follow him on Twitter @DougMillerMLB. This story was not subject to the approval of Major League Baseball or its clubs.