MLB.com Columnist
Anthony Castrovince
Dissecting the struggles of Harvey, Verlander, Wainwright
Why are these three aces having troubles to begin the season?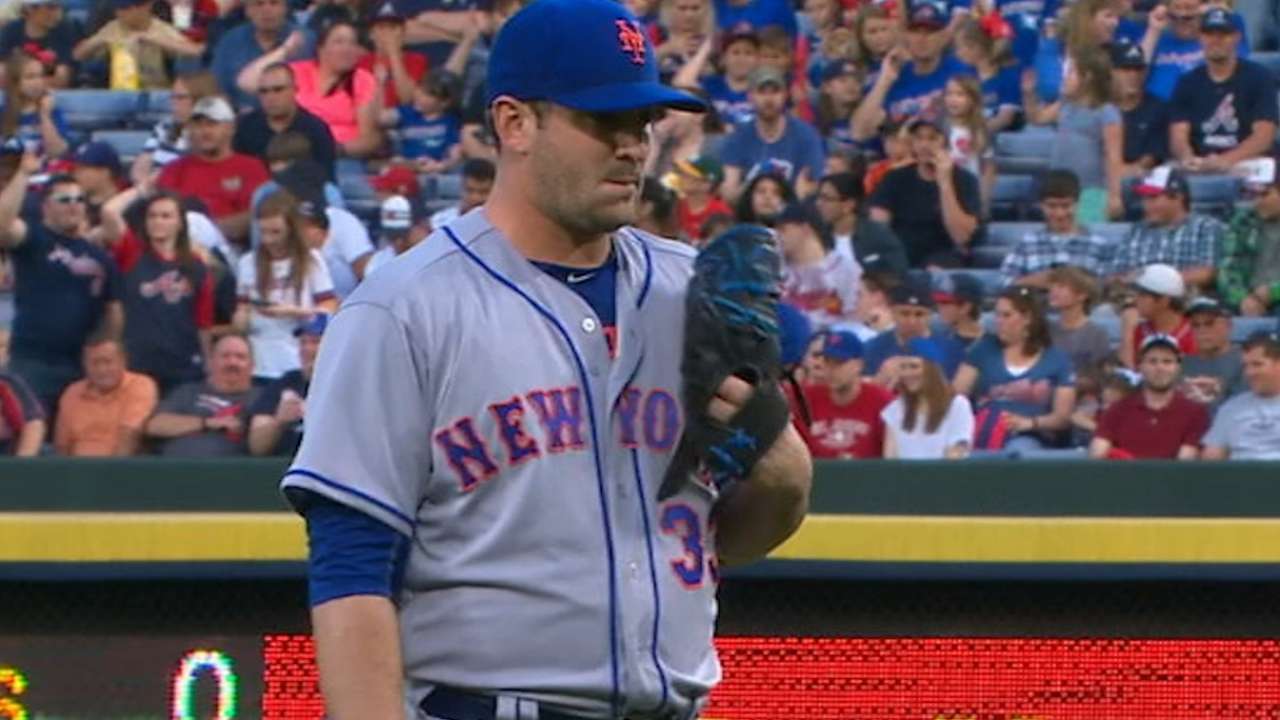 At this early juncture of the season, when the slightest of missteps can lead to the largest of statistical swings, it's not unusual to see more than 20 qualified starters in possession of an ERA north of 5.00.
We just didn't expect to see the names of Adam Wainwright, David Price, Zack Greinke, Justin Verlander, Chris Archer and Matt Harvey dotting that particular list. It says here that this can't possibly last, as evidenced by Archer's resurgent start against the Orioles on Monday night and Price's 14-strikeout effort in Atlanta on Tuesday night.
On Wednesday, Wainwright, Verlander and Harvey all take the hill for their respective clubs. These are three aces in the hole, certainly, but each offers his own version of hope -- either in the form of a recent start or some underlying statistics -- that better times (and better numbers) lie ahead.
Let's take a look at each of Wednesday's surprisingly subpar probables and see what's gone wrong and what lies ahead.
Harvey (1-3, 5.24 ERA) vs. Reds, 7:10 p.m. ET, Citi Field
Harvey got his first victory Friday against the Braves, but the 101 pitches it took him to get through five innings and the quality of the opponents' lineup did little to silence the questions surrounding his start to the season. Though the media-created narrative of Harvey letting Noah Syndergaard's rise to superstardom get to his head is silly stuff, this is obviously a guy still trying to find his proper form.
"He's having a tough time putting anybody away," Mets manager Terry Collins said of Harvey. "He gets ahead of them, he's pounding the zone, and it's foul ball, foul ball, foul ball."
Indeed, per Brooks Baseball, Harvey is getting substantially fewer whiffs per swing with his four-seamer, changeup and slider than we're accustomed to seeing:
Overall, Harvey's strikeout rate has fallen 10.6 percent -- 24.9 to 14.3 -- from last year's mark. His walk rate has ballooned from 4.9 percent to 8.2.
It's notable that Harvey's four-seamer velocity is 1.6 ticks below where it was last April (94.98, vs. 96.58). This fits in conveniently with the concern associated with Harvey's 216 innings in 2015 -- the most by a pitcher in his first season back from Tommy John. Mets pitching coach Dan Warthen has specifically expressed concern about Harvey's mechanics pitching out of the stretch -- something Harvey's had to do with frustrating frequency this season.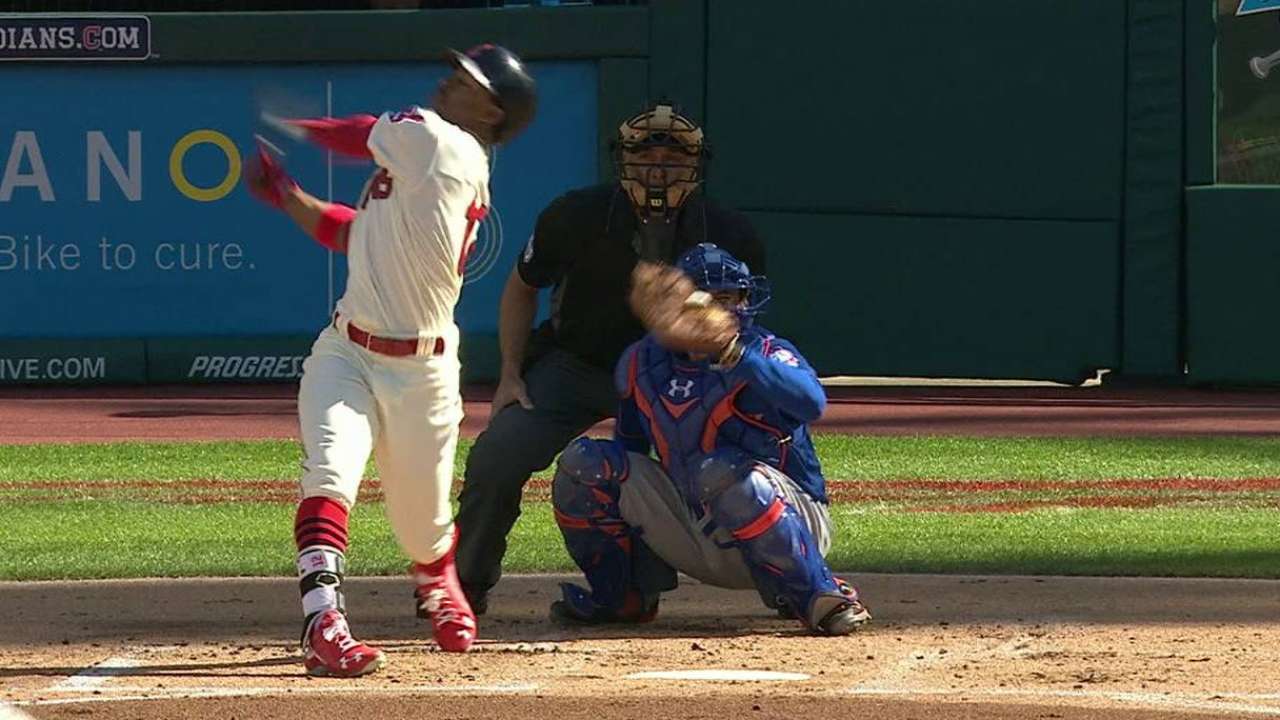 The above doesn't necessarily point to an easy, overnight fix. But take heart, Mets fans: Harvey's hard-hit rate (25.3 percent) is the lowest of his career, his soft contact rate (30.7) is the highest of his career. Soft contact falling in for hits has contributed to a .351 batting average on balls in play that is well above league average and likely to regress.
This is a man in need of some pitcher-friendly counts and clean, efficient innings. We'll see if that starts against the Reds.
Verlander (1-2, 5.79) vs. A's, 7:10 p.m. ET, Comerica Park
Not everybody picks up where they left off as seamlessly as Jake Arrieta, who, going into Wednesday's outing against the Brewers, has had no trouble building off his monster second half in Chicago.
The Tigers' hope was that they had recaptured the Verlander of old based off his second-half sample from 2015 -- a 2.80 ERA and .586 OPS against in 15 starts. In fact, faith in Verlander went a long way toward compelling owner Mike Ilitch to up the ante once again and invest heavily in Jordan Zimmermann and Justin Upton rather than rebuild.
Verlander can reward that faith, if his outing against the Indians last Friday is any indication. He was touched for just four hits over seven innings with 10 strikeouts. Unfortunately, two of those hits were solo homers, and that was enough to send the Tigers to a 2-1 loss. But really, were it not for an April 11 clunker against the Pirates (seven runs allowed in 4 1/3 innings), Verlander would not be included in this admittedly arbitrary "north of 5.00 ERA" discussion.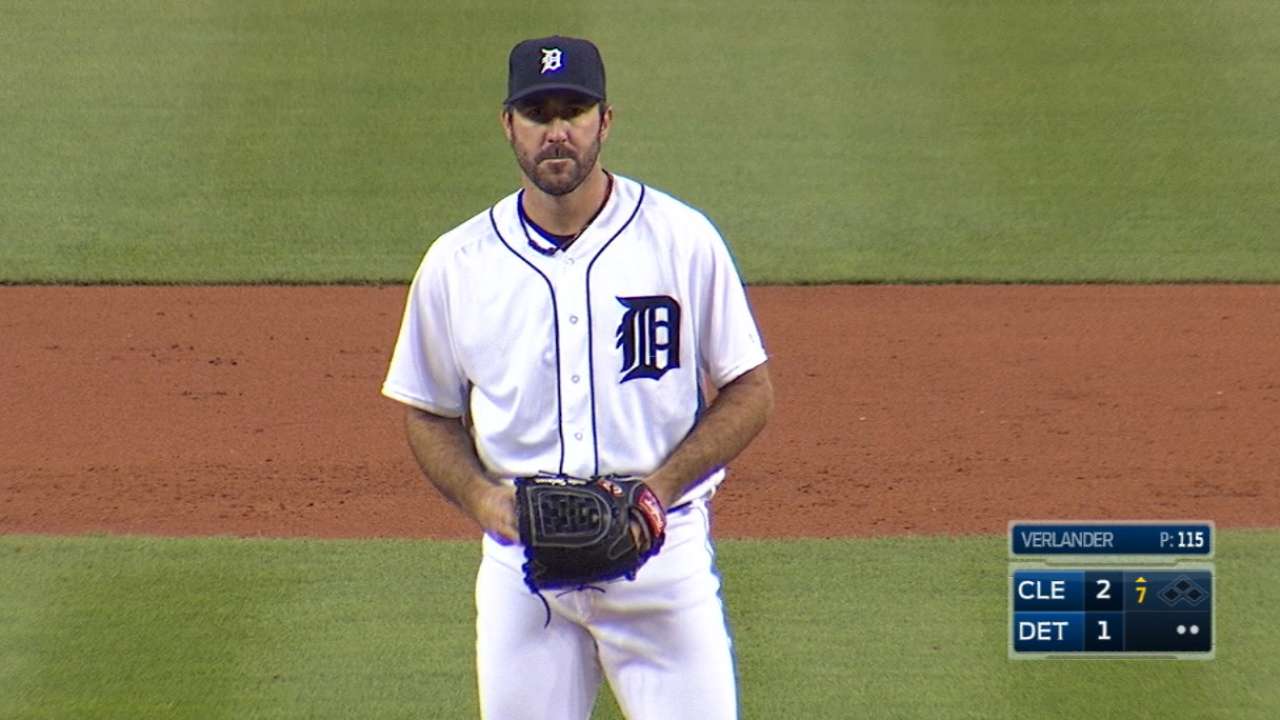 One key question moving forward is whether the "crisper" (as Verlander put it) curveball and change from the Cleveland start can be repeated with consistency. The reason this is so important is because Verlander has consciously -- and perhaps wisely -- gone away from the fastball with more frequency as his starts evolve. These numbers are from the start of the 2015 season to now.
Verlander's fastball usage
Times through the order
Fourseam usage
AVG vs. fourseam
1
66.33
.214
2
53.90
.208
3+
54.97
.323
In the small sample that is the 2016 season, opponents are notching a .625 SLG off the curve, a pitch that yielded just a .281 SLG in the second half last year. The changeup and slider have been comparably effective to last year.
Opponents are hitting Verlander's four-seamer well this year -- a .306 average against. But as was the case in his second half surge from last year, Verlander is getting a high rate of spin on the pitch (2,534 rpm, vs. the MLB average of 2,244, according to Statcast™) and that should generally lead to strikeouts and fly balls.
If you're a Tigers fan, just hope those fly balls aren't homers like the ones that doomed him last Friday.
Wainwright (0-3, 7.25) at D-backs, 9:40 p.m. ET, Chase Field
The supposed blessing in disguise associated with missing the vast majority of 2015 because of an Achilles injury was that Wainwright's arm would be rested and ready for a Cardinals club looking to build off last year's rotation successes, despite the free-agent loss of John Lackey and the elbow injury to Lance Lynn.
Alas, Waino's been wayward in the early going, with an elevated walk rate (4.03 per nine, versus a 2.26 career mark), a diminished strikeout rate (3.63 per nine, versus 7.55 for his career) and lots and lots of contact (85 percent of swings). And according to FanGraphs, only 10.7 percent of that contact is of the "soft" variety. Opponents are ambushing him on the first pitch, resulting in a .472 average and .750 SLG on those swings.
That's the bad news. The good is that Wainwright did turn in a quality start against the Padres (he allowed three runs over six innings, thereby meeting the minimum for the "quality" category) his last time out.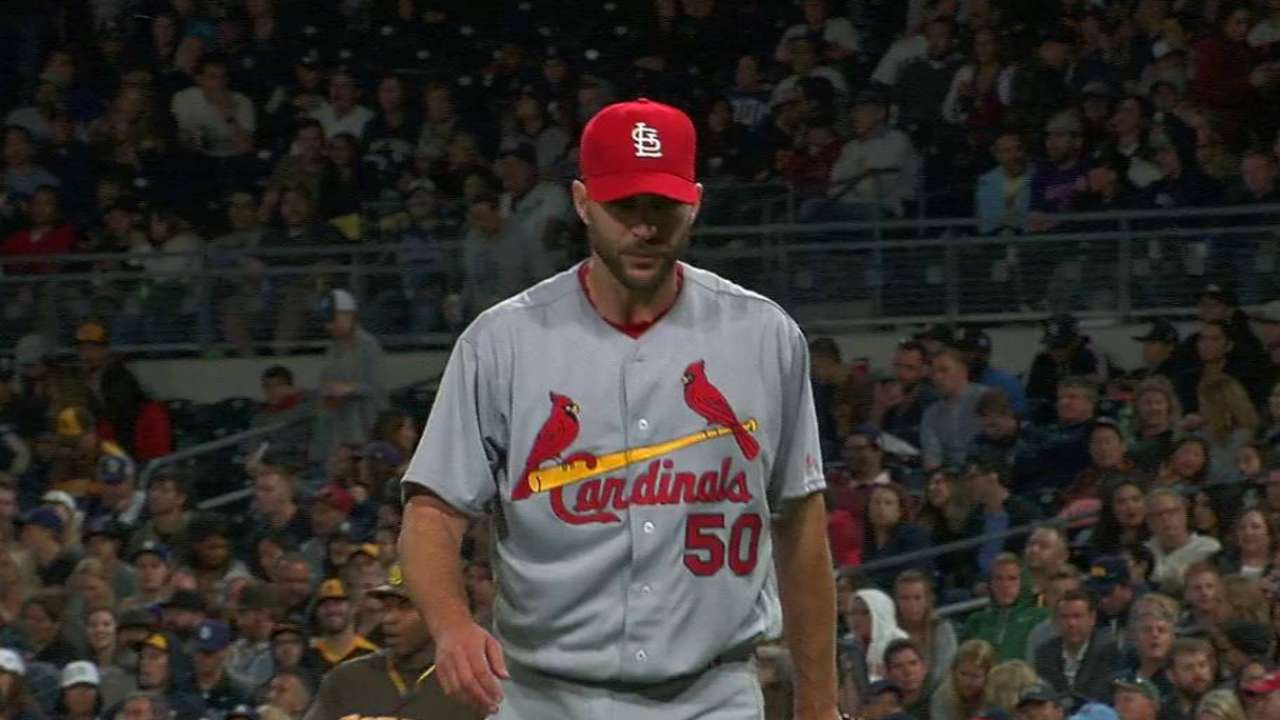 "Obviously the life on some of my stuff isn't quite there yet," he told reporters. "I still have to get my hook going. It's better, it's coming."
The curve is supposed to be Wainwright's Mr. Trusty (no wonder he goes by @UncleCharlie50 on Twitter), and he's tried to will its cooperation by using it 29.8 percent of the time -- a figure that, if it holds, would be the highest usage rate for Wainwright's career. Per the data on Brooks Baseball, the pitch contains the vertical movement we're accustomed to seeing, but it's simply not generating the whiff percentage it once did:
The increased usage of the curve, cutter and sinker has led to decreased use of the four-seam fastball, which, for the record, is being thrown at virtually the same velocity as a year ago.
Chase Field is a tough environment to get off the schneid, but Waino has pitched well there in the past (2.79 ERA in five appearances). Waino has had slow starts before. His two highest ERAs by month since he became a starter were April 2007 (6.14) and April 2012 (7.32). The former was his first season as a starter, the latter was his first season back from Tommy John. Evidently, coming back after an extended absence from starting has been just as jarring, and it will take a healthy hook -- possibly early in counts -- to get Waino going.
Anthony Castrovince is a reporter for MLB.com. Read his columns and follow him on Twitter at @Castrovince. This story was not subject to the approval of Major League Baseball or its clubs.