Belisle leaves game vs. Phils with right calf injury
Reliever re-aggravated strain suffered during offseason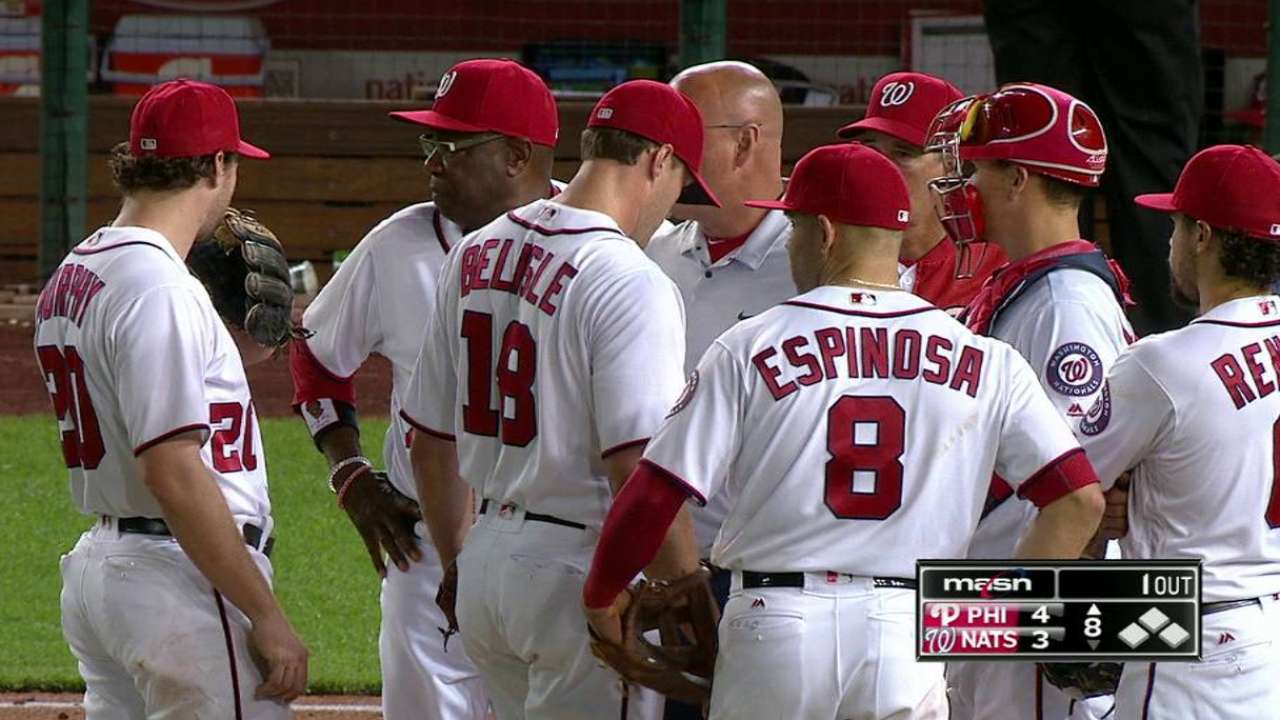 WASHINGTON -- Nationals pitcher Matt Belisle left in the eighth inning of Tuesday's 4-3 loss to the Phillies with a right calf injury.
Belisle said he re-aggravated a strain he originally suffered in the offseason while doing sprints.
The injury occurred after Belisle delivered a pitch to David Lough, the only batter he faced. Lough lined to first, but Belisle felt pain in his calf as he followed through. Manager Dusty Baker, pitching coach Mike Maddux and a trainer visited Belisle on the mound and removed him from the game after a brief conversation.
Belisle said he could have continued to pitch with limited pain, but was worried about having to cover first base.
"I could feel it a little bit on the couple warmup pitches, but I know how this is, and if I had to break again to first that wouldn't have been good," Belisle said. "And I'm no help to the team like that."
"I looked down, and you could tell by that look on his face that something was wrong," Baker said.
Belisle said he doesn't know if the injury will require a trip to the disabled list, but that the injury did not feel as severe as the one he suffered during the offseason.
Felipe Rivero replaced Belisle after the injury and finished the eighth inning without allowing a baserunner.
Alex Putterman is a reporter for MLB.com based in Washington. This story was not subject to the approval of Major League Baseball or its clubs.