Yo returns with a bang, hits tying pinch-hit HR
Mets send Duda to on-deck circle as decoy because Cespedes can't be found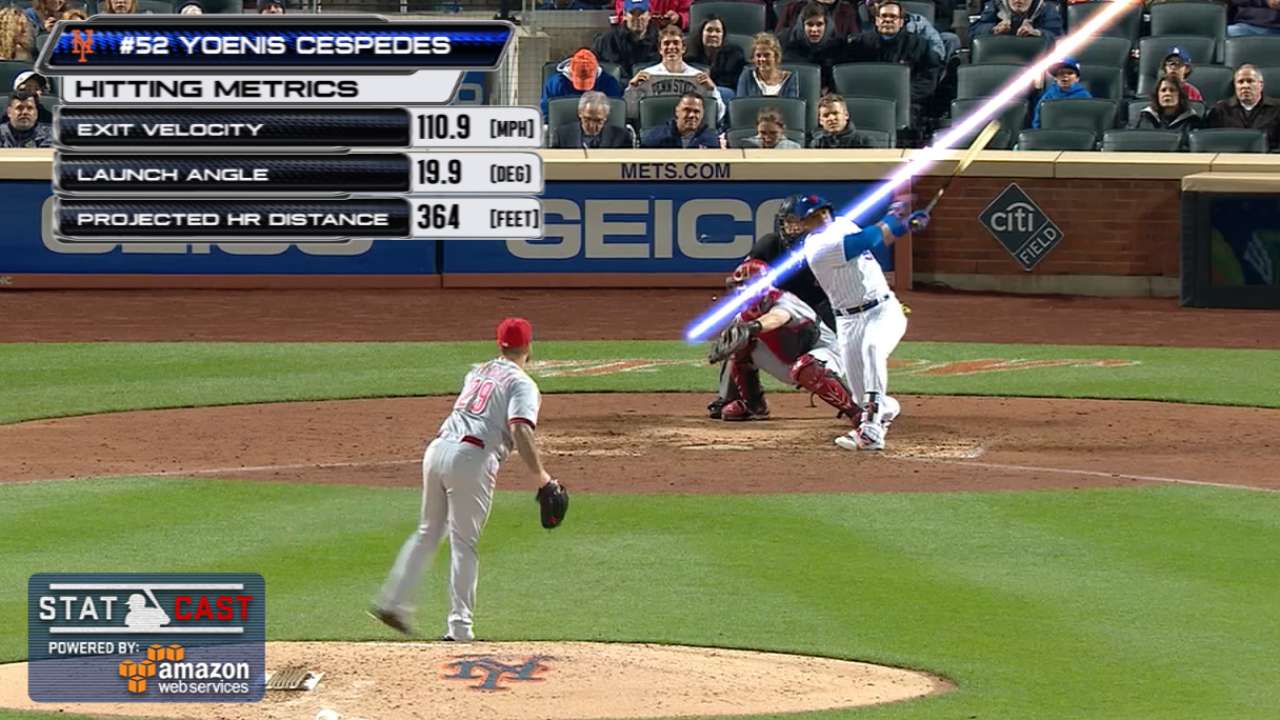 NEW YORK -- Another chilly night, another sputtering evening of offense, and even David Wright couldn't help but take notice. It just felt like one of those games, Wright said, that the Mets were destined to lose -- one of the several dozen that every team drops every year without much of a counterpunch, because such is the nature of baseball.
The first rumbles of something different did not sweep through the 26,978 at Citi Field until, after a walk, a hit and a curious delay in the bottom of the seventh inning, Yoenis Cespedes emerged from the Mets' clubhouse still taping his wrists. When Cespedes, who had not played since Friday due to a badly bruised right leg, stepped to the plate, the crowd buzzed. When he jolted the first pitch he saw for a game-tying, three-run homer, leading the Mets to a 4-3 win over the Reds, the place about shuddered to the ground.
• Cast your Esurance All-Star ballot for Cespedes and other #ASGWorthy players
"You just shake your head," manager Terry Collins said. "Special people do special things. With great ability, they just walk up and do things when you're not expecting it."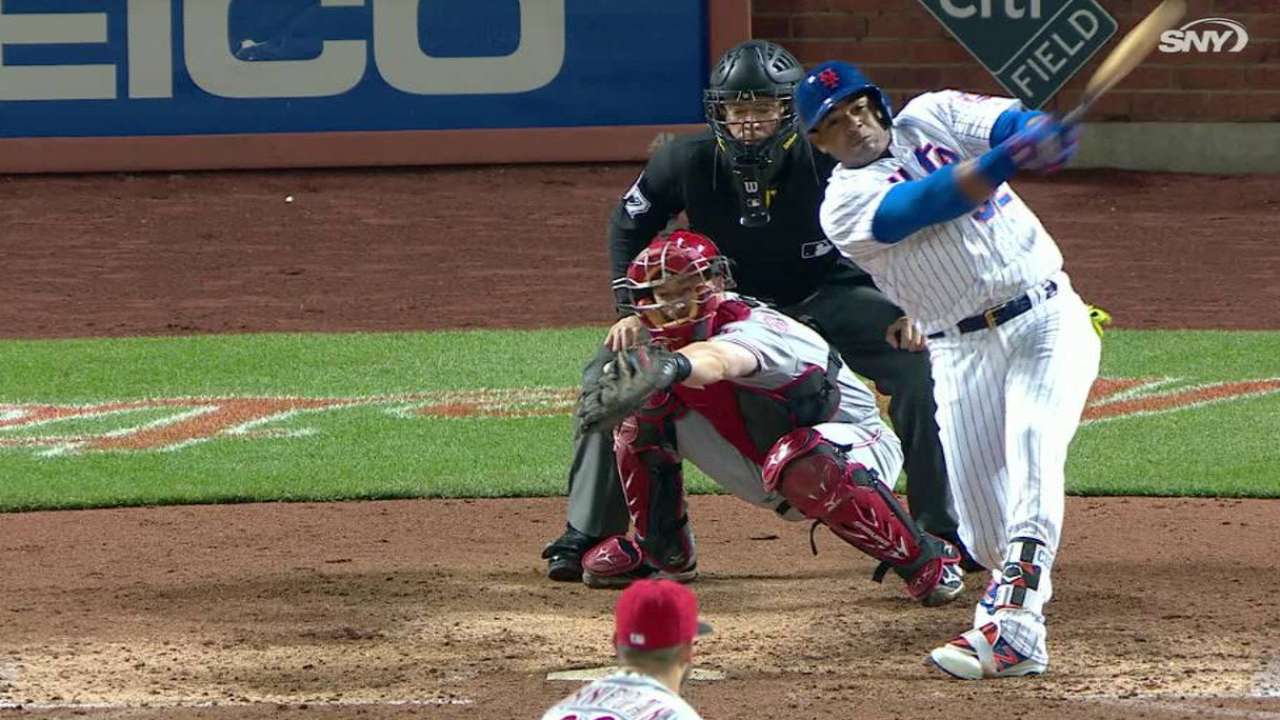 In no way were the Mets expecting this, even given what they know about Cespedes. For six innings, the team had flailed away against Brandon Finnegan, a former first-round Draft pick who would not look out of place within the Mets' own vaunted rotation.
Around the fifth, Collins checked with hitting coach Kevin Long, suspecting he might want to use Cespedes -- who had his knee drained a day and a half earlier -- in the seventh. Long replied that Cespedes was hitting in the cage, preparing to contribute. But when Collins sent bench coach Dick Scott to retrieve him two innings later, Cespedes was nowhere to be found.
That prompted Collins to send Lucas Duda to the top of the dugout steps, where he lingered until Reds manager Bryan Price walked to the mound. Price wanted Finnegan to pitch one way or the other, but preferred a matchup with Cespedes. Moments later, the Mets granted his wish as their $75 million outfielder sauntered out of the clubhouse, finished taping his wrists, grabbed a bat and stepped up to the plate.
"A flair for the dramatic," Wright said. "It was like out of a movie scene."
Spoiler alert: Finnegan's first pitch came in at 93 mph and left at 110.9 mph, according to Statcast™. It ricocheted off the left-field fence just above the orange home run line, coming to rest as third-base umpire Sam Holbrook waggled his index finger in a circle. Home run.
"He was due," Finnegan said. "He got his hit."
Cespedes left the clubhouse immediately after the win without speaking to the media, so he could not relate his own version of events. That left his manager and teammates to extol his virtues.
"Why not, right?" Mets catcher Kevin Plawecki said. "That was a pretty crazy sequence of events."
But in a way, in retrospect, none of this seemed particularly surprising. This is the same player whose arrival transformed the Mets' 2015 season, dovetailing with a string of comeback wins and the Mets' rocket flight up the National League East. Tuesday had much of the same vibe at Citi Field, a small-but-spirited crowd chanting and crowing throughout the later innings.
That for a few frantic moments in the bottom of the seventh no one knew exactly what was happening with Cespedes served only to further the dramatics.
"All I kept hearing was, 'He's coming, he's coming, he's coming,'" Collins said. "He finally got there."
Anthony DiComo has covered the Mets for MLB.com since 2008. Follow him on Twitter @AnthonyDiComo and Facebook, and listen to his podcast. This story was not subject to the approval of Major League Baseball or its clubs.