Kershaw dusts himself off after rough inning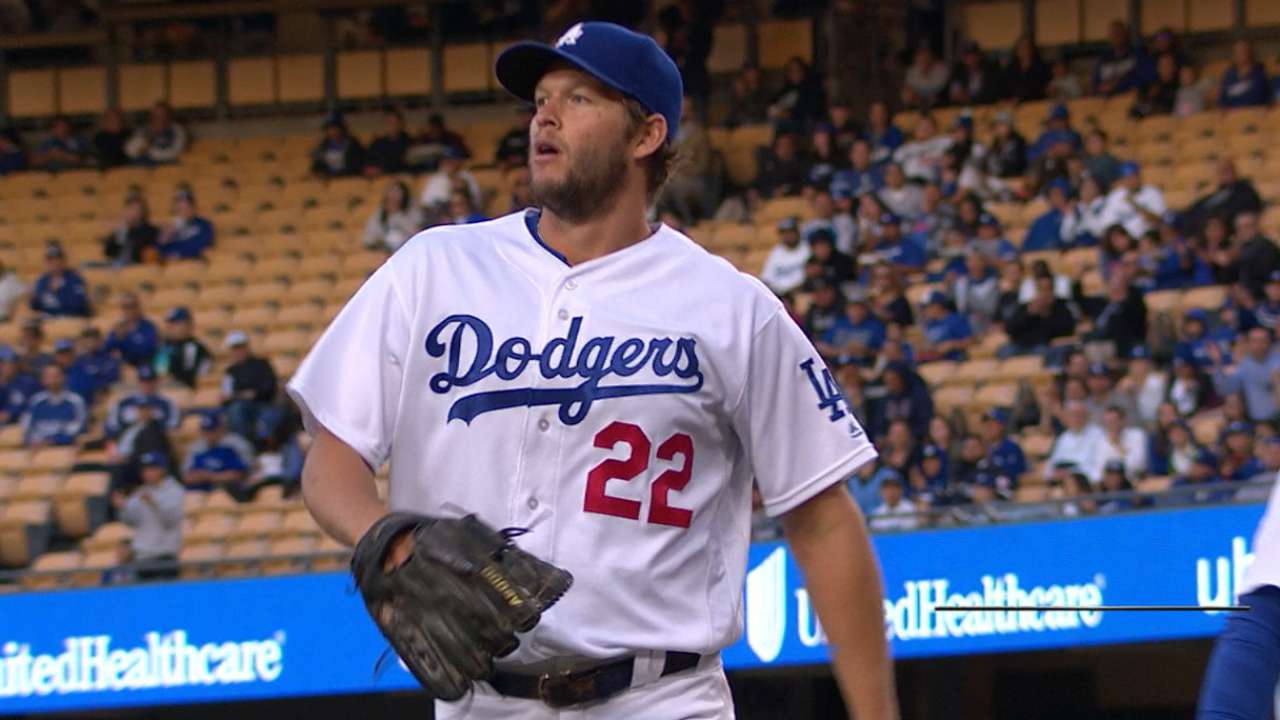 LOS ANGELES -- As the sixth inning began, Clayton Kershaw had everything. He had struck out eight, walked none and allowed only one hit, all on 60 pitches.
He felt better than he had in his last two starts, during which he had allowed just three total runs in 15 innings. And then, it slipped away as five consecutive Marlins got a hit, ending with an emphatic three-run blast from Giancarlo Stanton to put the Marlins up, 5-3, on their way to handing the Dodgers a 6-3 loss.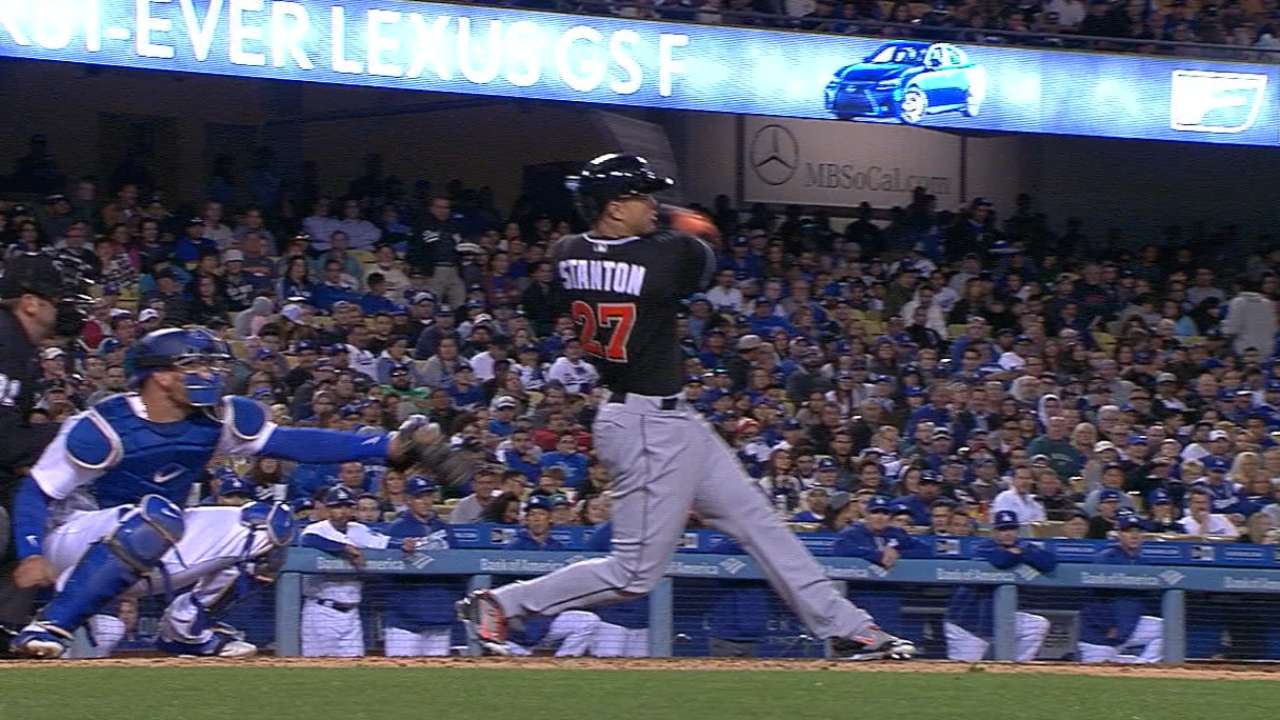 "The first five innings, you think he's going to throw a shutout," manager Dave Roberts said. "He was throwing the baseball, commanding it, and was in complete control, but it turned quickly."
Kershaw spent the first five innings attacking the strike zone and finding consistency with his breaking balls, something he said he had been having trouble with earlier in the season.
Then, in the sixth inning, Marlins hitters began to find holes. The fastest exit velocity of the first three hits Kershaw allowed topped out at just 77 mph, per Statcast™. But bad luck turned into legitimate mistakes for the Dodgers' ace against the two best hitters in the Miami lineup, Christian Yelich and Stanton.
"[Miguel] Rojas bloops one in there for a double, that's tough, then Dee [Gordon] with the two-strike hit," Kershaw said. "I either got to get out of the way or catch it, one of the two. With [Martin] Prado, kinda got in on him a little bit, but he got a hit. Yelich was a bad pitch. Missed my spot there, as well as with Stanton. It just happened in a row. It happens quick."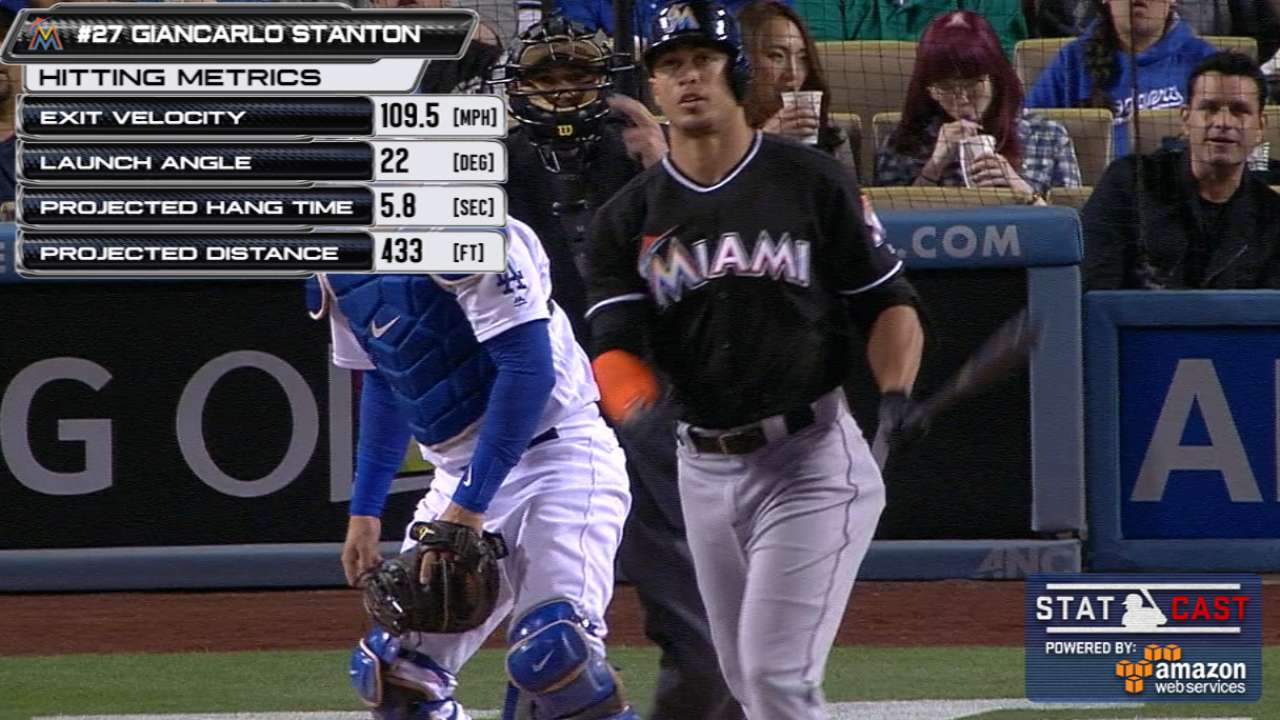 Kershaw's mistake against Stanton was clear, targeting an inside fastball and leaving it down the middle instead. Stanton hit the ball 433 feet into center field, a distance typical when one of the most powerful bats in the league finds a mistake.
"He's probably the strongest hitter in the big leagues," said Stanton's former Miami teammate Enrique Hernandez. "When he's locked in, he's one of the best in the game. With his strength, he doesn't even have to hit the ball [hard] for it to be a homer."
In his first four starts of the season, Kershaw allowed five earned runs. He allowed the same total in just one inning.
While that sixth inning was rough, Kershaw's ERA still stands at an impressive 2.43. As he moves on to his start Sunday against the Padres, he'll be coming off an outing in which he showed off some encouraging stuff. It just stopped working for one weird, for him, inning.
Jack Baer is a reporter for MLB.com based in Los Angeles. This story was not subject to the approval of Major League Baseball or its clubs.