No extension talks for Calhoun, Richards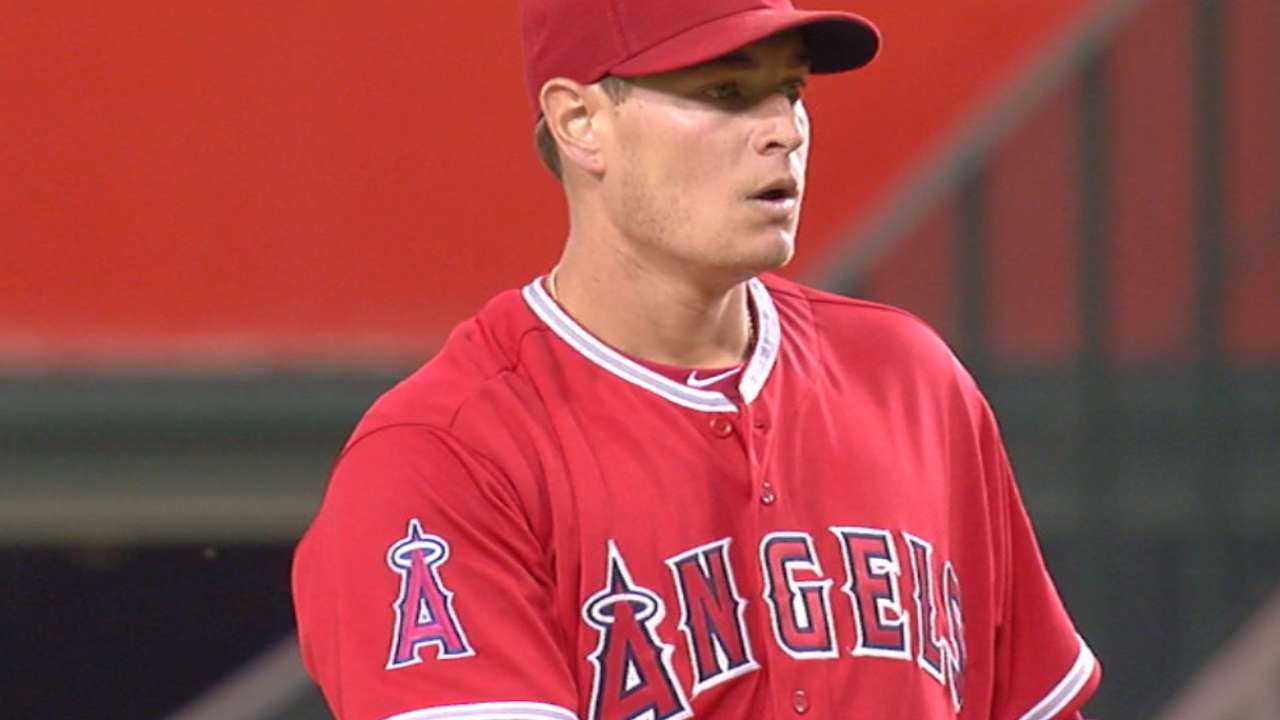 ANAHEIM -- With each day that passes, Kole Calhoun and Garrett Richards get a little bit more expensive for the Angels.
Calhoun, a Gold Glove Award-winning right fielder, will be arbitration-eligible for the second of four times this coming winter. Richards, who has established himself as one of the game's premier starting pitchers, is three seasons away from free agency.
This is usually around the time teams and players begin negotiating contract extensions, capitalizing on the perfect balance between future uncertainty for the player and a comfortable track record for the organization. The Angels aren't there with Calhoun and Richards just yet, partly because their new general manager, Billy Eppler, is still familiarizing himself with the group.
"We're just in that period where I think everybody is just feeling everybody out, in general," Eppler said. "We're getting to know our player personnel, getting to know our coaching personnel, them getting to know me, and just letting time take its course.
"They're both very, very talented players. I would be lying to tell you that the thought hasn't crossed my mind. But we're not at that point. It's just not something I want to talk about while they're playing; while they're trying to perform."
Calhoun, 28, has batted .264/.318/.434 since the start of 2014, putting together a FanGraphs Wins Above Replacement score of 8.0 that ranks seventh among right fielders. Richards, 27, is 29-19 with a 3.12 ERA in that span, striking out 370 batters in 406 2/3 innings and possessing the hardest fastball among starting pitchers.
They're both homegrown and integral parts of the Angels' culture.
"They're the core, man," Eppler said. "They're part of the core. They're good people, they're good players, and they both have a lot of drive and a lot of passion."
But they also blossomed in the Majors a little bit late, with Calhoun playing all four years in college and Richards not locking up a rotation spot until late in his age-25 season. And they'll each begin their free-agent years beyond the age of 30, which tends to prompt concerns about deterioration.
Then there's this: The Angels can afford to wait.
Low-revenue teams tend to value cost certainty, making them more willing to lock up young players earlier in their careers. But high-payroll clubs like the Angels, with a little bit more wiggle room in their budgets, can afford to gamble on the arbitration process.
"That's a factor," said Eppler, previously an executive with the Yankees. "You might be able to afford going year to year in certain situations, just because of your own circumstances."
Alden Gonzalez has covered the Angels for MLB.com since 2012. Follow him on Twitter @Alden_Gonzalez and Facebook , and listen to his podcast. This story was not subject to the approval of Major League Baseball or its clubs.