Amid high and lows, Story keeps level head
Rockies rookie shortstop, who posted historic first week, stuck in slump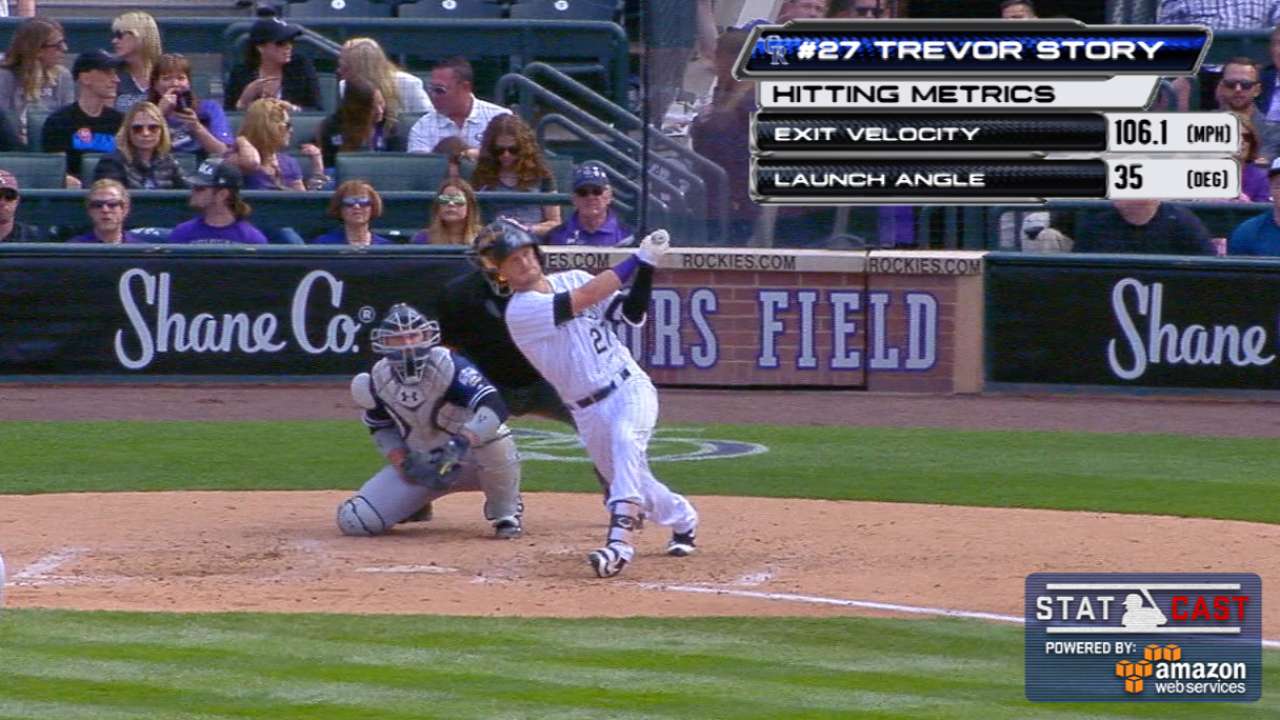 DENVER -- Seven home runs in his first six Major League games and eight in his first 13 -- both unprecedented -- didn't make Rockies shortstop Trevor Story believe he was immune from baseball's crests and depths. So a 2-for-22 (.091) slump in the six games since his last homer won't sway him, either.
Story, 23, has lived an action-packed first 19 games. Tuesday night's 9-4 loss to the Pirates was another first -- a day out of the starting lineup. It could be a good time to assess where Story is. However, he doesn't necessarily look at it that way, and when he does self-evaluate, he doesn't do it with the stat sheet in mind.
"I really don't like to look at results at all, really," Story said. "I go by how I feel day by day. If I feel good at the plate and I'm seeing the ball well and putting good swings on it, I'll go home happy. If you can do that but not get hits, it's a good way to keep from putting yourself in a rut."
For example, Story was 0-for-2 with a strikeout, but he walked his first couple of plate appearances in Monday's 6-1 loss to the Pirates. That didn't help Story's batting average, which sat at .247 entering Tuesday, but he won't wallow.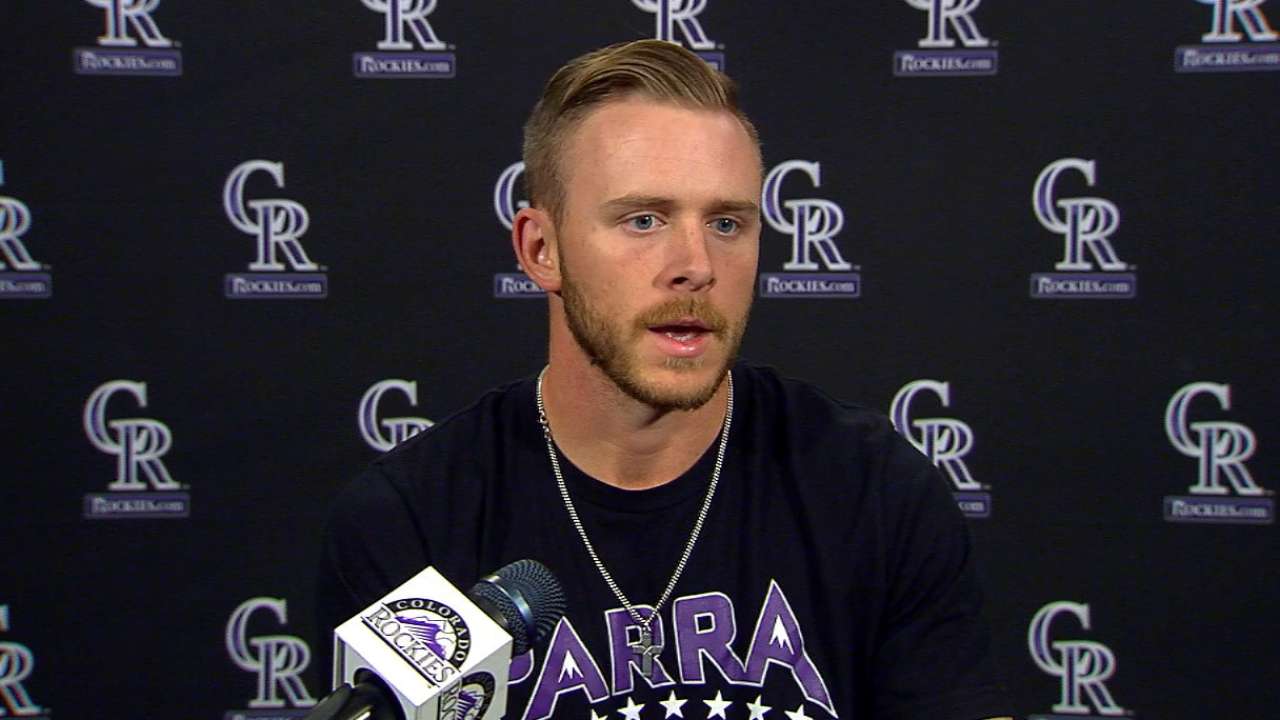 "There are a lot of different ways you can be successful in this game, whether it's moving a runner, drawing a walk, or seeing a lot of pitches and getting the starter's pitch count up," Story said. "Any of those are successful at-bats for me. I got on base twice. That's good for the team."
Story, who says pitchers are throwing fewer fastballs in hitters' counts because of his power, has had competitive at-bats. He's competitive during his six-game slump -- 5.19 pitches seen per appearance (26 appearances total), and 6.37 on the eight strikeouts. He is seeing 5.19 per on his 31 strikeouts.
Walt Weiss said while he believes Story is still competitive, the manager saw signs that the rookie needed a rest, and Tuesday's matchup with tough Pirates right-hander Gerrit Cole was a factor as well. However, Weiss commended Story on handling the crunch of publicity and scrutiny that has come with his triumphs and tribulations.
"He's still going up there with a plan, sticking to the plan -- doesn't mean it always works out," Weiss said. "It's a tough league we're playing in. But like I said earlier, I haven't seen him overwhelmed in any sense from Day 1."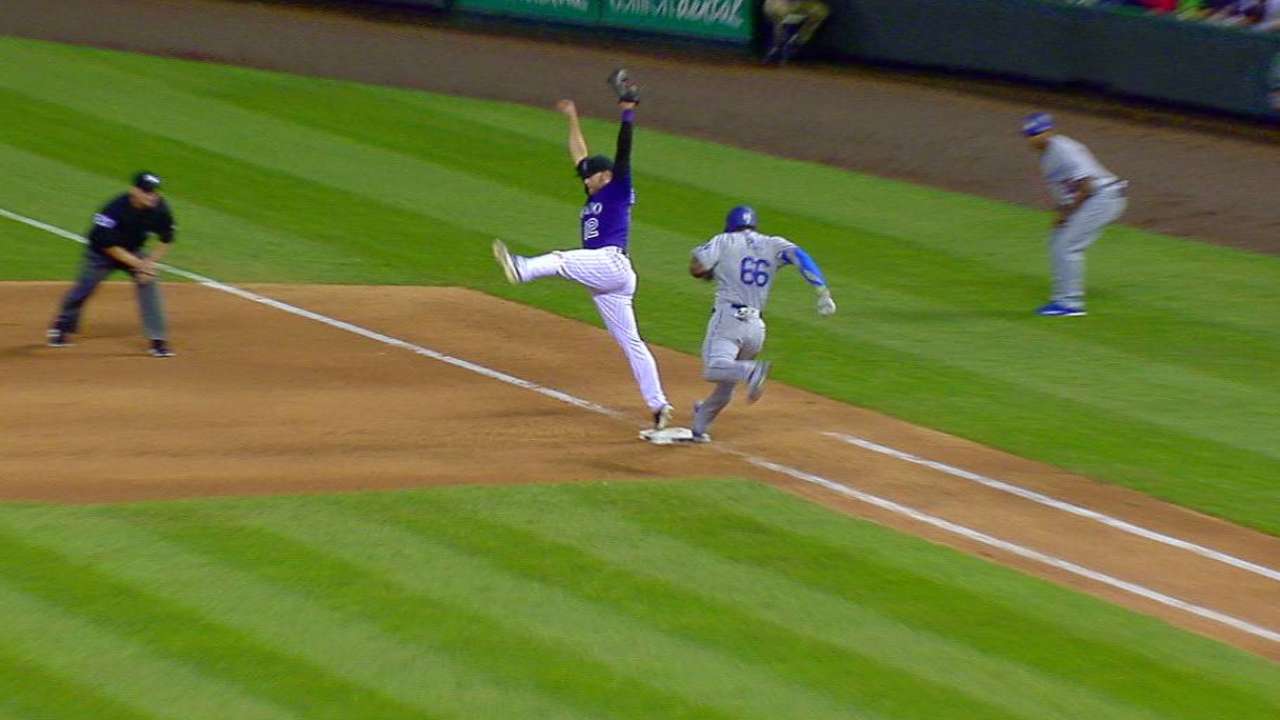 Story's defense has been somewhat like his hitting. After admittedly feeling "just nervous" and playing tentatively in the season-opening series at Arizona, Story has made some nice plays, including several spinning throws. He had a key misplay, when his inability to pull the ball out of his glove cost the Rockies a potential game-ending double play in Sunday's loss to the Dodgers, but has been constantly learning.
Away from the field, Story spent the early days of the season warning loved ones that his home run feats weren't normal, and a slump isn't forever.
"Everybody was just kind of going crazy, thinking I'm going to keep that pace forever, and you've got to bring them back down to earth and say, 'I can't hit a home run every day,'" Story said. "I've got to remind them to pretty much be like me. Don't get too excited or too down."
Thomas Harding has covered the Rockies since 2000, and for MLB.com since 2002. Follow him on Twitter @harding_at_mlb, listen to podcasts and like his Facebook page. This story was not subject to the approval of Major League Baseball or its clubs.