Colabello comments on 80-game suspension
First baseman maintains no knowledge of how substance entered his system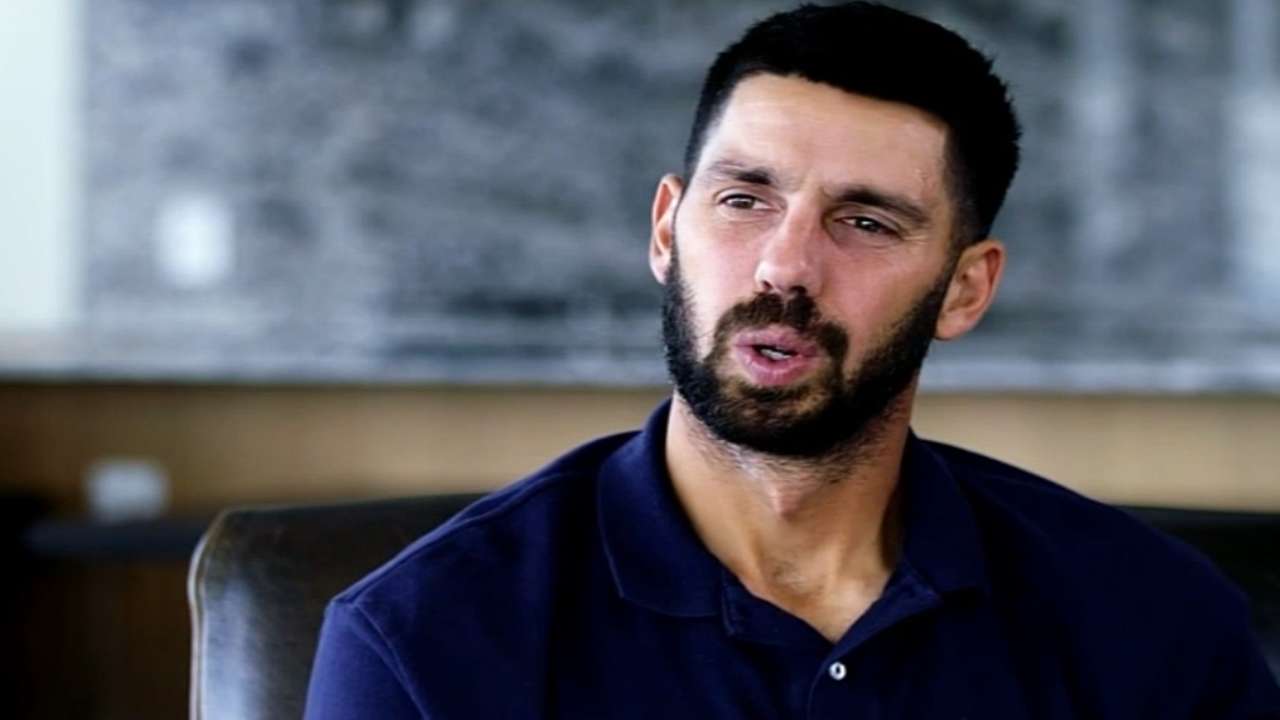 TORONTO -- Chris Colabello reiterated in a television interview on Tuesday that he has no idea how a banned substance entered his system, and he said that he will continue to search for the source of what triggered his positive test.
Colabello spoke on Tuesday for the first time since he received an 80-game suspension for violating Major League Baseball's Joint Drug Prevention and Treatment Program. He tested positive for dehydrochlormethyltestosterone, an anabolic steroid also known as Oral Turinabol.
Colabello, 32, spoke with Sportsnet and claimed he never would have done something like this intentionally.
"I would never, have never, will never compromise the integrity of baseball," Colabello said. "Ever. In my life. And whether that means taking a performance-enhancing supplement, I just wouldn't do it. I don't do it. I haven't done it. I won't do it."
Colabello is not fighting the validity of the test, and he concedes that a metabolite from the banned substance was in his body. He says he just doesn't know how it got there. The native of Massachusetts claimed he only ever took supplements that were sent to him by the Blue Jays' strength and conditioning staff and that he never ingested any substances without knowing what they were first.
Turinabol was developed in East Germany in 1962 and gained notoriety when it was famously linked to that country's international athletes.
"Ultimately, I don't have answers," Colabello said. "I don't have an answer to the time frame of when it got in my body. I don't have an answer to how long it was in my body for. Everything that I've asked or that I've tried to figure out, I don't have an answer for. What I know is what I'm saying. That's the only thing I can tell you for sure. It's scary stuff. It's scary to try to figure out where something came from when you don't really know."
Colabello did try to appeal the suspension, but he ultimately lost the case.
"I love baseball so much," an emotional Colabello said. "Somebody turns the lights on, and I get to go out and play. That's all I've ever wanted to do. I'll always love the game, that will never go away.
"This is the first time in my life I've ever used the word retirement, like I've thought about it. Because it's hard to imagine what it's going to be like going back onto the field. People have told me, 'You're going to move past this, you're going to come out the other side,' but that's not the point."
Gregor Chisholm has covered the Blue Jays for MLB.com since 2011. Follow him on Twitter @gregorMLB and Facebook, and listen to his podcast. This story was not subject to the approval of Major League Baseball or its clubs.