Stanton beats Kershaw for 3rd HR in 3 games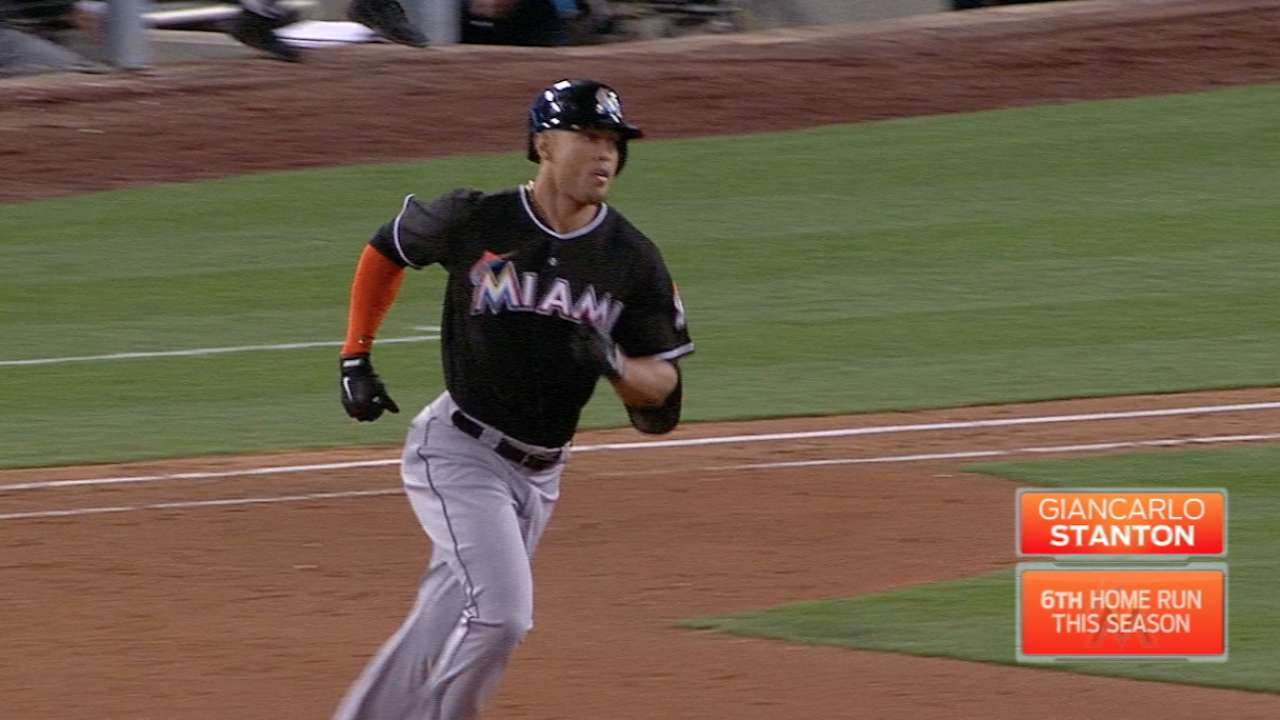 LOS ANGELES -- Giancarlo Stanton may have waved through a tantalizing Clayton Kershaw curveball in the fourth inning, but the three-time All-Star was all over the three-time Cy Young Award winner's fastball in the sixth.
Stanton smashed a three-run homer to dead center to punctuate a five-run inning that gave the Marlins the lead on their way to a 6-3 win over the Dodgers at Dodger Stadium.
• Cast your Esurance All-Star ballot for Stanton and other #ASGWorthy players
"It helped us get up and stay up," Stanton said. "That's what it's about. Right place and right time. You gotta be on time."
The Kershaw-Stanton showdown was high drama.
The first two times up, Kershaw got the best of the Marlins' slugger, inducing a broken-bat grounder to third base in the second inning. In the fourth, Kershaw fluttered a 74-mph curveball that Stanton swung at and missed for strike three.
"He's effective with his offspeed to everyone," Stanton said. "But, in some situations, you can't keep doing that for a bunch of reasons. You could bounce one and keep the runners going, so you have to be ready for him to sneak a heater in there.
"You just make an adjustment. He was dominating and using his offspeed very effectively. It's our job to adjust to that."
But with two on in the sixth inning, Stanton got back at Kershaw, blasted a 94-mph fastball well over the wall in center. Statcast™ projected the shot to land 433 feet away with an exit velocity of 109 mph.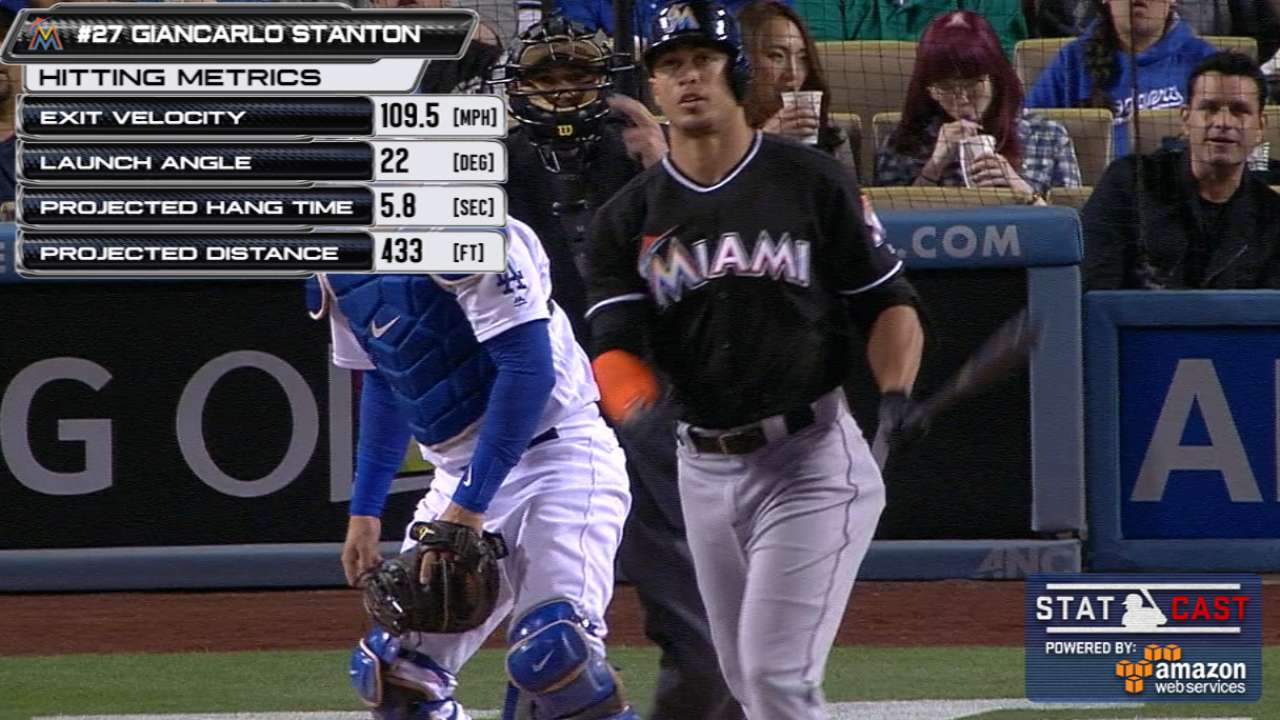 "He's a pretty good hitter," Kershaw said. "Obviously, you don't want their best hitter to beat you, and that's what happened today. Their lineup is different with him, for sure."
Stanton has now homered in three straight games, and the native of Sherman Oaks, Calif., has eight homers in 17 career games at Dodger Stadium.
"Giancarlo is a dangerous cat," Marlins manager Don Mattingly said. "It's three days in a row that he's homered. We seem to be getting guys on base. We've got guys who get a lot of hits. But when you're getting power there in the middle of your order, and a guy like that, you put up runs quickly. That's huge for us."
Stanton's career long homer streak is four games, Aug. 14-17, 2011.
In the momentum-swinging sixth inning, the Marlins strung together five straight hits, putting pressure on Kershaw to pitch to Stanton with runners on base.
"A lot of times to combat those great players in the middle of order is to get the guy in front of them out," Dodgers manager Dave Roberts said. "When you don't do that, it just creates stress. Three-run homers, they win games."
Stanton's hot streak came after he was batting .193 entering Sunday at San Francisco. He has since raised his average to .246 with six homers and 16 RBIs.
Asked if he is reaching a point where he is relieved, Stanton said jokingly: "I don't think I'm satisfied. I need a few more before I can chill out."
Joe Frisaro has covered the Marlins for MLB.com since 2002. He writes a blog, called The Fish Pond. Follow him on Twitter @JoeFrisaro and listen to his podcast. This story was not subject to the approval of Major League Baseball or its clubs.