J-Ups: Tigers left fielder bobbles ball, robs HR
Tigers left fielder denies A's Coghlan of solo shot in third inning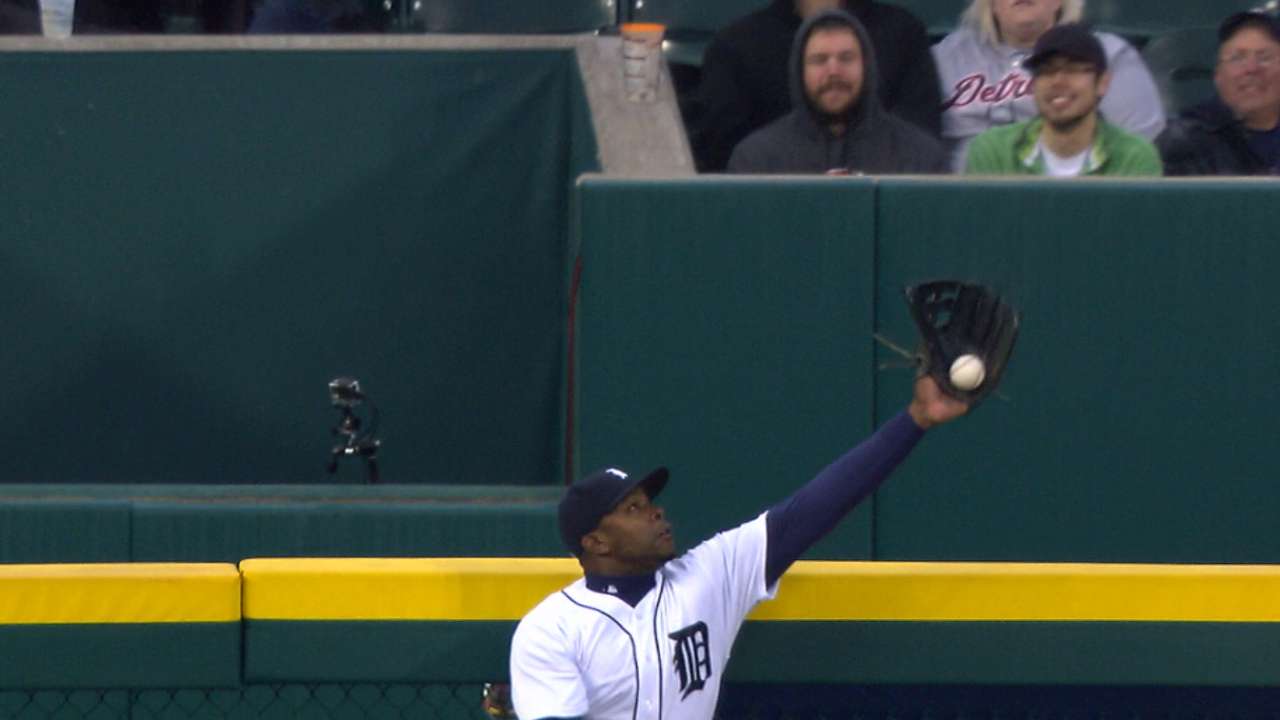 DETROIT -- While Justin Upton tries to spark his home run power at the plate, the Tigers left fielder made a juggling catch at the fence to take away a home run from Oakland's Chris Coghlan Tuesday night during Detroit's 5-1 loss at Comerica Park.
It was a highlight play in two parts. The first act from Upton was to reach over the left-field fence to keep Coghlan's opposite-field loft in the park with the game tied at 0. The second part was to recover once the ball hopped off the heel of his glove and collect the ball before it could hit the ground.
• Cast your Esurance All-Star ballot for Upton and other #ASGWorthy players
"[Center fielder] Anthony [Gose] was doing a good job of letting me know where I was at," Upton said. "I knew I had room to jump, and I did. I was able to keep my concentration and get the ball."
Coghlan was rounding first base when Upton held on. He put his hands to his helmet in disbelief, denied what would've been his fifth home run of the year.
"I'm still bitter about it," Coghlan said after the game. "I know I was out. It's an F7."
Starting pitcher Mike Pelfrey smirked at his good fortune on his way off the field.
"It was a good play," Pelfrey said. "Obviously I've walked a lot of people, and I know that it was 3-1 [count] to Coghlan. I kind of threw a fastball and said, 'Here it is. Hit it.' And he hit it. Luckily, Upton made a good play on it."
The catch kept the game scoreless through the third, though the A's rallied for three runs in the next inning. The Tigers scored only one run in the game, a ninth-inning RBI double from Victor Martinez, but Upton at least kept a run off Pelfrey's line.
"You want to drop something in the bucket every day," Upton said. "I made a defensive play. Didn't do anything at the plate, but if I can save a run, that helps."
Jason Beck has covered the Tigers for MLB.com since 2002. Read Beck's Blog, follow him on Twitter @beckjason and listen to his podcast. This story was not subject to the approval of Major League Baseball or its clubs.