Lorenzen in early stages of throwing program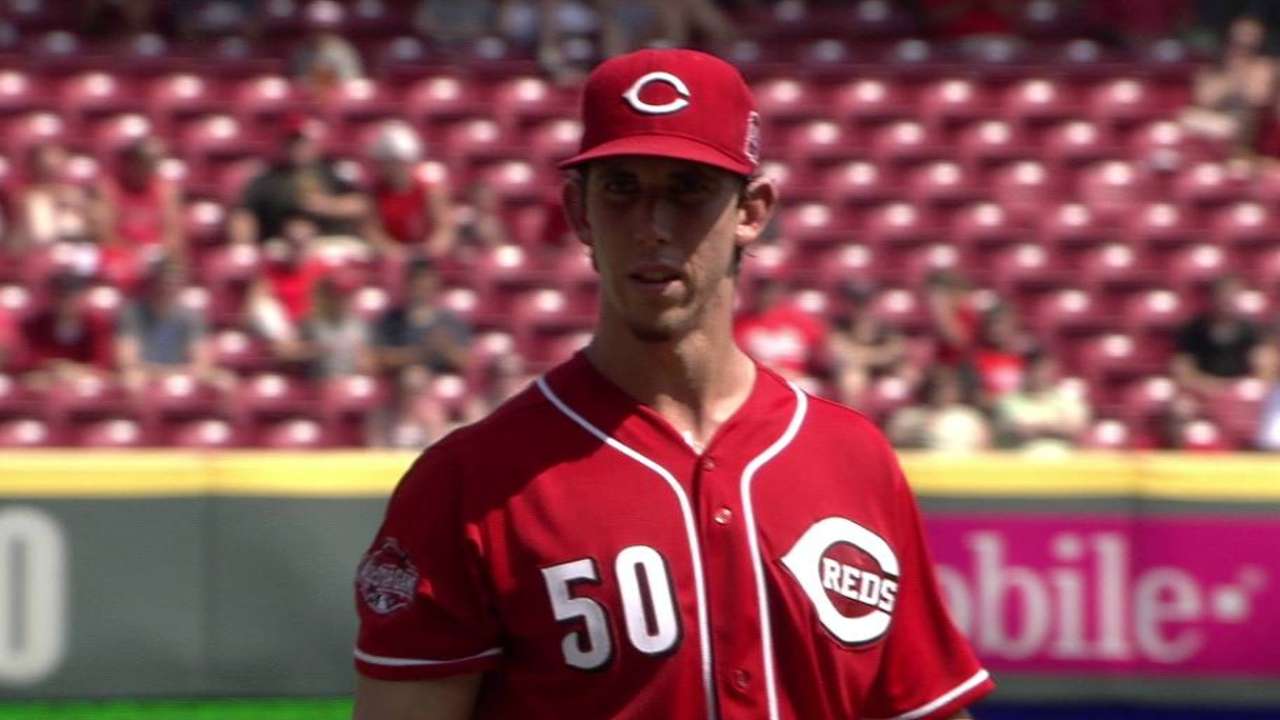 NEW YORK -- When the Reds transferred pitcher Michael Lorenzen from the 15-day to the 60-day disabled list Monday to create 40-man roster space for the callup of reliever Layne Somsen, it would be natural to wonder if he had another setback with his elbow.
But that was not the case. Lorenzen was shut down from throwing when he suffered a strained right elbow ligament and tendinitis in early March and contracted mononucleosis in early April. He simply won't be ready to return before June 2, his new eligible date for activation. Following his recovery from mono, which caused him to lose 20 pounds, Lorenzen began playing catch last week.
Essentially, Lorenzen is starting over as though it was an offseason throwing program before Spring Training.
"He's really on the front end of his throwing program," Reds manager Bryan Price said. "We're not even talking about bullpen [sessions]. We're talking about throwing the ball 120 feet as a goal. Not that he can't physically do it, but after the injury, it's a process you don't want to speed up and maybe reignite that issue with his elbow."
In positive news, the platelet-rich plasma injection Lorenzen was given in March to help heal his elbow appears to have been successful.
"There has been zero issue with it," Price said. "There are no red flags, no inflammation, no pain or anything else."
A key question going forward is whether Lorenzen will be prepared for going into the rotation or the bullpen when he does come back. That is still a fluid situation.
"I think it just depends on how long it takes him to get ready and what our needs are," Reds president of baseball operations Walt Jocketty said. "My guess is if everybody comes back like we think they will, he'll probably be a bullpen guy. We'll have to wait and see. He's still got a lot of time before he can come back."
The Reds are expecting to soon have starting pitchers Anthony DeSclafani, Homer Bailey and John Lamb return from the DL.
If Lorenzen was targeted for relief work, that would not speed up his timetable.
"[It's like] you're starting that [throwing program] the first week right after Christmas," Price said. "It's not a week of long toss and then you're on the mound and then you're in a game in two weeks. It really isn't, especially coming off an elbow injury. There's no way to expedite this in a quicker fashion to elude the 60-day DL coming off the elbow injury."
Mark Sheldon has covered the Reds for MLB.com since 2006, and previously covered the Twins from 2001-05. Read his blog, Mark My Word, follow him on Twitter @m_sheldon and Facebook and listen to his podcast. This story was not subject to the approval of Major League Baseball or its clubs.