Nats' pitchers developing fun rivalry -- at the plate
Ross leading strong group of hitting hurlers for Washington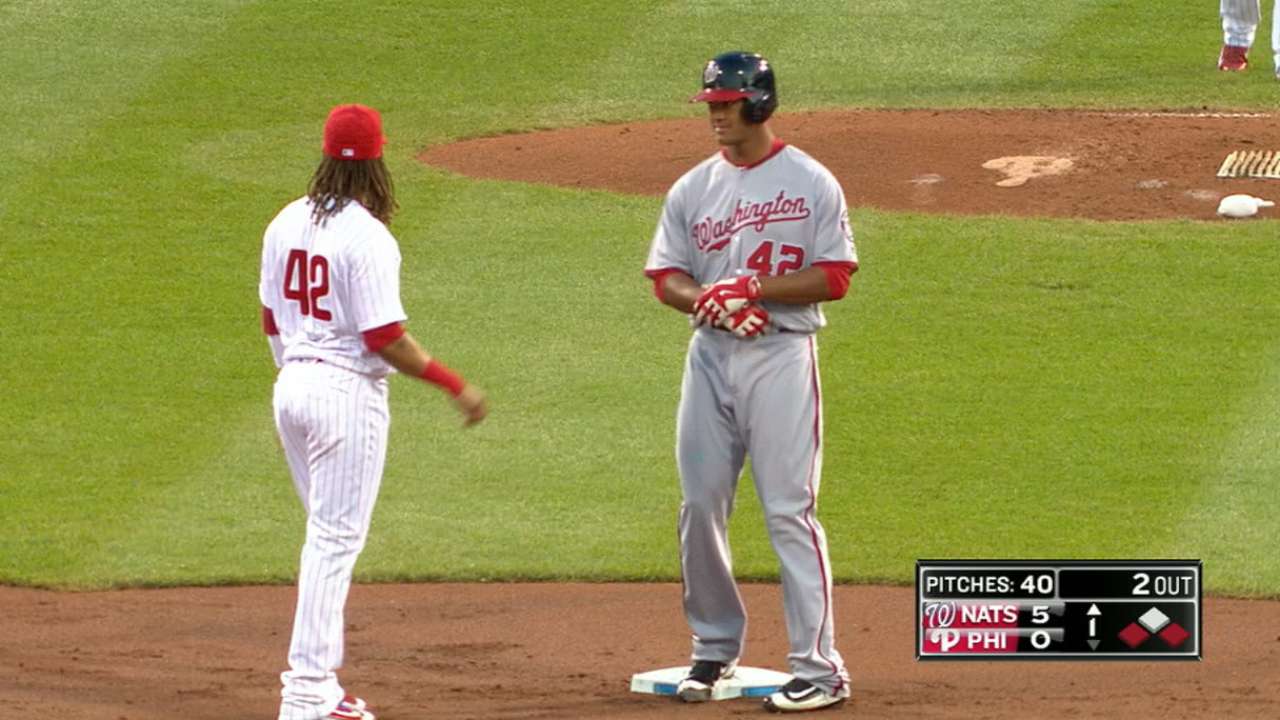 WASHINGTON -- With the game tied in the 10th inning Sunday and the Nationals out of position players, pitcher Joe Ross was sent up to pinch-hit.
Ross' at-bat was good for Washington -- he smacked a base hit -- and also helpful for Ross' standing in the most important of categories: the team's best hitting pitcher. That title sparks intense competition among the Nationals' starters, who swing for the fences in batting practice and carefully track their counterparts' at-bats during games.
"Everyone's always battling for 'Who's the best hitter?' role," Ross said Tuesday. "Who's the first pitcher off the bench when we have no position players left?"
Ross was quick to point out that his two prime competitors for that pinch-hit spot Sunday had either pitched that day (Stephen Strasburg) or were due to start the following game (Max Scherzer), but Ross might have gotten the nod anyway. He leads the team's starters, one of the best hitting groups in the National League, in both batting average (.429, 3-for-7) and batting practice home runs (a lot).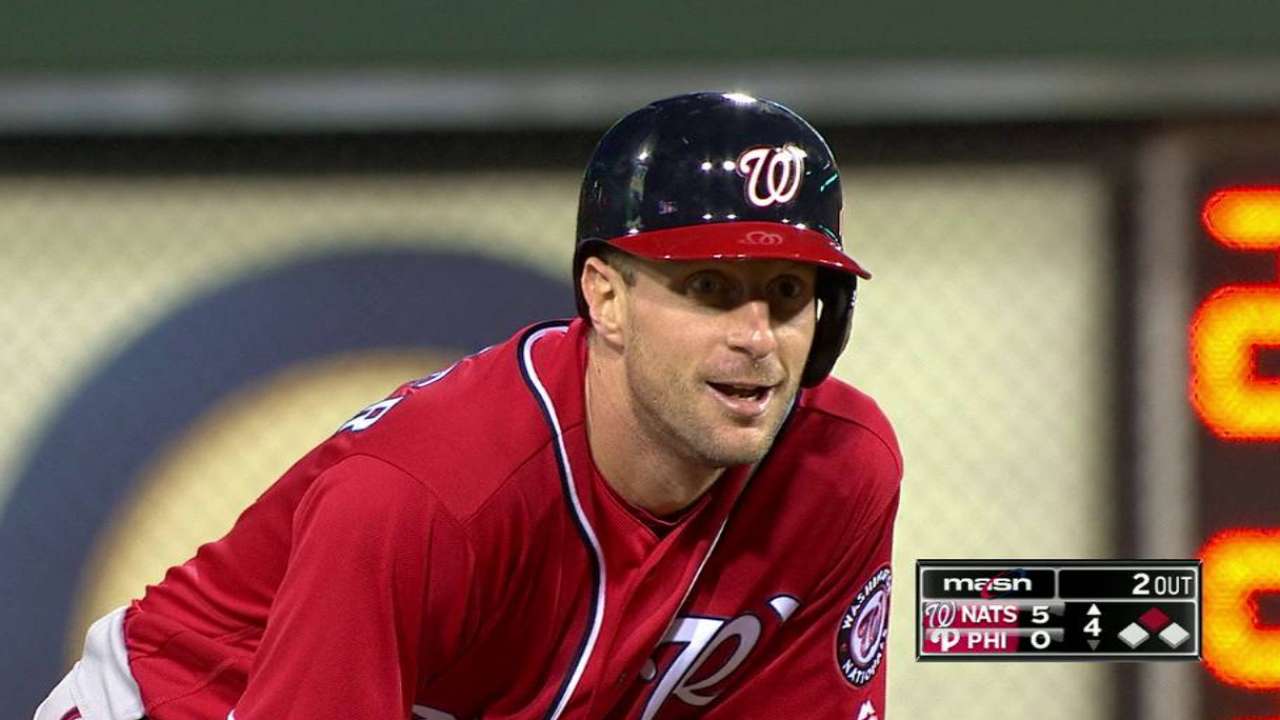 The righty's power stroke didn't emerge immediately. Ross already has as many hits this season as he did in 30 plate appearances as a rookie in 2015, when he batted .111 with no walks or extra-base hits.
"Honestly I feel like I was a little nervous last year because I didn't get any at-bats [in the Minors]," Ross said. "We hit a lot during BP in the cages, but I never really was comfortable in the game. It was like nervous mixed with trying to do well."
This year, after a full Spring Training's worth of pitcher batting practice, Ross looks comfortable at the plate, with two singles, two walks and a double.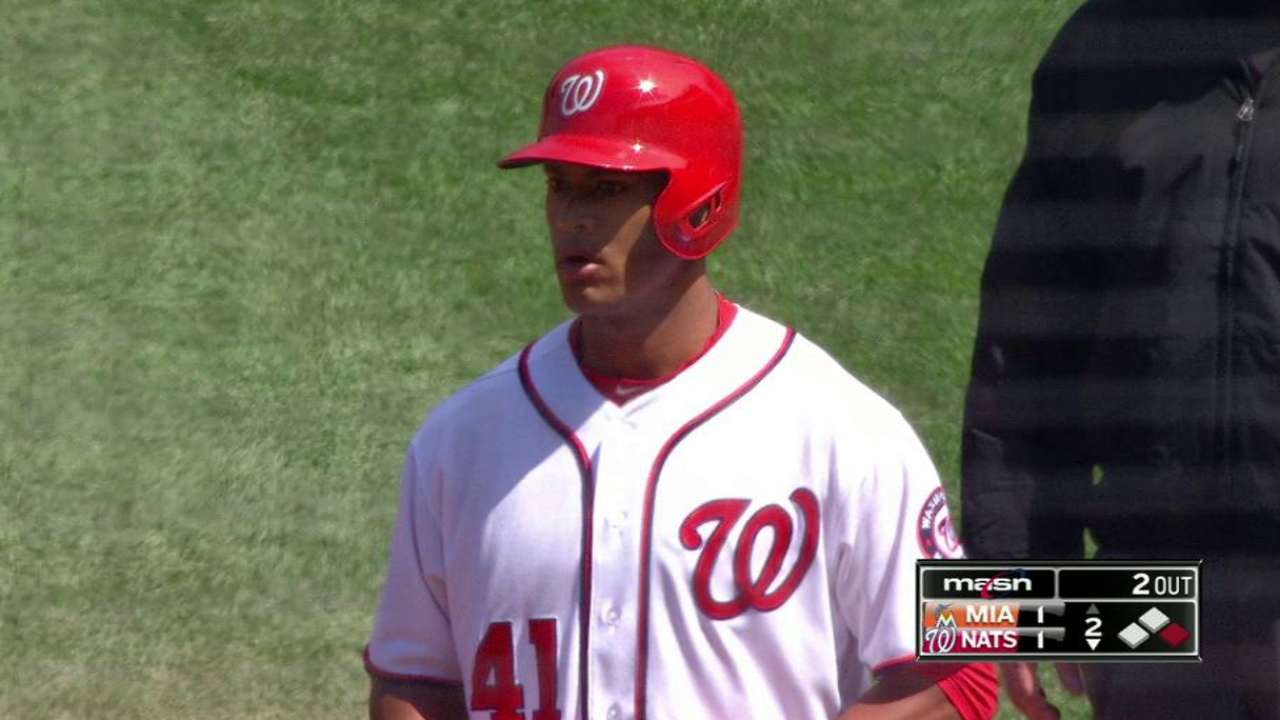 Nationals hurlers as a unit have shown they can handle a bat. Washington pitchers entered Tuesday third in the NL in batting average, slugging and OPS and second in on-base percentage. Never was their proficiency in the batter's box more evident than Sunday when, in addition to Ross' single, Strasburg notched a hit and reliever Oliver Perez saved the game with a 15th-inning bunt that induced a throwing error leading to the tying run.
Tanner Roark is the only Washington starting pitcher without a hit (though Ross will tell you Roark hit the ball hard last week in Miami), but even he buys into the idea of intra-rotation competition at the plate.
"It's bragging rights, man," Roark said. "To see who can be the best hitting pitcher, it's a big feat."
Nationals manager Dusty Baker embraces the pitchers' competitive spirit when it comes to hitting. The more time they spend in the batting cages seeking to beat each other, the tougher they'll be for opponents to retire.
"This makes it fun and friendly for them and advantageous and productive for us," Baker said. "Nothing better than a pitcher that can hit."
Alex Putterman is a reporter for MLB.com based in Washington. This story was not subject to the approval of Major League Baseball or its clubs.