Rotator cuff strain sends d'Arnaud to DL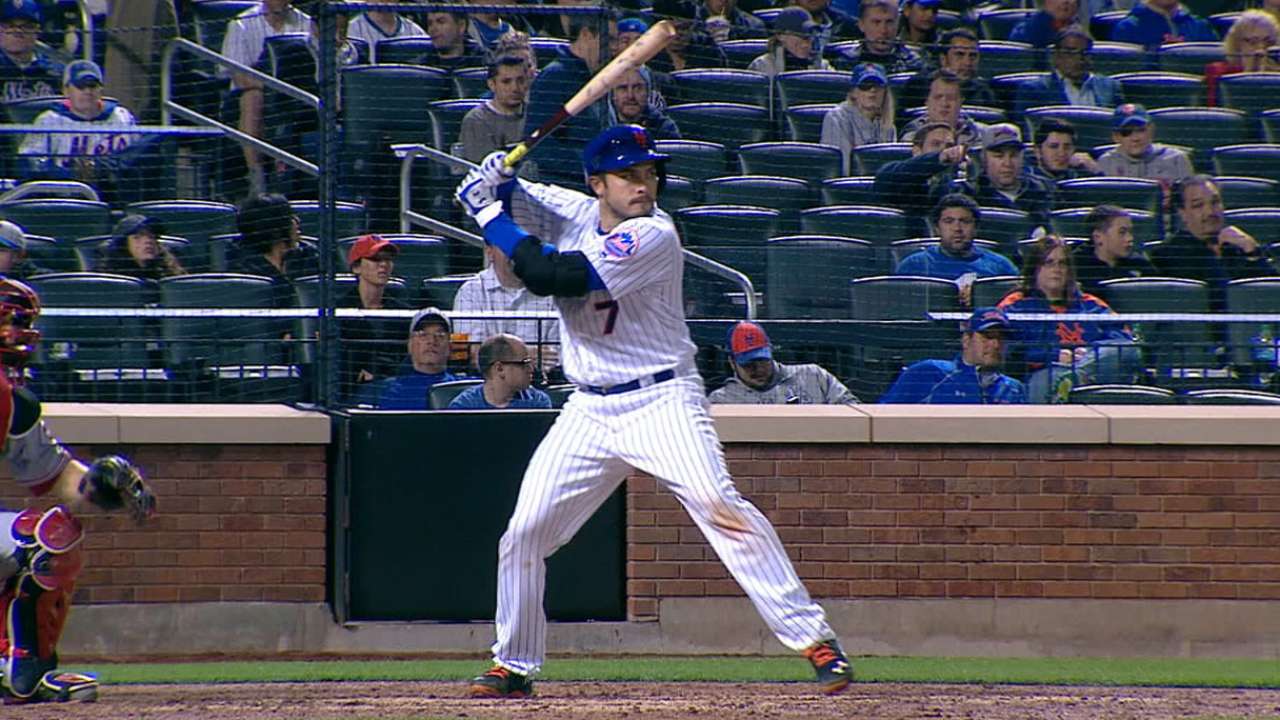 NEW YORK -- Travis d'Arnaud's lengthy history with the disabled list gained another chapter on Tuesday, when the Mets placed him on the 15-day DL with a right rotator cuff strain. The team selected the contract of catcher Rene Rivera from Triple-A Las Vegas to replace d'Arnaud on the roster, also transferring Zack Wheeler to the 60-day DL in a procedural move.
d'Arnaud, 27, exited with shoulder pain in the eighth inning of the Mets' 5-3 win over the Reds on Monday night, two innings after making the last of four unsuccessful throws against a Reds team that swiped five bases off him and Noah Syndergaard. An MRI the following morning revealed his rotator cuff strain.
"I didn't really know what to expect," d'Arnaud said. "I've never really experienced shoulder pain before. But it could have been a lot worse. It will be good to get this out of the way, and get back on the field soon."
Returning from the DL after 15 days, d'Arnaud added, is a possibility in his mind. But the Mets are not committing to a timeline, fully aware of how many injuries their starting catcher has suffered in his young career. Among d'Arnaud's library of past maladies are a partially torn knee ligament, a hyperextended left elbow, multiple broken bones and a concussion. He was hitting .196 through 13 games this season, with zero home runs and one RBI.
"It's always going to be wait-and-see, but there are two positions where arm injuries can be pretty devastating, and one's behind the plate," manager Terry Collins said. "We'll wait to see, rest him a few days, see how he comes out of that. And then when he starts to rehab back, you'll see how long it's going to take. It's certainly something we've got to keep a close eye on."
In d'Arnaud's absence, Kevin Plawecki should start the bulk of games at catcher for the Mets, much like he did when d'Arnaud spent two months on the DL last year. In limited time subbing for d'Arnaud this season, Plawecki was batting .176 with a .476 OPS entering Tuesday. The 25-year-old hopes a return to regular playing time will help him unlock his offensive potential.
"I feel like I'm ready," Plawecki said. "I'm excited to get some more consistent at-bats and playing time, but obviously given the circumstances, they are what they are. I've just got to make the most of them."
Rivera, 32, came to the Mets on a Minor League deal earlier this month, and will serve as Plawecki's primary backup. He is a veteran of parts of seven seasons with the Mariners, Twins, Padres and Rays.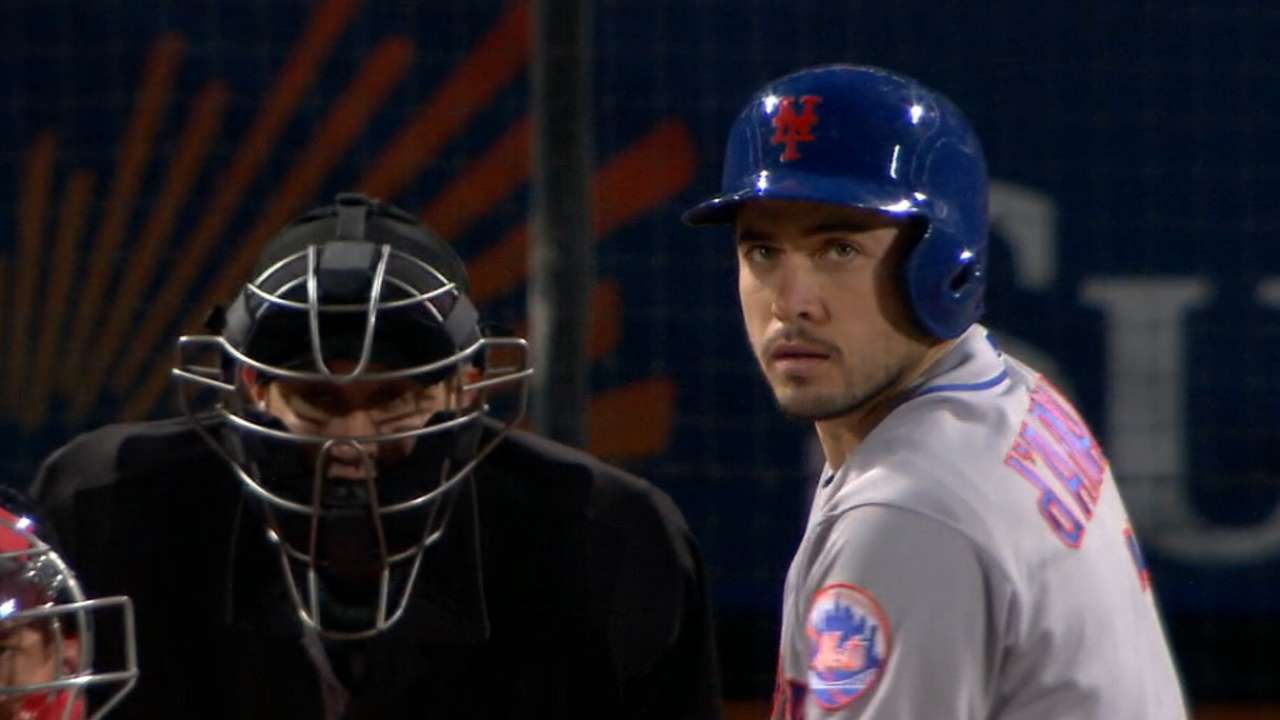 Fantasy spin | Fred Zinkie (@FredZinkieMLB)
Batting .196 with no homers through 46 at-bats this season, d'Arnaud can be dropped in one-catcher leagues. But given that he hit .268 with 12 homers in 239 at-bats last year, he should be held onto in two-catcher formats. Those seeking a replacement can look to the waiver wire for Yasmani Grandal, Wilson Ramos, J.T. Realmuto and Miguel Montero.
Expected to handle the bulk of the club's backstop duties in d'Arnaud's absence, Plawecki warrants consideration in two-catcher formats. Despite his uninspiring big league stats -- .216 average, three long balls in 250 at-bats -- the 25-year-old owns a lifetime .290/.364/.432 slash line in the Minors.
Anthony DiComo has covered the Mets for MLB.com since 2008. Follow him on Twitter @AnthonyDiComo and Facebook, and listen to his podcast. This story was not subject to the approval of Major League Baseball or its clubs.