Arrieta on PED suspicions: 'I train properly'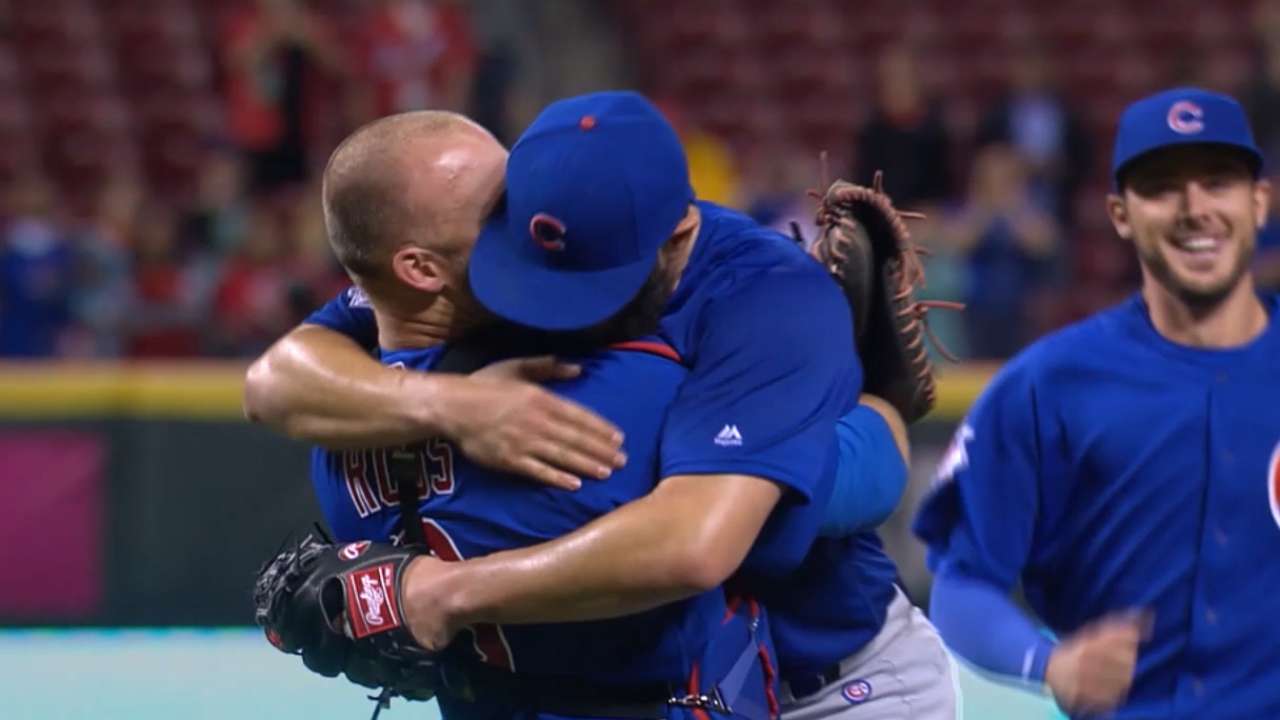 CHICAGO -- A few of Jake Arrieta's teammates have relayed to him that other players suspect the Cubs pitcher is taking PEDs and that's part of the reason for his success. Arrieta, responding to those suspicions and others raised in an article that appeared in USA Today on Tuesday, said the idea that he's cheating is idiotic.
"If people call into question my work ethic, that's fine. I know what I'm doing," Arrieta said. "I eat plants and I eat lean protein, and that's my gig, that's what I do. I watch what I eat, and I train properly. There's no secret. My mom's [6-foot-1], and my dad's 6-4. I'm going to be big regardless.
"I could be 30 pounds heavier if I wanted to, if I played football," he said. "I play baseball, so I do Pilates and I strength train with heavy weights occasionally, and this is the result."
Arrieta said the first time he heard such allegations were while he was pitching in college at TCU.
"It might be some jealousy involved," Arrieta said. "It is what it is."
No one has ever said anything directly to Arrieta to accuse him of taking steroids.
"Nobody would be stupid enough to do that," he said.
Arrieta was 20-25 with a 5.46 ERA in 69 games with the Orioles, and in four seasons with the Cubs, has compiled a 40-13 record and 2.17 ERA. He's thrown two no-hitters with the Cubs, doing so in a span of 10 starts. The right-hander is 20-1 with an 0.86 ERA in his 24 starts since June 21. Last year, he posted a 22-6 record and 1.77 ERA and won the National League Cy Young Award.
Cubs manager Joe Maddon dismissed any suggestion that Arrieta is taking any illegal supplements, saying command of his pitches and confidence has contributed to his success.
"I challenge anybody to go with him on his workout program, and I won't even say for a week, but I'll say two days," Maddon said. "Go and keep up with him for two days and see what he does, and see if you can do that particular workout program.
"What happened a couple years ago will always create that suspicion when a guy is above and beyond or extraordinary," Maddon said. "If you're around him all the time, you would see it's an extraordinary [workout] program, and his focus is off the chart."
As far as the drug-testing program, Arrieta said he didn't feel players should get multiple chances if they test positive for steroids.
"There's food and supplements that you can take legally that will better your body and help you stay healthy and perform throughout the course of the season," he said. "Shortcuts have always been around in all sports. As a union, we're trying to do everything we can to weed those guys out of the game."
Carrie Muskat has covered the Cubs since 1987, and for MLB.com since 2001. She writes a blog, Muskat Ramblings. You can follow her on Twitter @CarrieMuskat and listen to her podcast. This story was not subject to the approval of Major League Baseball or its clubs.