Maddon: Cubs' plate approach yielding results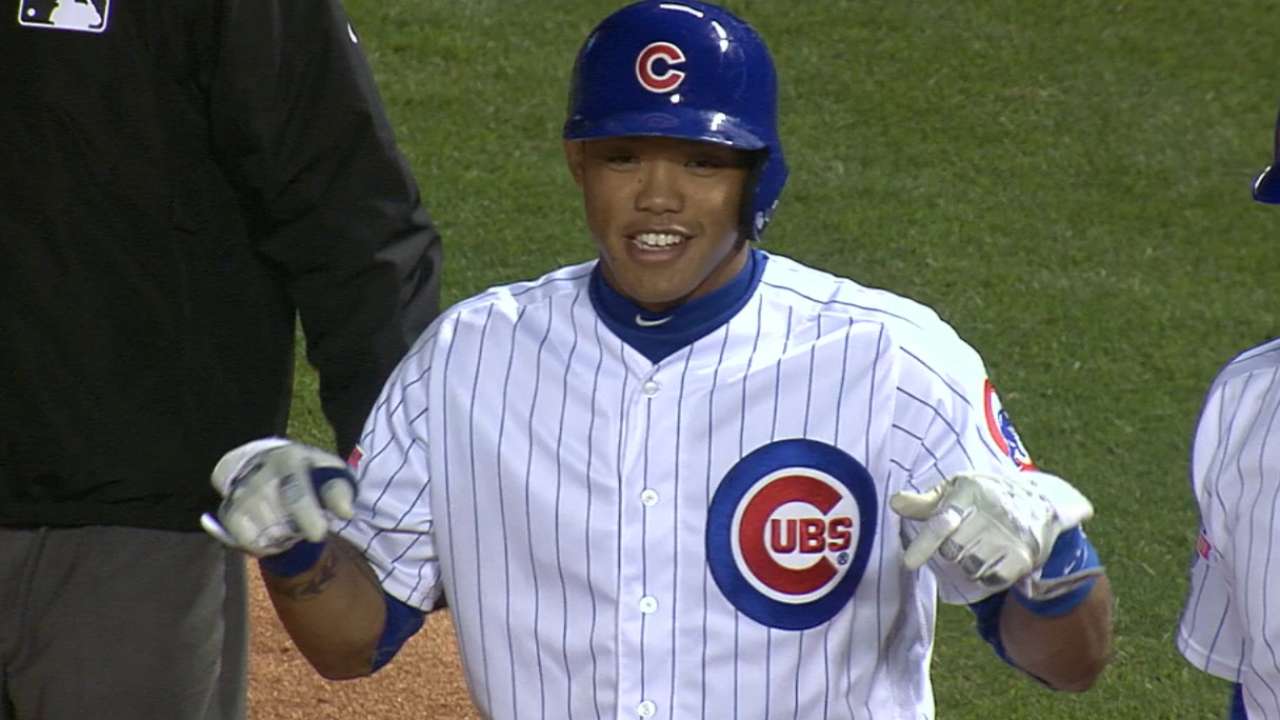 CHICAGO -- The Cubs began Tuesday leading the world in run differential, outscoring opponents, 119-51, but it's not because they're outslugging every other Major League team. Manager Joe Maddon said the players are sticking to their game plan.
"I think it's just the residue of working good at-bats," Maddon said Tuesday. "The approach has been working. It's not that we've been pummeling anybody.
"We're scoring runs with hits, not just homers," he said. "I think we're moving the baseball more in situations than we did last year. I don't think we've hit anywhere close to where we're capable of hitting the baseball. We've been very good regarding approach and accepting our walks, seeing pitches, turning it over to the next guy."
Chicago ranked fifth in the National League in home runs, and eighth in batting average, entering Tuesday. The Cubs have had some lopsided games, and were averaging 6.26 runs per game, tops in the Majors.
• Jon Lester said he could see the Cubs' starting pitchers each total 200 innings this season. Maddon didn't disagree.
"I think it's reasonable," Maddon said. "I don't think it's an exaggeration by any means. When it does happen, your bullpen is a much better bullpen. ... When you get guys doing that, the 'pen guys are good in August and September."
• Catcher David Ross entered play Tuesday with a career .229 average, but Maddon said fans should ignore the numbers when determining how valuable the veteran is to the Cubs.
"The best way to answer that is here's a guy who is not a regular player by any stretch of the imagination, and maybe plays a quarter of our games, and you feel like he's irreplaceable in the group," Maddon said.
"Don't ever look at his batting average," Maddon said of Ross, 39. "That has nothing to do with how important he is. Watch him catch, watch him call a game, watch him throw, watch him communicate with his pitchers. That's where his importance lies."
• After pleasant spring weather in St. Louis and Cincinnati, the Cubs returned to Wrigley Field on Tuesday, and temperatures were in the 40s. Are there any ways to deal with the cold?
"Just imagine you're in Tahiti," Maddon said.
Carrie Muskat has covered the Cubs since 1987, and for MLB.com since 2001. She writes a blog, Muskat Ramblings. You can follow her on Twitter @CarrieMuskat and listen to her podcast. This story was not subject to the approval of Major League Baseball or its clubs.