Maddon commends Hendricks for 'getting it'
Cubs manager pulls righty in fifth inning when scoring chance presented itself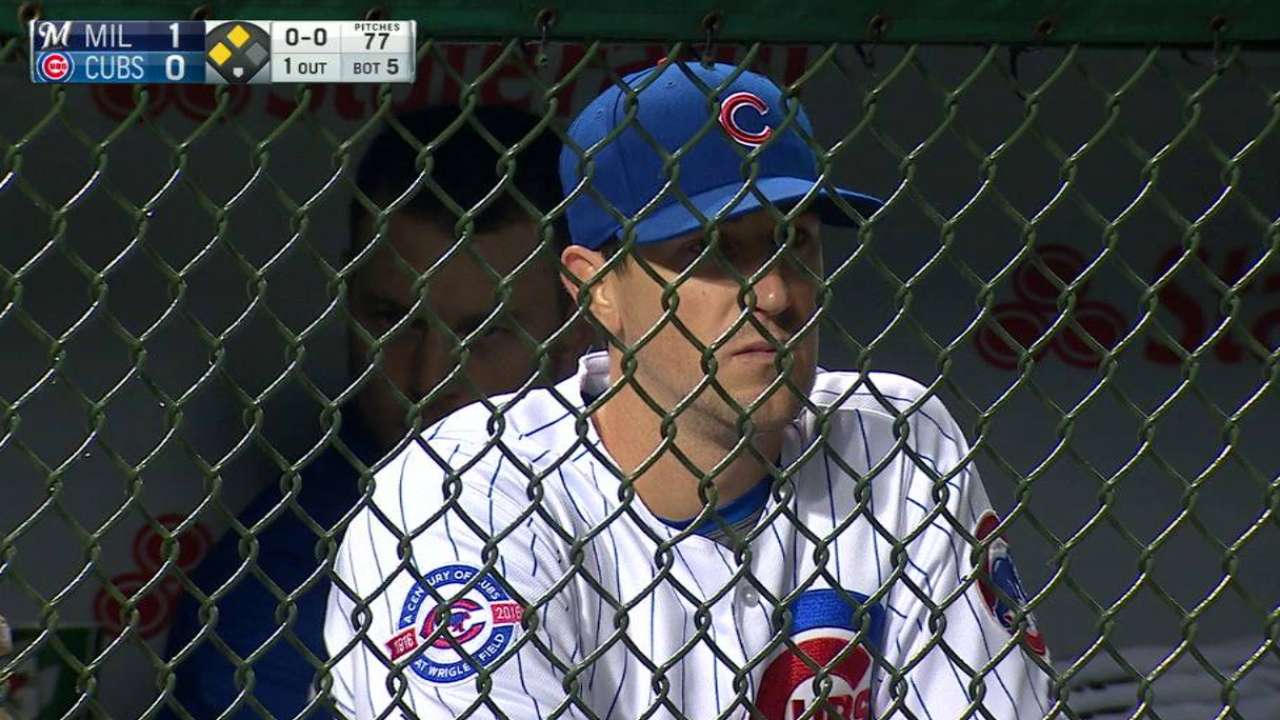 CHICAGO -- Kyle Hendricks had thrown 69 pitches over five innings, and expected to go deeper into the game Tuesday night. But Hendricks was lifted in what Joe Maddon called a National League moment. The Cubs right-hander didn't pout or whine about the move, and got kudos from his manager.
The Cubs trailed the Brewers, 1-0, in the fifth against Jimmy Nelson, and had two on and nobody out. David Ross then sacrificed both runners up one base, and Hendricks was pulled for pinch-hitter Tommy La Stella. La Stella walked to load the bases, and the Cubs then tied the game on Dexter Fowler's sacrifice fly.
Chicago would eventually add two more runs in the sixth on Addison Russell's triple en route to a 4-3 victory over Milwaukee in the series opener.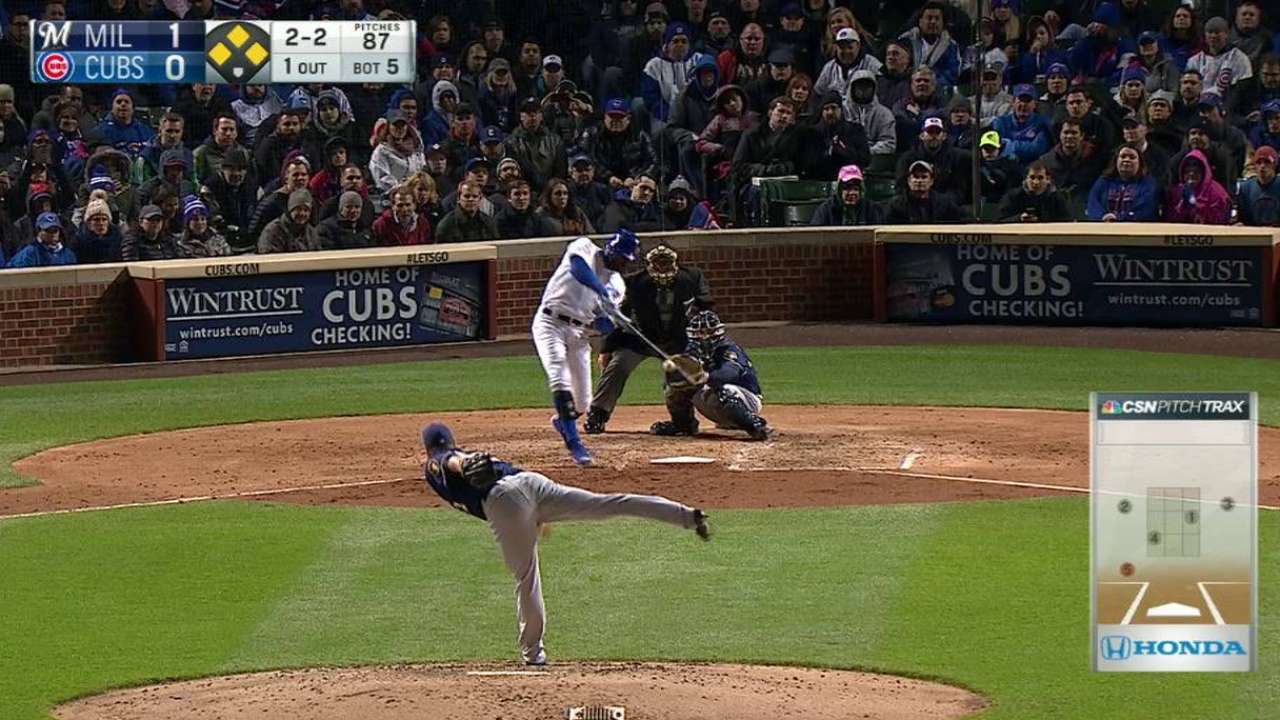 "Tommy was the right guy in that moment," Maddon said of the strategy. "It would've been nice to have gotten more runs, we had the opportunity. But getting one was plenty. We needed that badly.
"I want to say about Kyle right there, a lot of guys would've been crying, a lot of guys, 'Why me?'" Maddon said. "He did not do that for one second. He understood the situation completely. I want to tell you that doesn't happen every time. He was pitching great. There was no reason to take him out. It was a National League move entirely right there, it's a National League move with the wind blowing in your face. ... I really commend him for getting it."
Hendricks definitely did get it.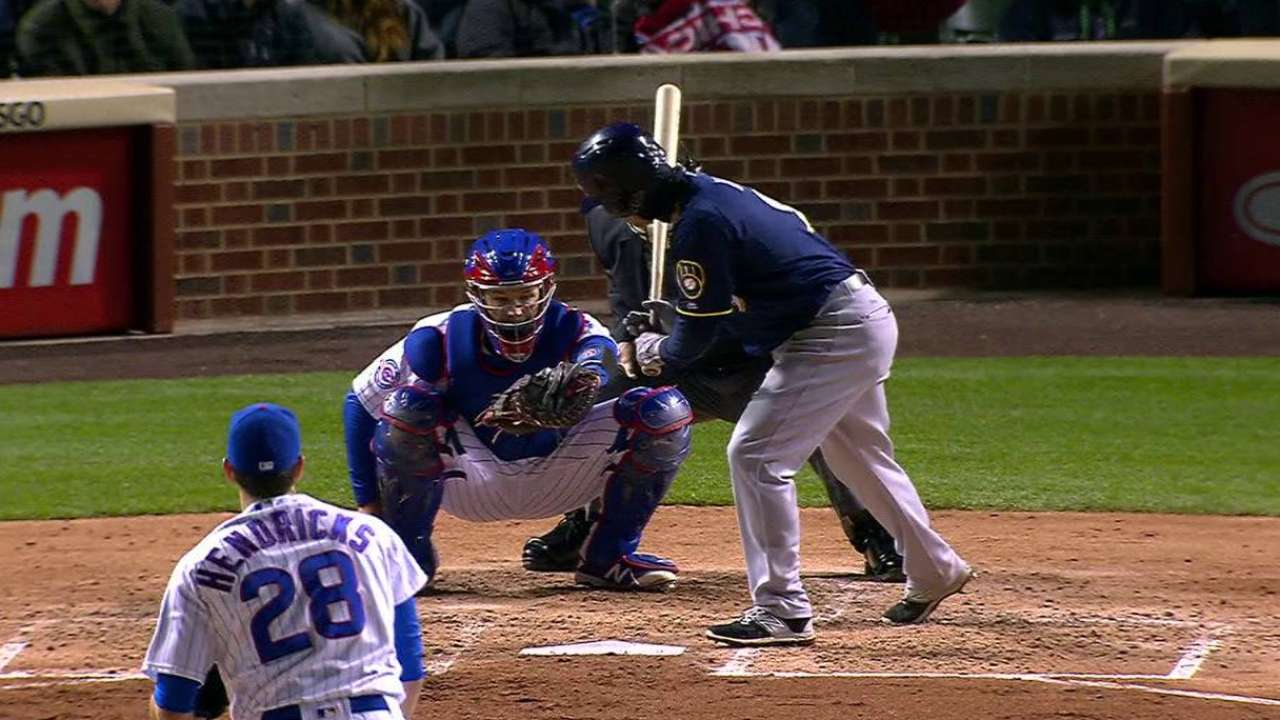 "It was a tough day out there to hit, really cold and the wind blowing in," Hendricks said. "How many chances are you going to get? Their guy was throwing really well against us. I completely understand. I prepare myself to go deep in the games, but sometimes situations happen like that. It's a team game, and just hand it off to the next guy in line."
Said Russell of Hendricks: "He knows his role, he knows he has to do whatever may be best for the team. Kyle's that kind of guy."
The team effort has been a theme for the Cubs, now 15-5 and off to their best start since opening the 1907 season at 16-4.
"It's all about the team this year," Hendricks said. "We have a lot bigger goals this year than just game by game."
Carrie Muskat has covered the Cubs since 1987, and for MLB.com since 2001. She writes a blog, Muskat Ramblings. You can follow her on Twitter @CarrieMuskat and listen to her podcast. This story was not subject to the approval of Major League Baseball or its clubs.