Seager, Cishek set century-mark milestones
Mariners 3B hits 100th HR; closer notches 100th save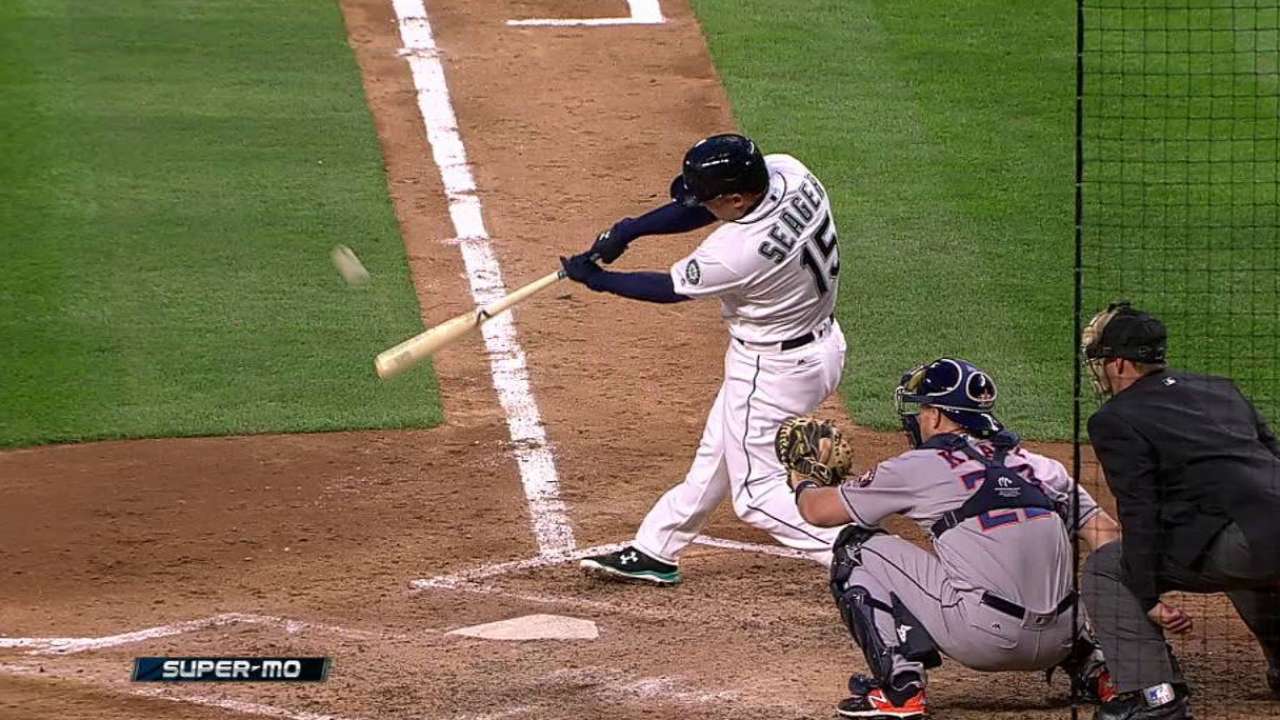 SEATTLE -- The Mariners won their 10th game of the season on Monday night, and it was a nice, round number that got them to where they want to be -- first place in the American League West.
But there were two more big round numbers that arrived for Seattle in the course of beating the Houston Astros, 3-2, in the club's return to Safeco Field after a nine-game road trip.
Kyle Seager hit his 100th career home run and Steve Cishek notched his 100th career save.
The rare double-century was pulled off by players who are contributing to a team that has won eight of its last 11 games and did it in clutch fashion on Monday.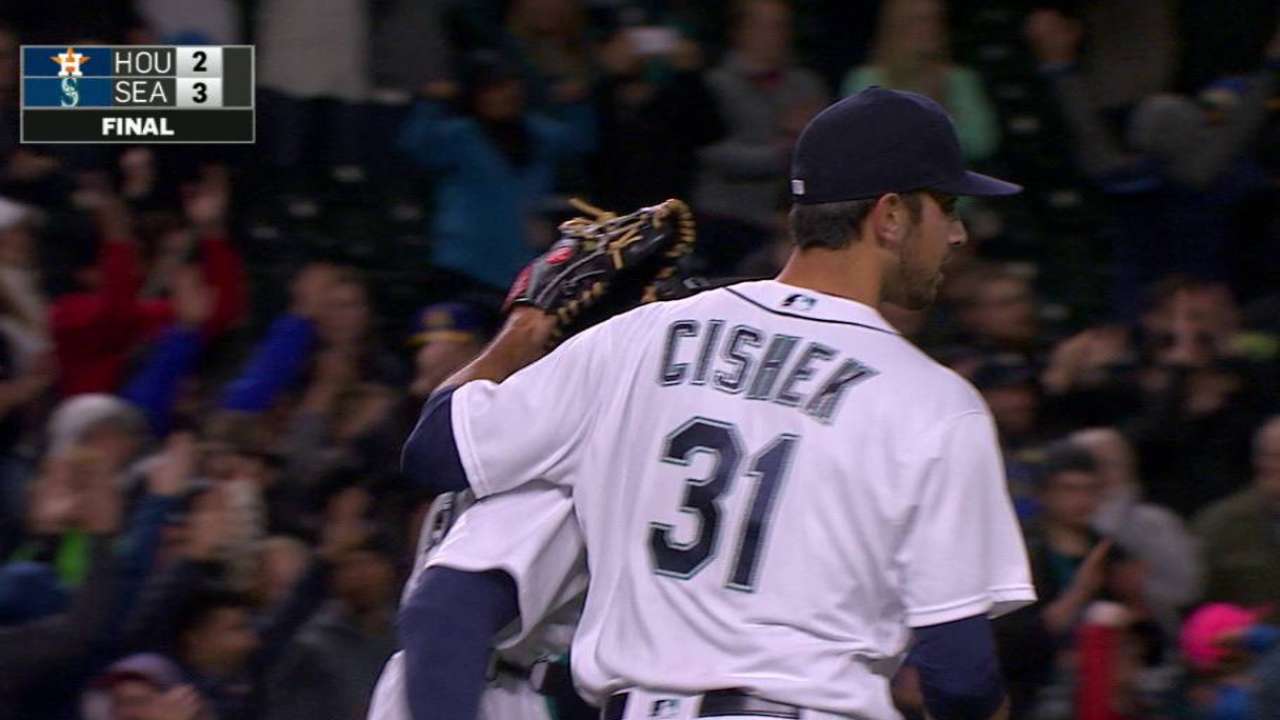 Seager's home run, which was his fourth of the season, came in the fourth inning off Astros starter Doug Fister and was a towering shot to right center field. It gave the Mariners a 2-1 lead, and with it, Seager became the first player drafted and developed by the Mariners to hit his first 100 career homers with the club since 1998 (Alex Rodriguez).
He also became the seventh player to hit his first 100 career home runs for the Mariners. He joined a who's-who of great players including Ken Griffey Jr., his current hitting coach, Edgar Martinez, Rodriguez, Alvin "Mr. Mariner" Davis, Ken Phelps and Jim Presley.
"It's definitely a milestone and I'm very proud of that," Seager said. "I'm glad it came in a win."
The win might not have happened if not for Cishek's milestone save, which was wobbly but ultimately effective. Cishek, who said he struggled with getting a feel for the ball, withstood an eventful ninth that included a Carlos Gomez single, a nifty throw by Seattle catcher Chris Iannetta to nail Gomez while trying to steal second base, a Luis Valbuena walk and a pinch-hit single by Preston Tucker that almost got under the glove of diving right fielder Nelson Cruz.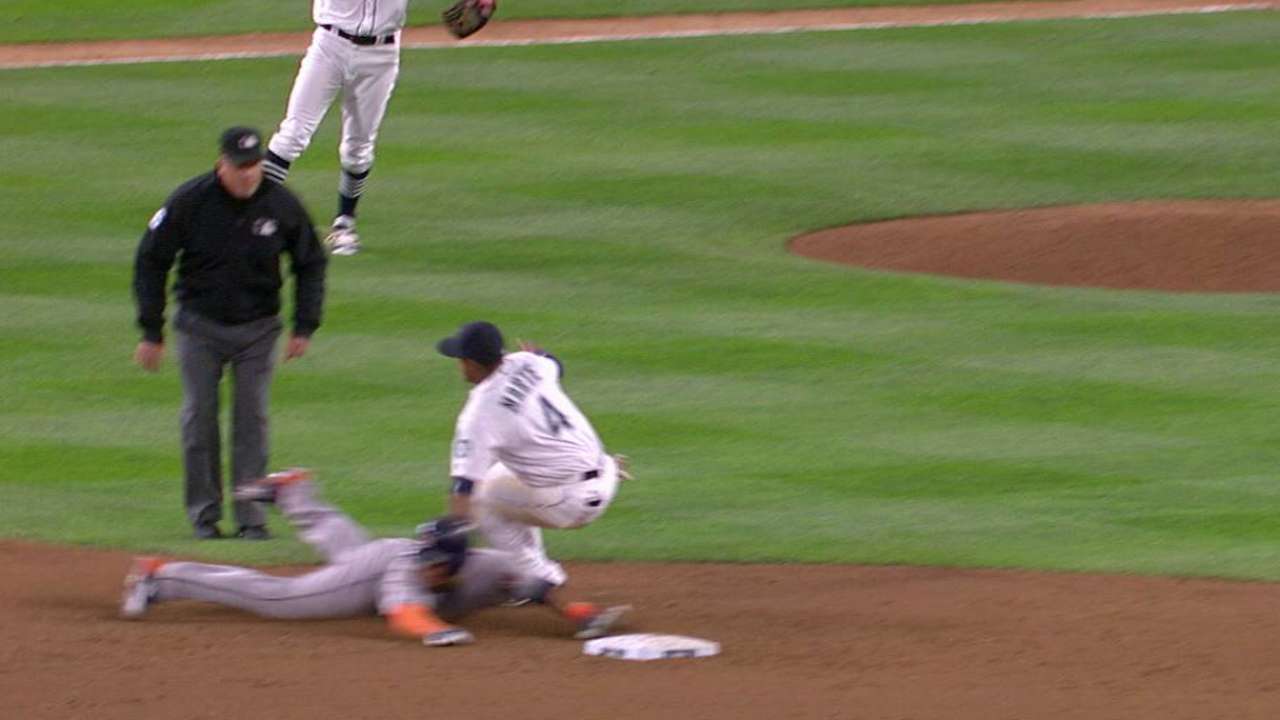 Cishek then had to get the always-tough former AL batting champion, Jose Altuve, for the last out. He did so by inducing a weak fielder's choice grounder that shortstop Ketel Marte tossed to second.
"I never thought I'd be saying that I had 100 saves in my career in the Major Leagues," Cishek said. "It's really a blessing. And I'm happy about it, but I'm really not trying to think about it too much. I'll celebrate it tonight, but I'll forget about it real soon."
Doug Miller is a reporter for MLB.com based in Seattle. Follow him on Twitter @DougMillerMLB. This story was not subject to the approval of Major League Baseball or its clubs.