Lindor laments miscue on night of gems
Indians shortstop dazzles on defense aside from bizarre 5th inning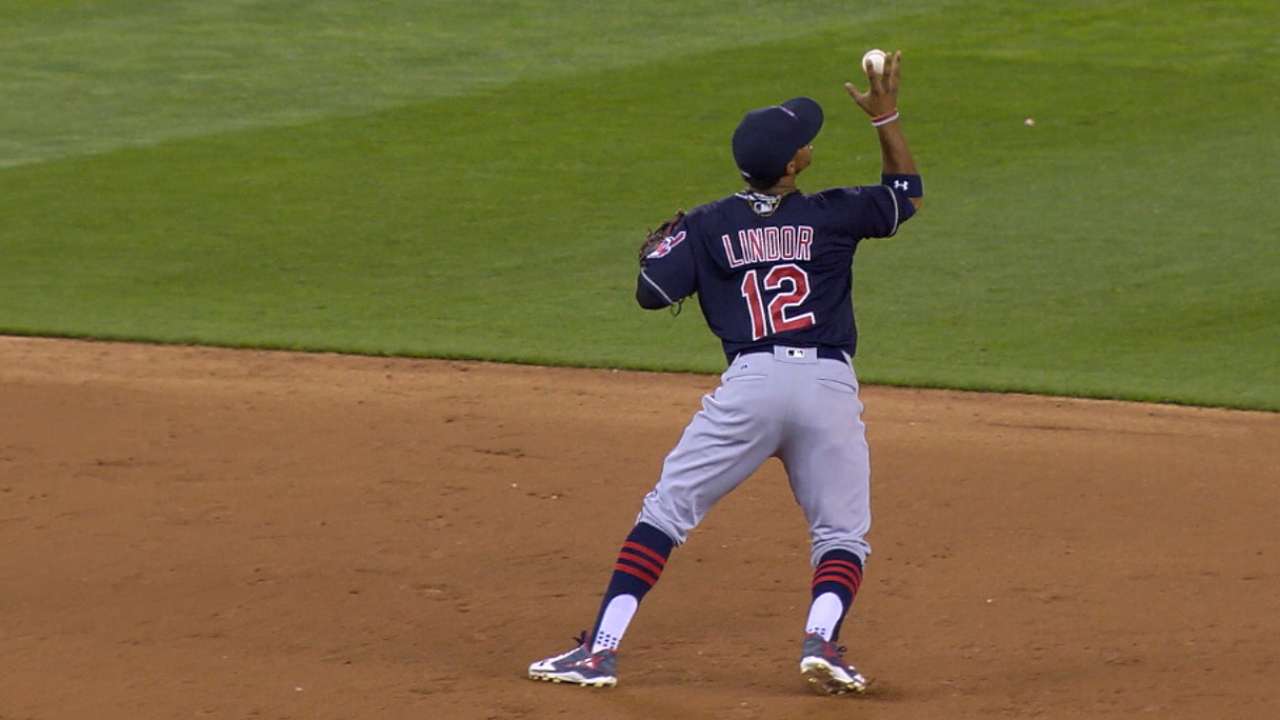 MINNEAPOLIS -- Francisco Lindor put his defensive prowess on display against the Twins on Monday night, making a handful of plays that stirred stunned gasps from the Target Field audience. The young Indians shortstop had little interest in discussing those gems in a quiet visitors clubhouse.
In the aftermath of a 4-3 loss to Minnesota, Lindor was only focused on the one play he did not make. A grounder up the middle in the fifth inning was still eating at him after the defeat. There were a multitude of things that went awry in that ill-fated frame, but the shortstop felt his misstep set Cleveland's downward spiral in motion.
"I made all those plays and they helped the team," Lindor said. "But, I helped them win today. I helped them win. I didn't help my team win and it's tough. Whenever something like that happens, it's tough."
Lindor's comments spoke to his maturity, accountability and leadership. This loss can hardly be placed squarely on his shoulders, though. Right-hander Danny Salazar labored mightily to find the strike zone all evening and it caught up with him in the fifth inning. A few debatable calls on the field also contributed to the Tribe's unraveling.
"So many things happened that inning," Indians manager Terry Francona said. "It finally ended up where they pushed a couple runs across."
With two outs and the Indians holding a 2-0 lead, Salazar got Danny Santana to pound a pitch into the grass and up the middle. Lindor glided to his left on what looked like a ho-hum play for a shortstop of his caliber. The baseball bounced up and struck the heel of Lindor's glove, however, and skipped away for what was deemed an infield single.
Lindor patted his chest and motioned to Salazar, apologizing for his mistake.
"You have to make those plays," Lindor said. "That's a routine ground ball."
With Eduardo Nunez up next, Salazar made a quick pickoff attempt at first base. Cleveland first baseman Mike Napoli applied a swift tag on Santana's right arm as the Twins runner dove back to the bag, but first-base umpire Doug Eddings called him safe. Francona challenged the call, which stood after a replay review, catching the manager by surprise.
"Very much so," Francona said. "I really thought he was out."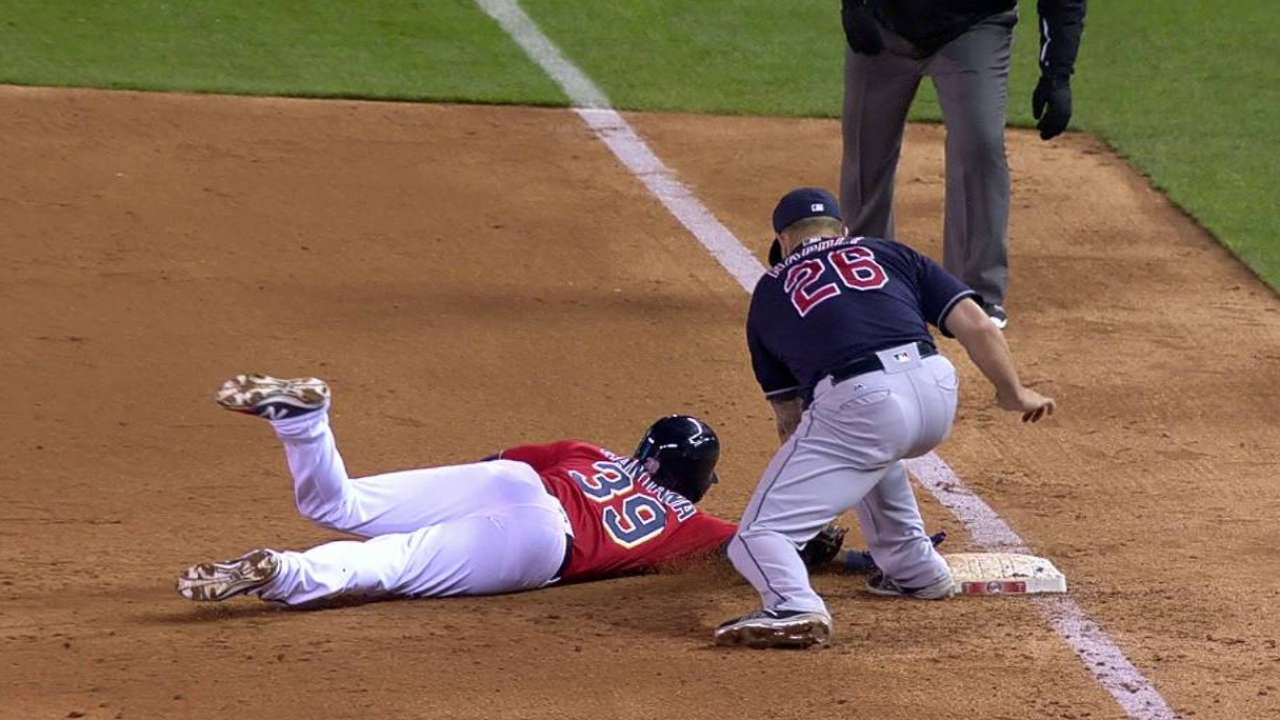 Salazar tried another pickoff, but home-plate umpire Jeff Nelson ruled this attempt a balk. The pitcher was peering in to get the sign from catcher Yan Gomes, and quickly spun and fired the ball to first base before coming set on the mound. Both Francona and Salazar seemed perplexed by the balk call after the loss.
"I saw the video and I didn't see a reason," Salazar said.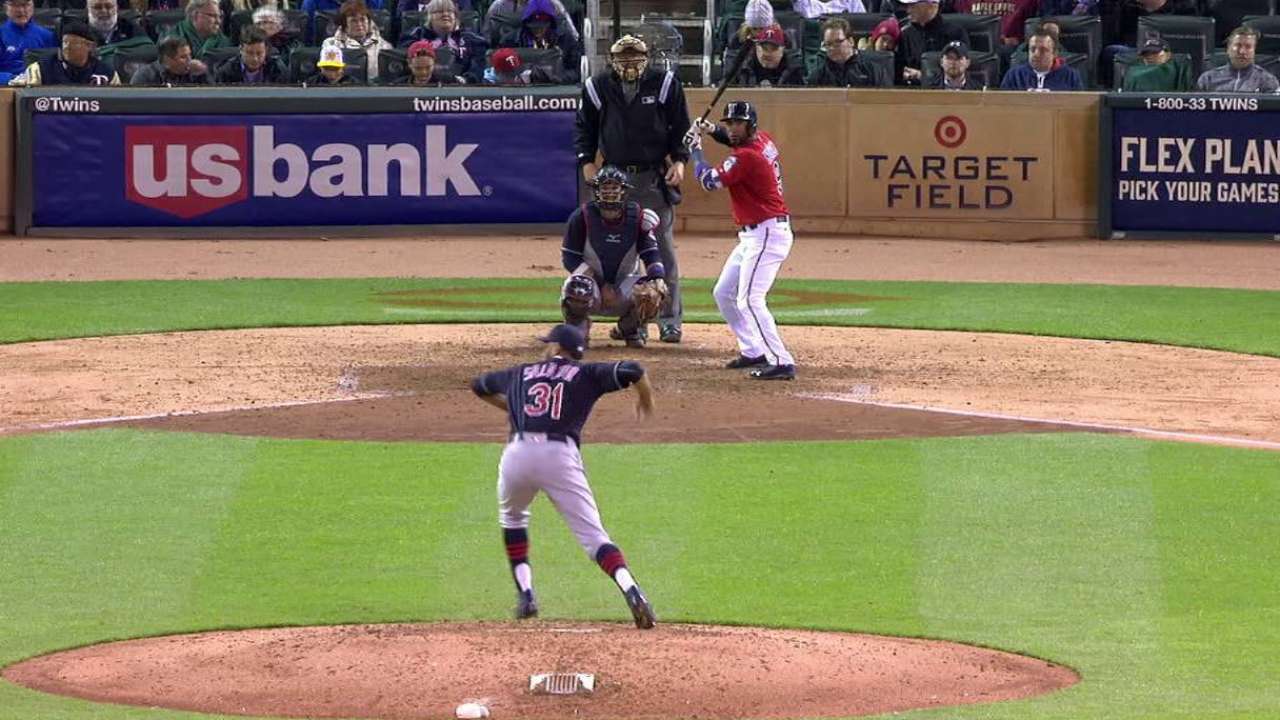 Next came a pair of close calls in foul territory. Marlon Byrd narrowly missed a fly ball from Nunez near the side wall down the right-field line. One pitch later, Napoli could not snag a ball that dropped into the first row of the first-base stands. Those missed chances paved the way for Nunez to draw a walk, and he and Santana each moved up 90 feet when Salazar then unleased a wild pitch to Brian Dozier.
Salazar, who fought with his fastball all night, then allowed a double to Dozier that pulled the game into a 2-2 tie. Minnesota eventually took the lead, and came away with a walk-off win on an Oswaldo Arcia home run in the bottom of the ninth, setting off an on-field celebration for the Twins.
Lindor felt his misstep served as the defeat's first domino.
"If I would've caught the ball and made the play," Lindor said, "we probably would've been sitting down a long time ago."
Jordan Bastian has covered the Indians for MLB.com since 2011, and previously covered the Blue Jays from 2006-10. Read his blog, Major League Bastian, follow him on Twitter @MLBastian and listen to his podcast. This story was not subject to the approval of Major League Baseball or its clubs.