Richards relies on fastball early to get first win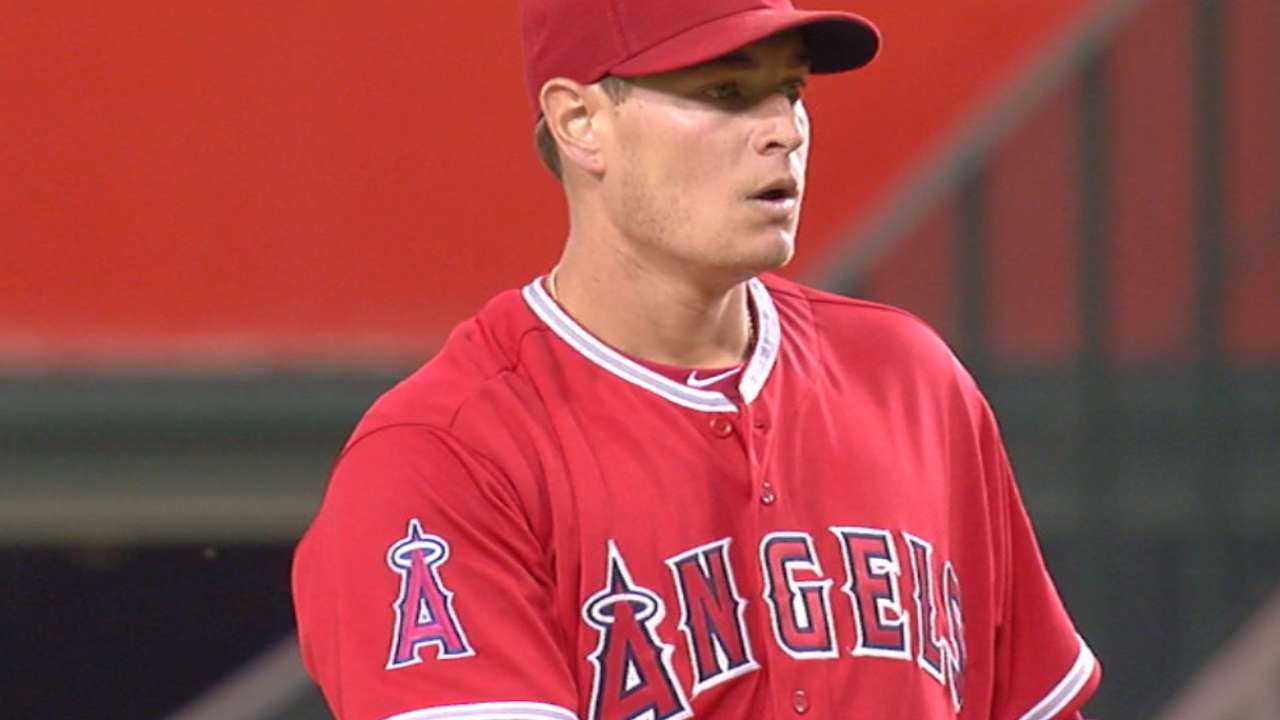 ANAHEIM -- It might not appear that way because of the five walks, or the troubling ball-strike ratio, or just how hard he had to work to record 20 outs, but Monday was one of those good days for Garrett Richards.
The reason: He only really needed his fastball to get through the opposing lineup for the first time, which served him well in the Angels' 6-1 victory over the Royals.
Richards, who picked up his first victory of the season by giving up an unearned run in 6 2/3 innings, threw a four-seam or a two-seam fastball on 33 of the 36 pitches to the first nine hitters. It allowed him to save three of his pitches -- the slider, the curveball and the changeup -- for later in the game, making it even harder for the Royals to get on track.
"It would be nice to be able to do that every start -- save your other three pitches and just dominate with the fastball," Richards said. "That would be great. But I kind of let the game dictate how I'm going to pitch."
Most starting pitchers aren't able to get away with a limited repertoire like that. But Richards had the hardest average fastball velocity among starters last year, at 95.7 mph. And they move in two different directions. There's the four-seam fastball that tails away from right-handed hitters and the two-seam fastball that breaks inside to them.
Said Richards: "I'm going to throw the fastball until you prove to me that you can handle it and you can make the adjustment."
The Royals, who struck out fewer than any other team each of the last two years, didn't see it coming.
"Most guys don't approach us like that," Royals first baseman Eric Hosmer said. "Most guys try to mix it up a little, especially early on because we're so aggressive."
Richards didn't necessarily have his best stuff, throwing only 70 of his 115 pitches for strikes, but he scattered only three hits, struck out five hitters and lowered his ERA to 2.35.
Since Statcast™ was introduced in 2015, Richards has thrown a fastball - meaning a four-seamer, two-seamer or cutter - 63 percent of the time through the first three innings. That's slightly above the league average (59 percent) but ranked only 103rd out of 192 pitchers.
Now that Richards is a full season removed from major surgery on his left knee, however, he has more confidence in his landing leg, which has allowed him to re-integrate his two-seam fastball. And that could open him up to more starts like Monday's, when the opposing lineup hardly even looked at an off-speed pitch until they came to bat a second time.
"It's another weapon," Richards said. "You could even call it another pitch, I guess. I'm becoming more confident in that pitch. My legs and everything feel good, so I'm able to repeat my delivery and kind of work downhill, which is nice."
Alden Gonzalez is a reporter for MLB.com. Read his blog, Gonzo and "The Show", follow him on Twitter @Alden_Gonzalez and listen to his podcast. This story was not subject to the approval of Major League Baseball or its clubs.