Miggy snaps cold streak with vintage effort
Tigers slugger goes deep twice as part of 4-hit game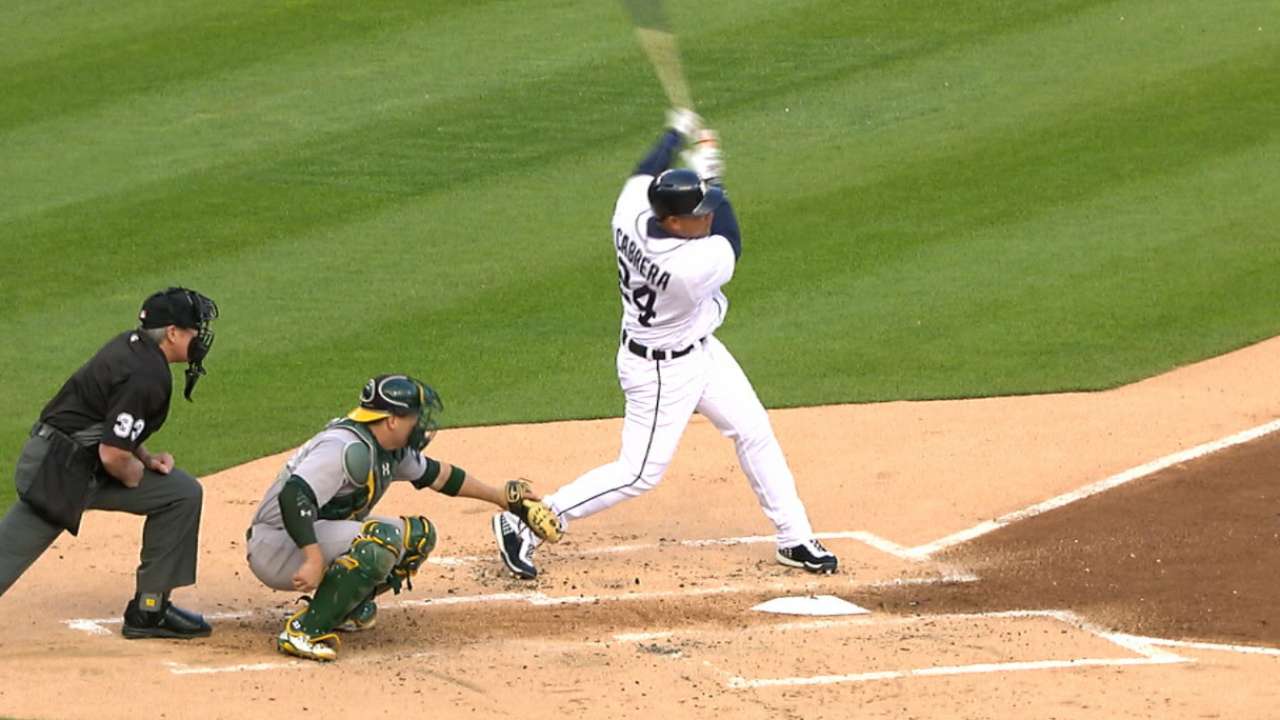 DETROIT -- Josh Reddick has been a Tigers nemesis dating back to those A's-Tigers postseason series a few years back, but he's still friendly enough to talk with players. So when he singled in the fourth inning of Monday's 7-3 Detroit win, he saw Miguel Cabrera and said hello.
"I was talking to him when I got on first base, asked him how he felt," Reddick said. "He said he felt like [garbage] up to tonight. I told him he's Miguel Cabrera and he'll be just fine."
• Cast your Esurance All-Star ballot for Miggy and other #ASGWorthy players
Cabrera already had a home run and a double in the game, ending an 0-for-13 slump and a homerless stretch of 2 1/2 weeks. By the time Reddick singled again and saw Cabrera in the sixth, he had added another homer.
"I said, 'I told you you'd be alright,'" Reddick said.
Cabrera didn't feel like himself for much of the first few weeks of the season. He was healthy, doing agility drills he hadn't been able to do during a season in years, but his timing was off at the plate. He entered Monday hitting .206 with a home run and six RBIs, and may have been feeling like his manager, Brad Ausmus, who hit .251 for his career.
"I can't remember if he said he was hitting like me or he needed one of my bats," Ausmus said, "and I said, 'Hey, I've got one.' [Clubhouse manager] Jim Schmakel had some of my old bats, so I grabbed one for him. He just used it for a round of BP."
Whatever the impact, it worked. His two home runs were typical Cabrera, nice, easy lofts to the opposite field. They landed in nearly the same spot in front of the tunnel beyond the right-field corner.
The first was a solo homer off a Kendall Graveman sinker to open the scoring in the first inning. The second all but put the game away, more of a line drive off another Graveman sinker for a three-run homer in the fifth. It was the opposite-field power that had been missing for much of April.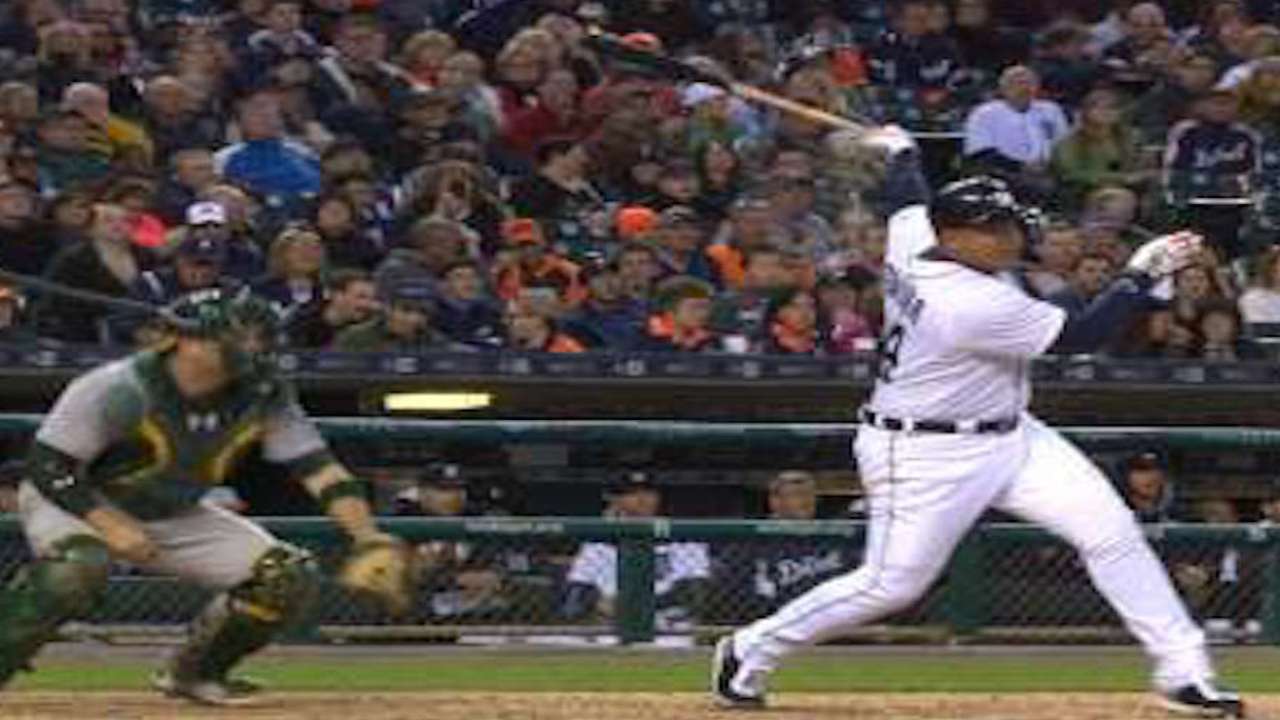 "He can hit the ball to all fields," Ausmus said. "What I saw in the two home runs today that had been kind of missing recently was the carry past the wall, as opposed to kind of getting out there and dying. I think he was coming across the ball a little bit and now he's through the ball, and that's where you get that push even farther."
In between the two homers was a third-inning double he pulled down the left-field line. Once Cabrera hit a line-drive single to left in the sixth inning, he had his first four-hit game since April 12, 2015, which was the second of back-to-back four-hit efforts last April. And his .206 average entering the night was up to .254 at game's end.
Cabrera wasn't around to talk after the game, but he had made his statement: He's still Miguel Cabrera.
Jason Beck has covered the Tigers for MLB.com since 2002. Read Beck's Blog, follow him on Twitter @beckjason and listen to his podcast. This story was not subject to the approval of Major League Baseball or its clubs.