Archer gets 'positive results' by mixing pitches
Rays ace shuts down O's offense, earns first win since Aug. 31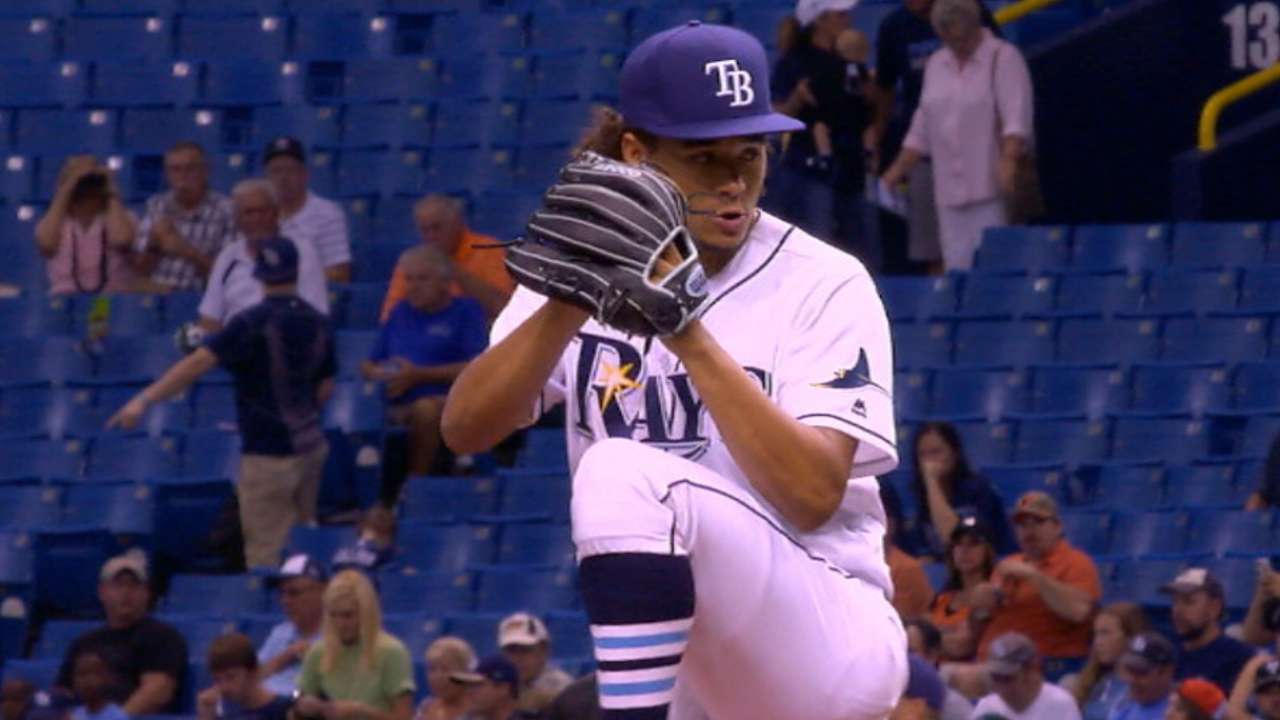 ST. PETERSBURG -- Chris Archer's swagger returned. So did the strikeouts. And, ultimately, so did the elusive W that has dodged him for so long.
Archer delivered for the Rays during their 2-0 win over the Orioles Monday night at Tropicana Field, ending a painfully long drought that had left Archer and the Rays scratching their heads.
Archer's results Monday night spoke volumes about his performance: 6 2/3 innings, no runs, five hits and 10 strikeouts.
That line varried greatly from the results the ace of the staff had been getting previously. He took into the game an 0-4 record with a 7.32 ERA and had not won since Aug. 31. During the 10 starts that took place since his last win, Archer had gone 0-7 with a 6.39 ERA. And going back further, he had gone 3-12 with a 4.97 ERA in his 20 previous starts.
On top of all that heavy baggage, the Orioles had banged up Archer pretty well on April 8 in Baltimore, when they slugged four home runs and scored six total on 10 hits in his five innings.
Archer managed to put all that into the rearview mirror and charged out of the gate quickly on Monday night.
Five of the first six outs he recorded were strikeouts. Catcher Curt Casali said the game plan was to "attack."
"Not be afraid of what happened last time in Baltimore," Casali said. "We were both well aware they were hitting his slider pretty well. His fastball command wasn't as good as it needed to be. And that was a definite point of emphasis today."
Four of Archer's first five strikeouts came on changeups, which offered a new twist for the ace's pitch selection.
"I think the book has become fastball-slider, those are his money pitches," Casali said. "But as you guys saw tonight, he can definitely mix in that changeup, and that opens up a whole other window for him."
Archer said the changeup has been a good pitch for him "at least the past calendar year" -- he just got in the habit of not using it.
"In the bullpen, it was feeling good," Archer said. "He put it down a few times in the first inning, and I was like, 'Let's go with it.' Perfect situation where I was trusting what he put down. Got positive results, and now it's a legit weapon."
Archer managed the early innings efficiently and unscathed. He threw just 52 pitches through his first four innings and needed just 84 to get through six.
By the time manager Kevin Cash brought in Enny Romero to relieve Archer with two outs in the seventh, Archer had thrown 93 pitches, of which 65 were strikes.
"That's what good pitchers do," Orioles manager Buck Showalter said. "... We kind of got caught with a guy with a real good track record finding his step tonight against us."
A reporter asked Archer how rewarding it was to find another way to "skin the cat" by employing the changeup against the Orioles. Archer smiled at the question and replied, "You mean a bird? It was nice."
"Baseball presents challenges like that all the time," Archer said. "... I faced these guys 10 days ago, and it was a completely different outcome. And that's why baseball is such a beautiful game. Anything can happen on any night. That's why you don't dwell on what happened yesterday. You just look forward and trust that you're going to have positive results all the time."
Bill Chastain has covered the Rays for MLB.com since 2005. This story was not subject to the approval of Major League Baseball or its clubs.