Moving on quickly, Kimbrel makes quick work of Braves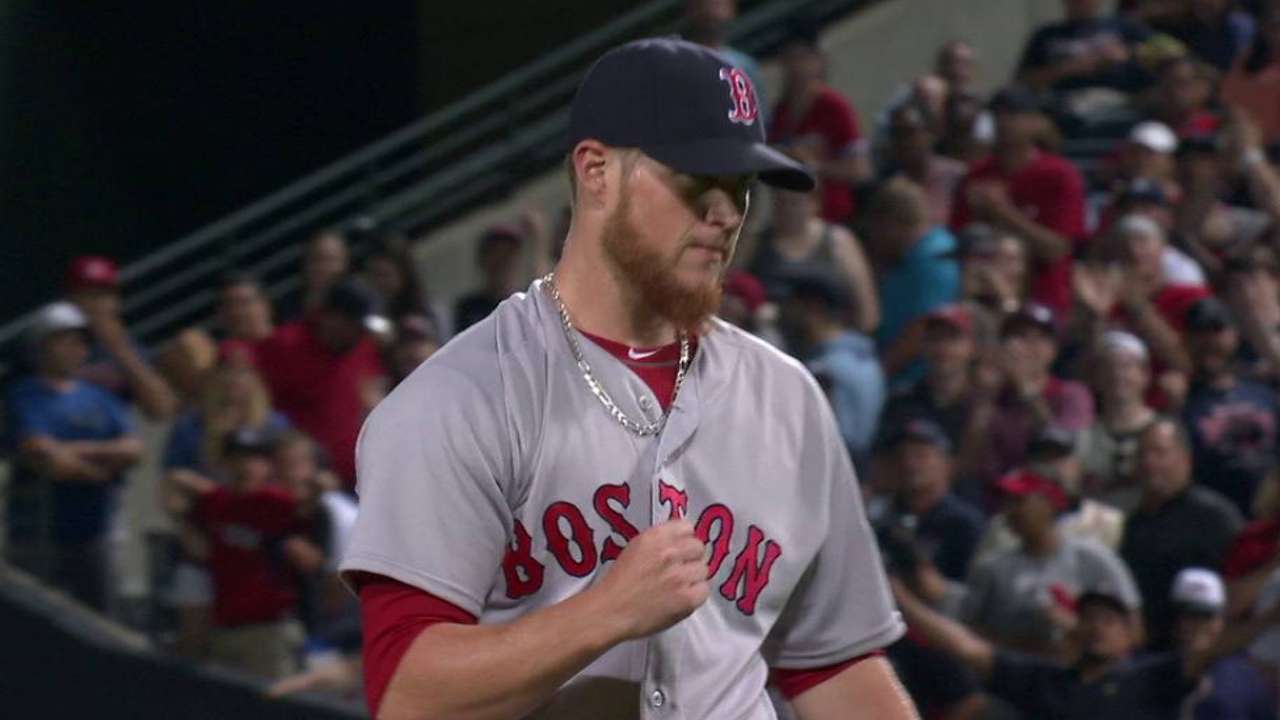 ATLANTA -- As the weary Red Sox filtered into the lobby of their hotel at 5:30 a.m. ET on Monday, nobody felt worse about the situation than closer Craig Kimbrel. It was his misfire with two outs in the bottom of the ninth to Colby Rasmus that led to a game-tying home run in a game that went 12 innings before Boston finally won at Houston.
There was no way Kimbrel was going to keep his teammates at Turner Field any longer than they needed to be on Monday night. The closer stepped on the mound he is most familiar with and finished a 1-0 victory for the Red Sox by putting the Braves away on just 11 pitches.
"I felt like we got in at 6 o'clock this morning because I let us play a few extra innings last night," Kimbrel said. "It was good to see Rick [Porcello] go out there and pitch such a good game and us to get one run across. That's all we needed tonight. To be able to get back out there and do my job and do it effectively is nice."
Kimbrel struck out two of the three batters he faced, including former teammate Freddie Freeman to end the game.
"I think the greatest character trait of a closer is a short-term memory," said Red Sox manager John Farrell. "And I thought he threw a couple curveballs tonight that were the shape that he's typically going to show you."
While Kimbrel is best known for his upper-90's heat, all three of his outs on Monday came via the curveball.
"He was down in the zone," said catcher Christian Vazquez. "His curveball was down for a strikeout. It was perfect. It was great."
As for bouncing back less than 24 hours after a mishap, Kimbrel knows that is one of the most important parts of his job description.
"In this game, there's going to be times where you fail," the closer said. "You have to understand that obviously you want to think about why you failed, but going out the next day, you don't want that to weigh on you or put extra pressure on yourself to do better.
"You've just got to go out there and do what you can do. We're all at this level because we've been able to do it consistently, and just go out there and give it all we got. More times than not you're going to be successful."
Though the beginning of his tenure with the Red Sox hasn't been perfect, the club remains confident that Kimbrel will be successful far more times than he's not.
Ian Browne has covered the Red Sox for MLB.com since 2002. Read his blog, Brownie Points, and follow him on Twitter @IanMBrowne. This story was not subject to the approval of Major League Baseball or its clubs.