Collins apologizes for gesture to Tigers fans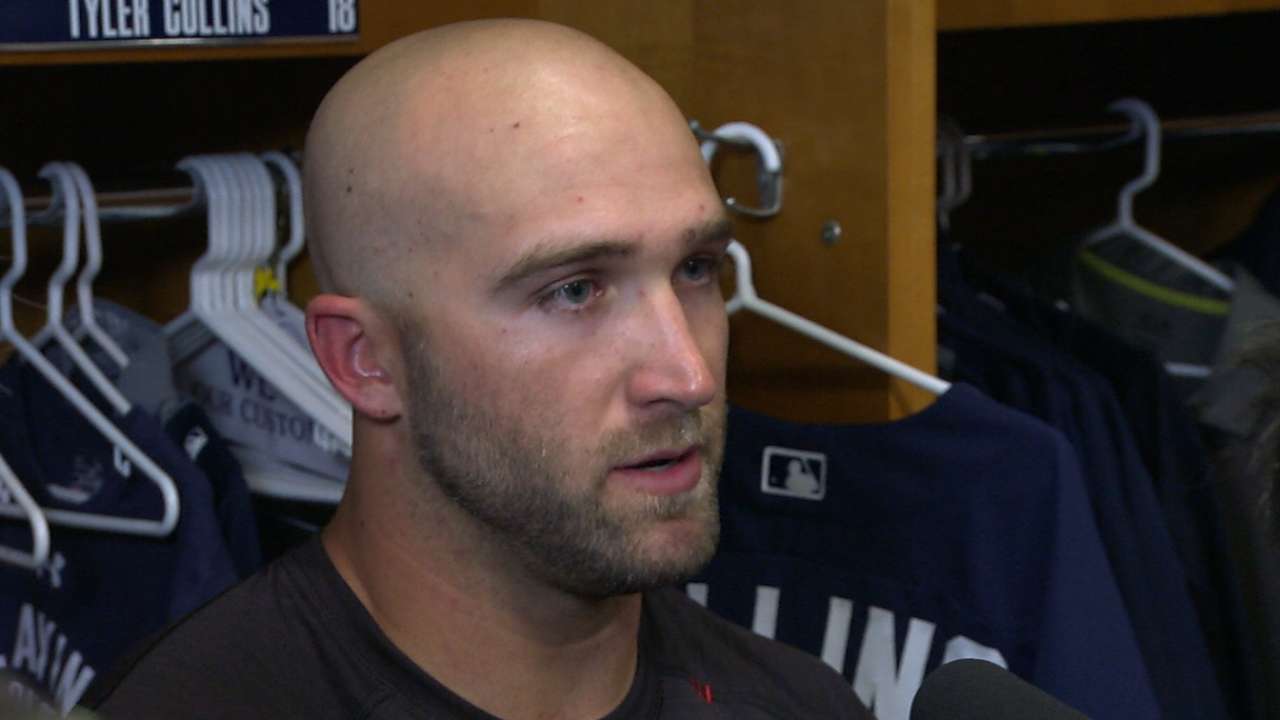 DETROIT -- Tigers center fielder Tyler Collins lost a sixth-inning fly ball against the night sky at Comerica Park, which was ruled a double. And then he lost his composure. The play turned out to be irrelevant in the Tigers' 7-3 win over the A's, but his reaction that followed the miscue, Collins admitted, was an error in judgment.
"To be at home, and to hear boos after that play, hit a trigger inside of me," Collins said of his inappropriate gesture to fans, "and I lashed out, completely inappropriately. I'm absolutely embarrassed that it happened, and I'm sorry to everyone in Detroit."
Collins, who slammed his helmet after striking out to end the previous inning, was starting in center field in place of Anthony Gose. Marcus Semien led off the sixth with a high fly ball to shallow center. Collins never saw it, gesturing to teammates that he couldn't find it. By the time left fielder Justin Upton got to the ball, it had fallen in. Semien rolled in to second base and took third once Upton mishandled the ball for an error.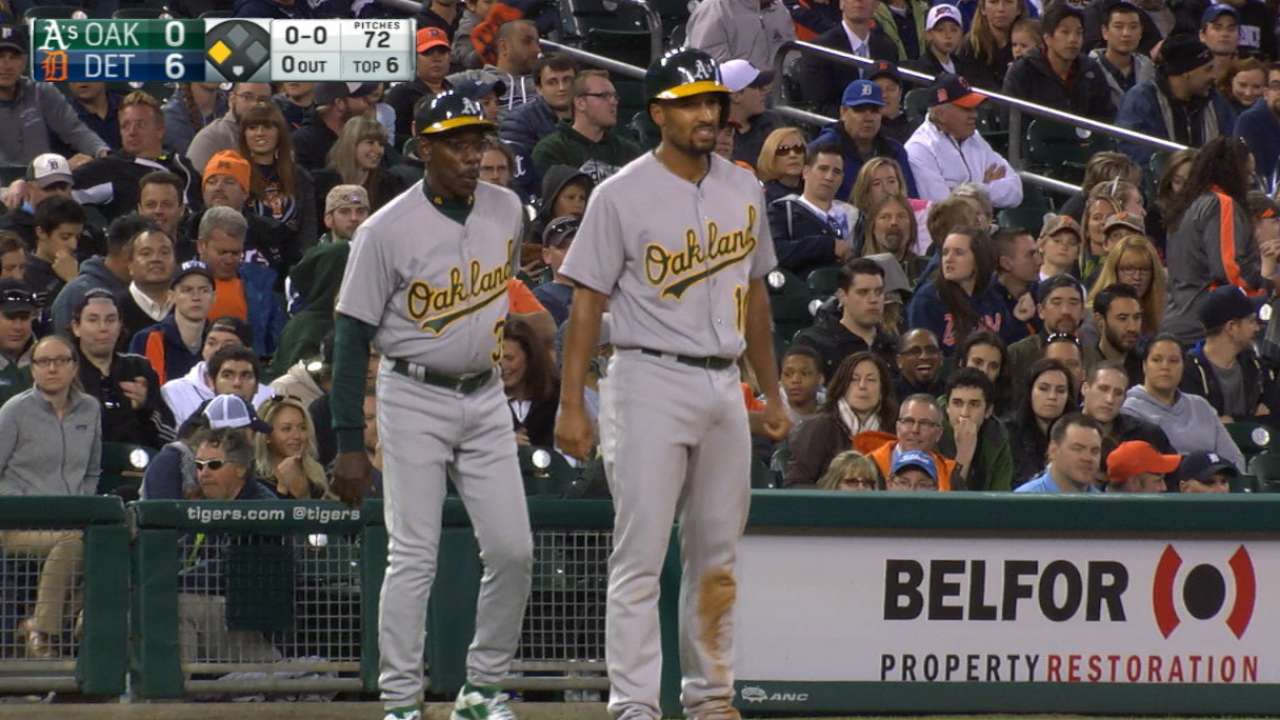 The ensuing boos drew a reaction from Collins.
"It was frustration, just frustration," Collins said. "I don't want to hear that at home. We deal with that on the road. With that being said, I should be more mature and grown up than that, to be able to deal with it, and that's where I apologize."
Manager Brad Ausmus said he didn't see the reaction, but heard about it moments later and saw the video.
"It's clearly something that can't happen," Ausmus said. "As a matter of fact, I spoke to Tyler immediately in the tunnel after it happened. I spoke to him after the game, and he regrets it. It was an emotional reaction. He knows it was wrong. He just screwed up. He's a young guy that screwed up."
Collins stayed in the game until Gose entered as a defensive replacement in the ninth. He received a smattering of boos when he stepped to the plate leading off the eighth.
"Sometimes you're frustrated with what's happening on the field and then you've got someone yelling when the fans are in the stands yelling," Ausmus said. "And let me tell you, some of the things that get yelled at you aren't exactly nice, either. But you've got to be above that.
"When I played, I don't know if early in my career all the games were televised and they caught everything from my angle. But nowadays, you've got to be above that and you've got to go about your business and understand that's part of sports. You're going to get booed."
Ausmus said his decision to keep Collins in the game was a necessary strategy, not wanting to run low on players. Ian Kinsler had been scratched from the lineup before the game with flu-like symptoms, replaced by Mike Aviles.
"If something happens and I end up short a player, then that looks kind of lame-brained," Ausmus said. "But it was addressed immediately, and it was addressed again as soon as the game ended. If anything needs to be done, we'll handle it internally. And if Major League Baseball has a reaction, then we'll see what their reaction is."
Jason Beck has covered the Tigers for MLB.com since 2002. Read Beck's Blog, follow him on Twitter @beckjason and listen to his podcast. This story was not subject to the approval of Major League Baseball or its clubs.