Tomlinson adjusting to pinch-hitting role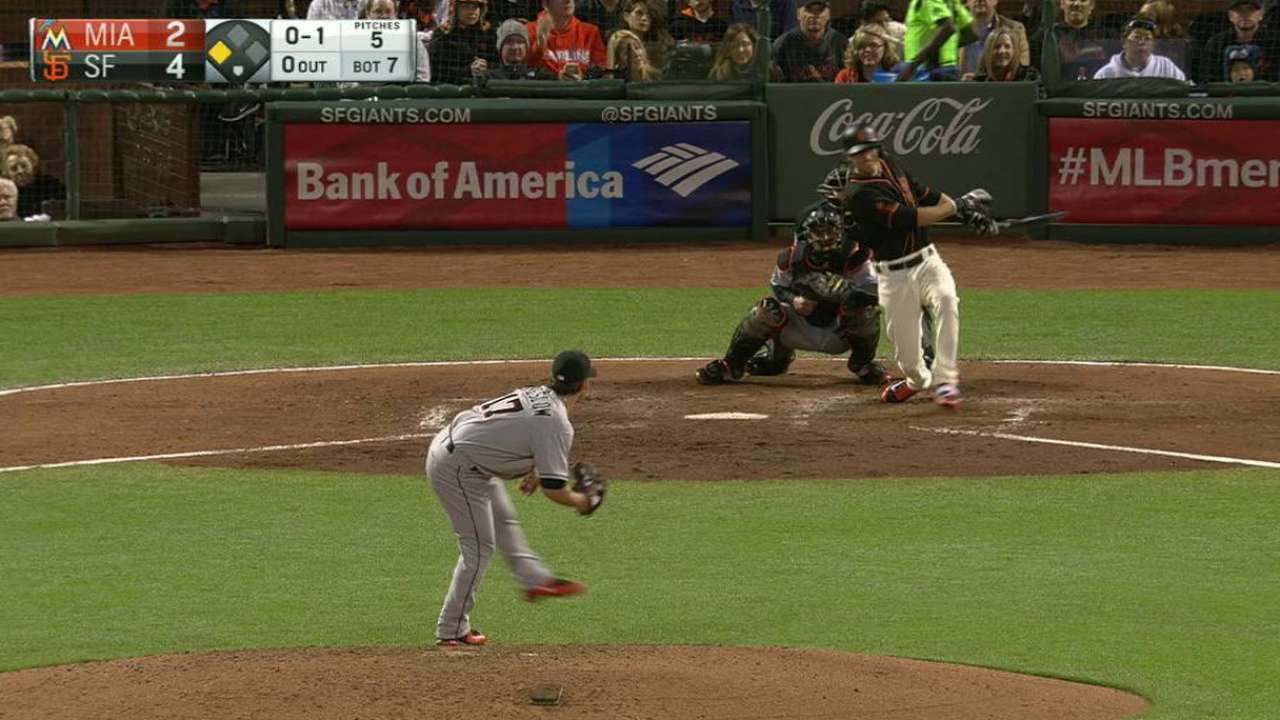 SAN FRANCISCO -- Giants utility man Kelby Tomlinson has a tough enough time getting at-bats that it almost seems unfair when he's sent to the batter's box in the most challenging situation any player faces: pinch-hitting.
Yet Tomlinson has looked comfortable in his pinch-hit appearances, though the sample size is small. He has collected two hits in three at-bats, including an RBI single Saturday against Miami.
"His swing should work for pinch-hitters," Giants manager Bruce Bochy said Monday. "It's a short swing. He doesn't try to do too much. It's just a matter of him controlling his emotions when he goes up there."
Tomlinson has survived in the pinch despite playing sporadically (he has accumulated 14 at-bats in four starts) and being relatively inexperienced. Most accomplished pinch-hitters are either veterans or players who hone their swings while starting occasionally.
Tomlinson knows he must adjust his approach depending on circumstances.
"If it's a guy who has really good out pitches, then I have to be a lot more aggressive early in the count," he said. "If it's a guy I feel comfortable with and I have some specific job to do, then I'm a little more selective."
Tomlinson, 25, is especially conscious of being ready for fastballs.
"The biggest thing is seeing velocity and being comfortable with velocity when you're not seeing it every day," said Tomlinson, who copes by spending extra time in the batting cages. "What I started to realize these last few days is, even if you're not seeing velocity, you still have to trust that you're able to handle it. Because if you start trying to cheat or get to it too early, you're going to chase breaking balls and that sort of stuff and you're going to get yourself out."
Chris Haft has covered the Giants since 2005, and for MLB.com since 2007. Follow him on Twitter at @sfgiantsbeat and listen to his podcast. This story was not subject to the approval of Major League Baseball or its clubs.