Norris keeping faith in face of hard-hit outs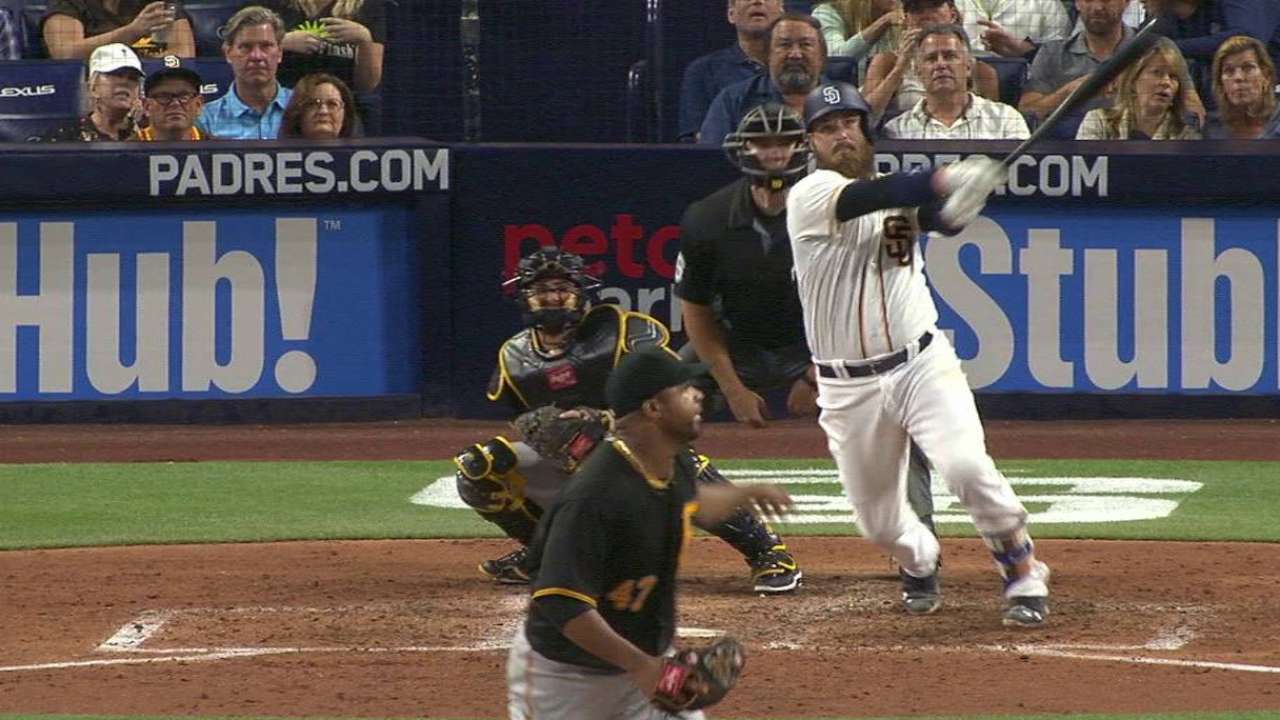 SAN DIEGO -- Baseball can be a cruel sport in small sample sizes. Padres catcher Derek Norris is exhibit A.
Entering Monday's game, no qualified Padres hitter had a higher average exit velocity than Norris. According to Statcast™, the ball has jumped off Norris' bat at an average of 91.3 mph -- better than Wil Myers, who is hitting above .300 and better than Matt Kemp, who has five home runs.
And yet, entering Monday's game, no qualified Padres hitter had a lower batting average than Norris' .158 mark. The disparity has been largely a product of Norris hitting into a whole bunch of loud outs this season.
"Would I love to be sitting at .300 with five homers and 15 RBIs? Sure," Norris said. "But there's not much more I can do right now. I'm squaring the ball up, hitting line drives, but I'm making outs.
"It's just part of baseball. Everyone goes through stretches like that at some point in the season. Mine just happens to be right at the beginning, but in no way am I disappointed in my at-bats."
The rate of hard contact for Norris would seem to indicate he could be a potential bounce-back candidate in the near future. Manager Andy Green is on board with that notion.
He spoke glowingly of those Norris at-bats, specifically since the Padres backstop made an adjustment, dropping his hands a bit before he loads.
"I'm well aware that Derek Norris has been hitting the ball hard and has absolutely nothing to show for it," Green said. "That's kind of the nature of the game sometimes. Those things always play out in time."
For a young hitter, a rocky start like Norris' could be tough to navigate. A lack of results so often leads hitters to look for changes, when none are really needed.
Green doesn't think that'll be the case with a five-year veteran and a former All-Star like Norris.
"Experience is a great teacher," Green said. "So you don't panic when some things don't go your way for a while."
Said Norris: "We're 60 at-bats in, we've got 500 to go. If we're sitting in June and we're sitting in the same spot, maybe we can start worrying. But right now, just keep doing the right things, keep playing the game hard. Stuff will work itself out."
Erlin plays catch
Left-hander Robbie Erlin played catch Sunday for the first time since being placed on the disabled list with a left-elbow strain, retroactive to April 18. He traveled with the club to San Francisco, where he'll continue to take part in baseball activities.
The club is hopeful Erlin could return by early May.
"It just depends on how quickly he ratchets up," Green said. "Right now he's feeling good, so that's a good sign. ... The next step is probably to stretch it out, then get back on a mound and see how that progresses."
Cesar Vargas, who replaced Erlin on Saturday, will get another start Friday against Los Angeles.
Renfroe named Player of the Week
No. 3 prospect Hunter Renfroe was named Pacific Coast League Player of the Week on Monday, after homering in four straight games and posting a 1.548 OPS.
"He's coming on," said Green. "I've gotten some reports from opposing managers in that league. He's looking like a star."
AJ Cassavell covers the Padres for MLB.com. Follow him on Twitter @ajcassavell. This story was not subject to the approval of Major League Baseball or its clubs.