Arcia launches Twins to walk-off over Tribe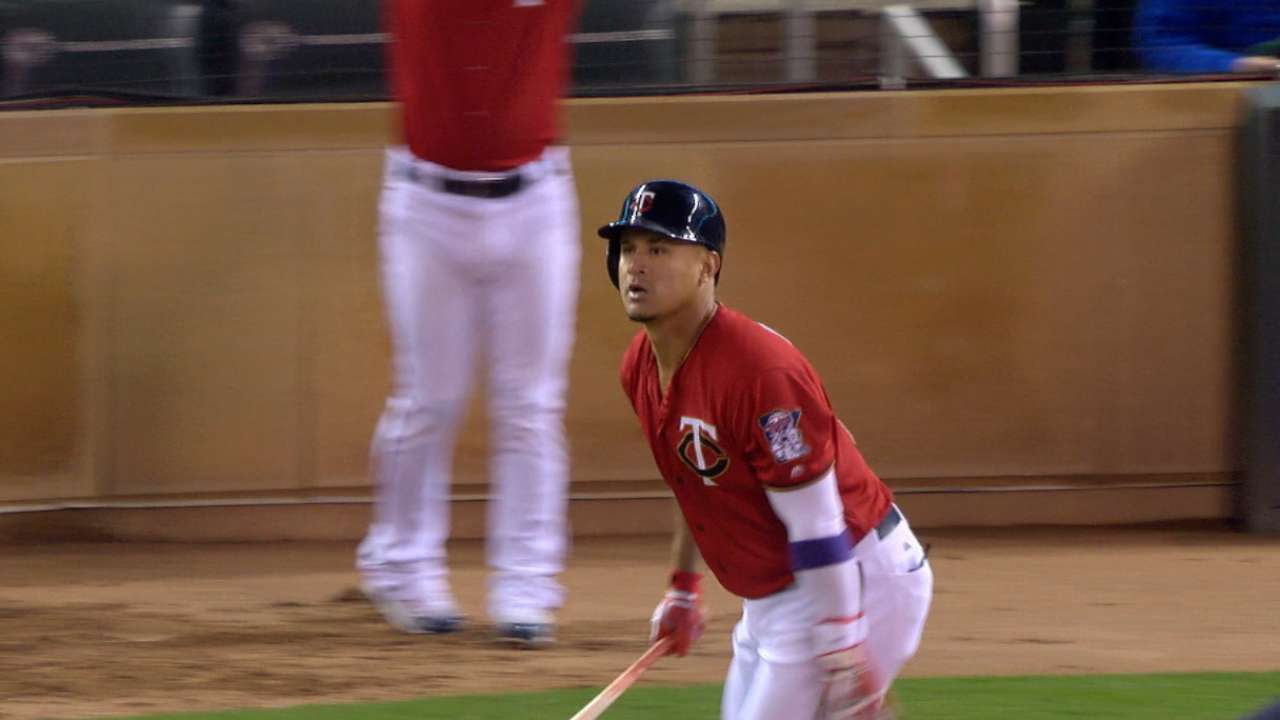 MINNEAPOLIS -- Oswaldo Arcia hit a walk-off solo shot off Indians reliever Zach McAllister in the ninth inning to lead the Twins to a 4-3 win Monday night at Target Field.
Arcia's towering blast to right came on a 1-2 fastball from McAllister, who had not allowed an earned run this season. It was the first walk-off homer for the Twins since Brian Dozier hit one against the Orioles last July 6. It gave Kevin Jepsen the win after a scoreless ninth and helped atone for Yan Gomes' game-tying homer in the eighth against reliever Ryan Pressly.
"The first couple pitches I was swinging too hard and too big but I shortened up," Arcia said through an interpreter. "It was a fastball middle-in, and with my short swing, I was able to hit it out."
Indians right-hander Danny Salazar struggled with his command early, but he didn't pay for it until the fifth. The Twins scored three runs with two outs, including a two-run double from Dozier and a go-ahead single from Miguel Sano. Salazar lasted a season-low 4 2/3 innings.
"He barely got to where he was throwing more strikes than balls," Indians manager Terry Francona said. "That's just a hard way to have sustained success, where you can go deep into a game. Because, with the stuff he has, he should get deeper."
Twins lefty Tommy Milone also wasn't able to get through five innings, allowing two runs on seven hits and two walks over 4 2/3 frames. Cleveland scored in the second on an RBI single from Marlon Byrd before scoring again in the fifth on an RBI single from Jason Kipnis.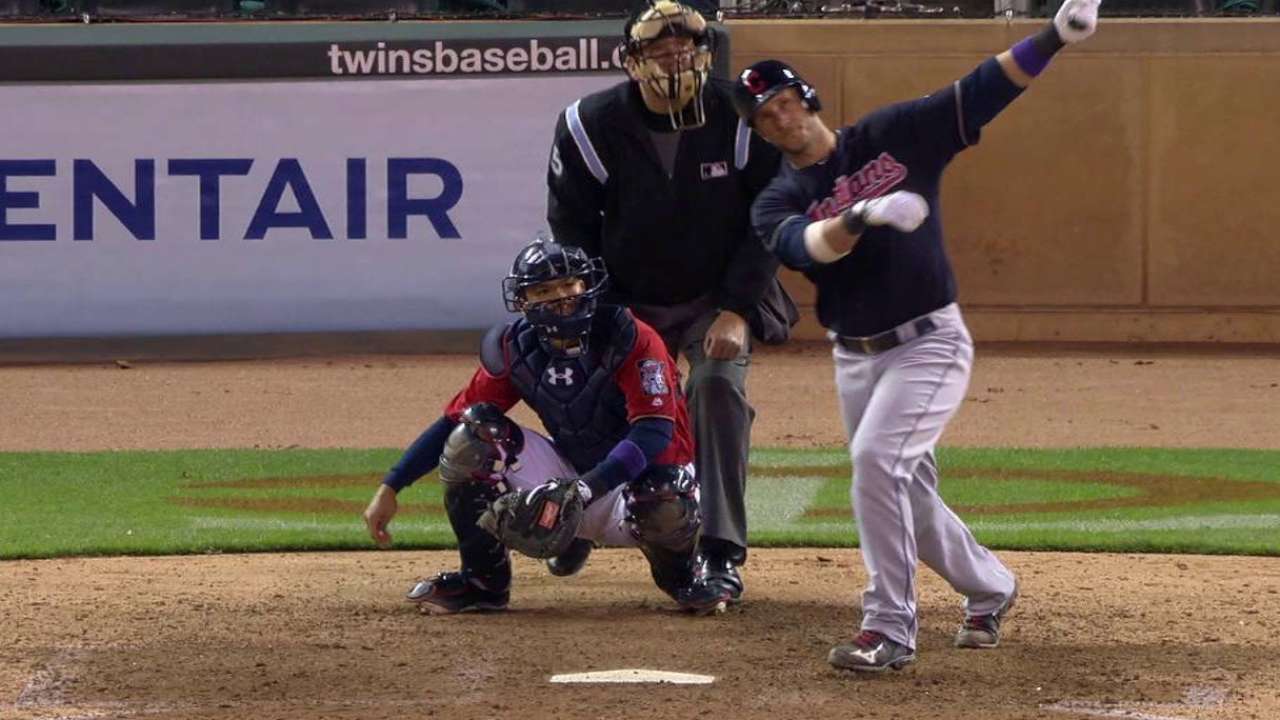 Minnesota's bullpen picked up the slack for Milone until Pressly gave up the homer to Gomes. Indians left fielder Michael Brantley made his season debut as a pinch-hitter with two on and two out later in the eighth, but lined out to left to end the inning.
• Let's Go Crazy! Twins win on 'Prince Tribute Night'
MOMENTS THAT MATTERED
Arcia goes boom: After the Twins played 16 innings on Sunday, the last thing they wanted was to play extra innings again. Arcia was able to solve that issue with his leadoff homer in the ninth, which came after hitting coach Tom Brunansky yelled from the dugout to shorten up his swing with two strikes. It was the second walk-off hit of the season for Arcia. More >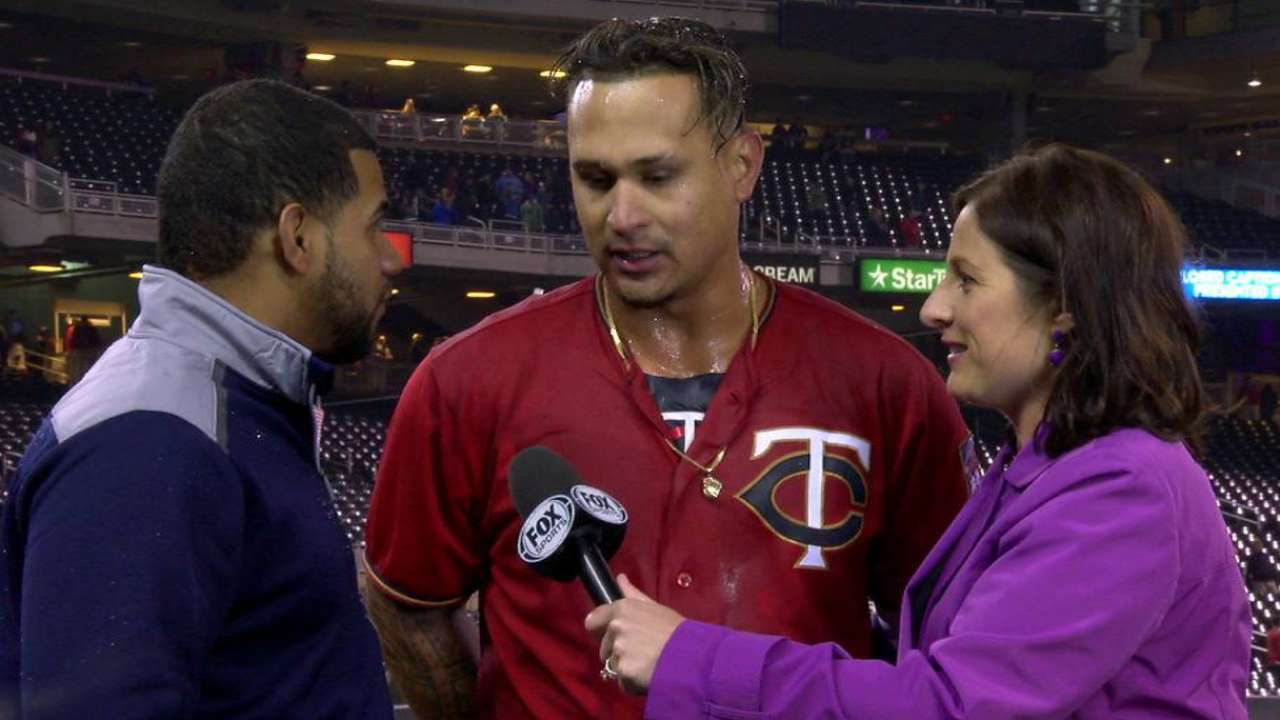 "I'm standing next to Brunansky, and every time [Arcia] takes one of those out-of-control swings, Bruno is yelling at him," Twins manager Paul Molitor said. "You can see him step out of the box and regroup. I think he's learning the short swing can still get the ball a long way. He just gets emotional and outside himself sometimes, but that was a classic two-strike swing and the ball went out of the ballpark."
After bending, Salazar breaks: Salazar labored with his command through the first few innings (he threw 21 balls among 40 pitches in the first two frames), and it caught up with him in the fifth. He allowed an infield single to Danny Santana, who survived a close pickoff attempt and then moved up to second on a balk. Two batters and a walk later, Salazar gave up a two-run double to Dozier to pull the game into a 2-2 deadlock.
"He pitched behind in the count, it seemed like the whole night," Francona said. "His fastball was explosive, but it was just a lot of 3-2 counts, 3-1 count to Dozier. At some point, you've got to figure somebody is going to get a hit."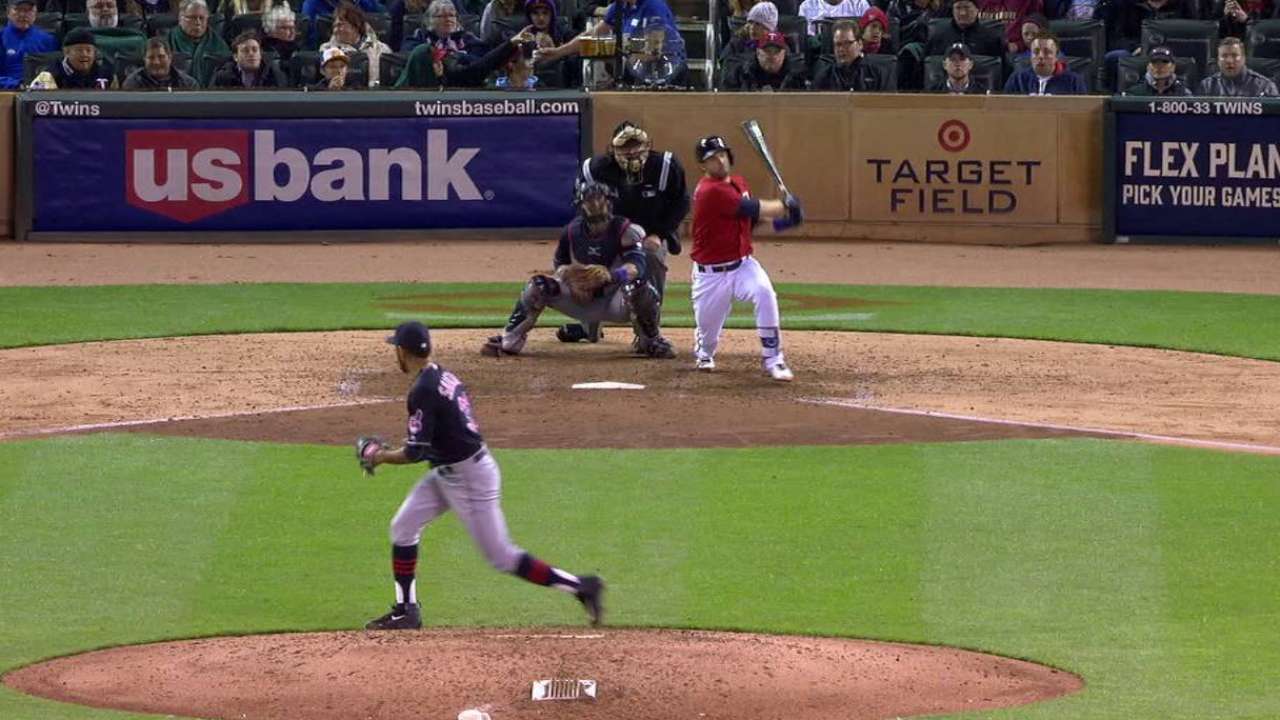 Dozier, Sano deliver: Dozier, who entered the game hitting .192, came up with the big hit that knocked Salazar out of the game. It also set up Sano's go-ahead single off former Twins reliever Jeff Manship after the Indians opted to intentionally walk Joe Mauer.
"Dozier was able to get a 3-1 pitch and hit it into the corner," Molitor said. "And Miguel, we told him about Manship and to make sure he got the ball up. He was able to get a slider and push it to right field."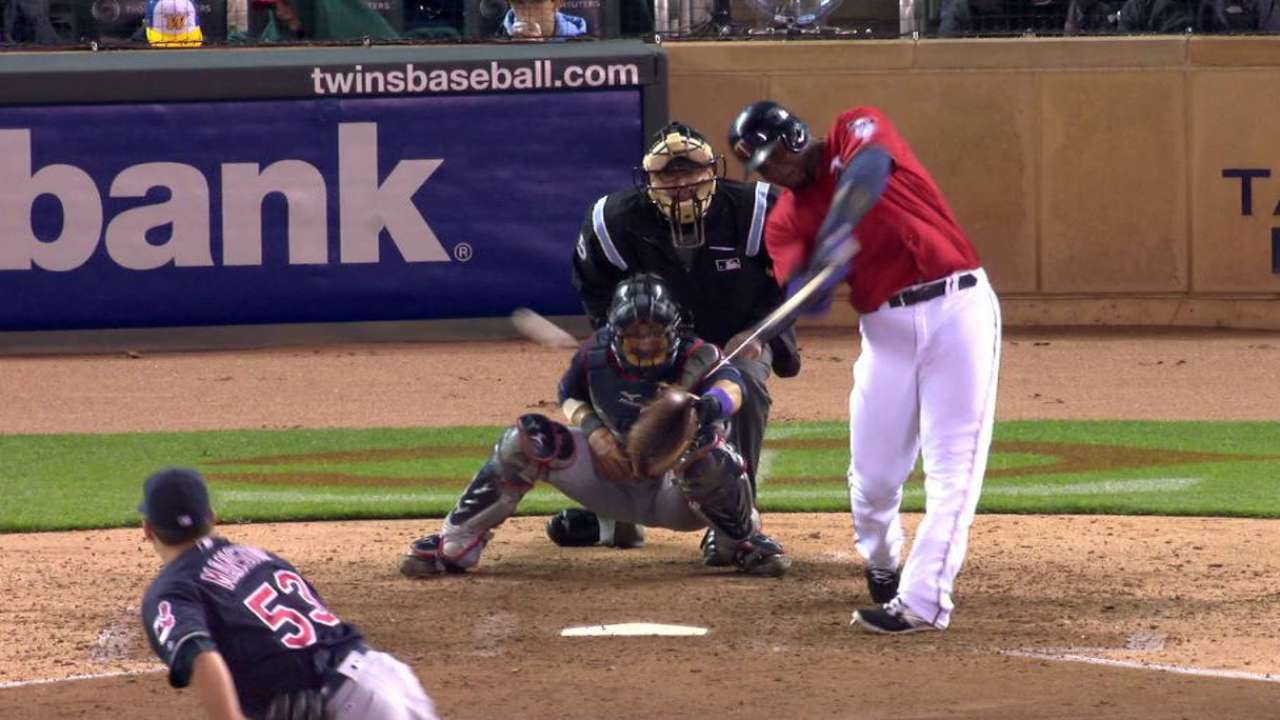 Lindor flashes leather: Cleveland's slick-fielding shortstop, Francisco Lindor, made a trio of eye-popping plays. Twice, he went deep into the hole and made a leaping, cross-body throw to nab a runner at first. He pulled it off on a grounder by Eduardo Nunez in the third and against Eduardo Escobar in the sixth. In the fifth, Escobar chopped a pitch back to Salazar, who deflected it with his glove. Lindor altered his route, snagged the ball and, after a fumbling it for a moment, recovered to throw out Escobar by a hair.
"He's pretty special," Francona said. "His ability to get the ball on a line with accuracy and with some carry on it is pretty impressive." More >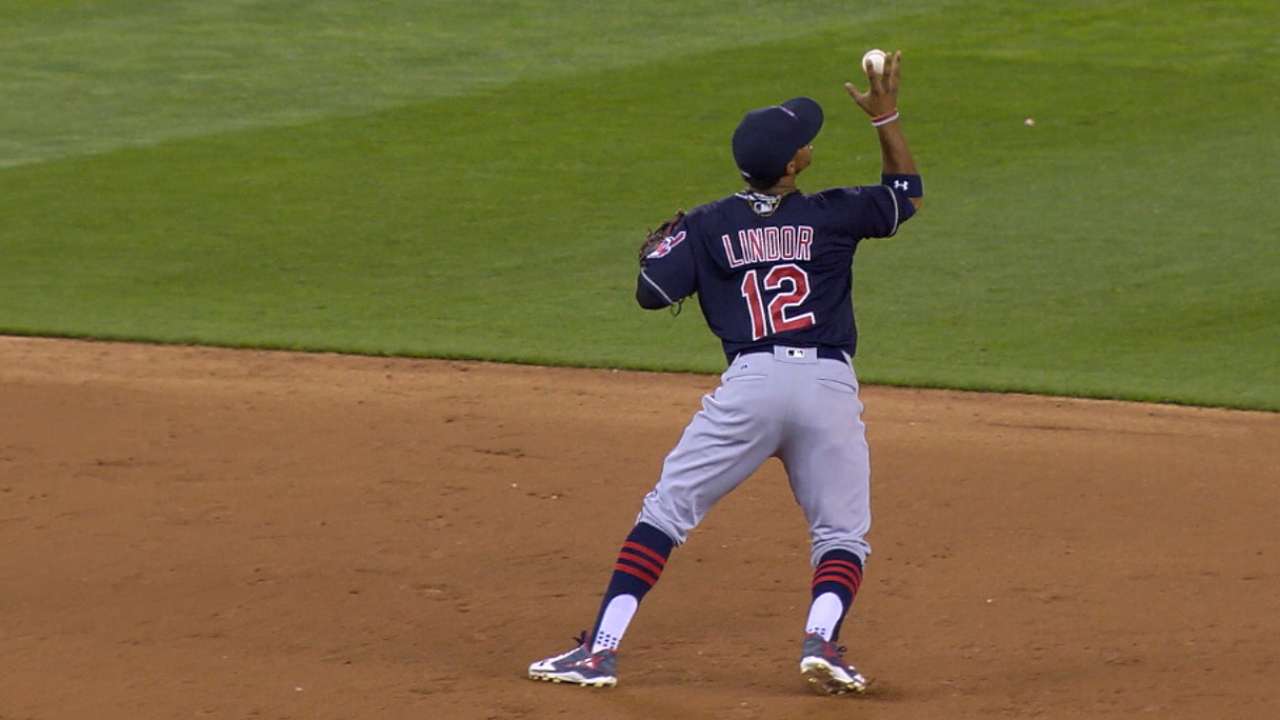 • Twins add 'Little Red Corvette' to 7th-inning mix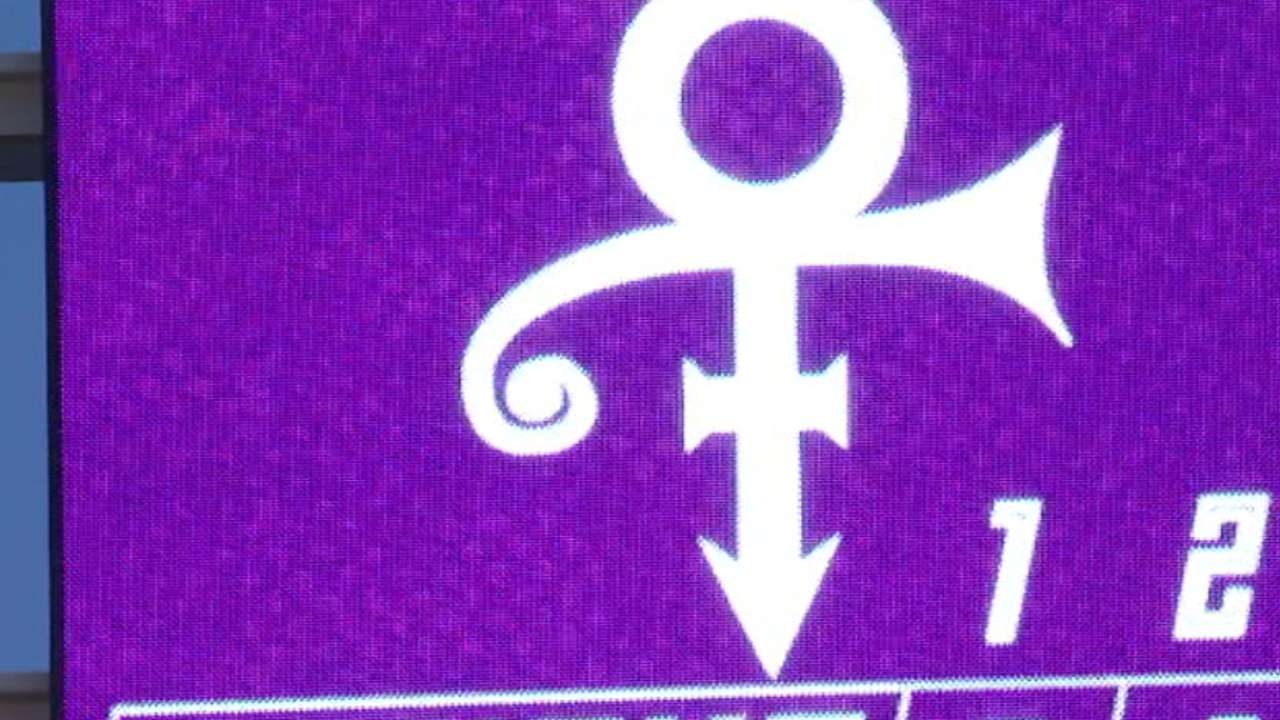 QUOTABLE
"It was huge. Especially with the way things went using the bullpen yesterday. It's big to get out of there in the ninth inning. Huge hit." -- Milone, on Arcia's walk-off winner
"It's really tough. I made all those plays and they helped the team, but I helped them win today. I helped them win. I didn't help my team win and it's tough. Whenever something like that happens, it's tough. I think Salazar was pitching good and I messed it up for him. I messed it up for him and I own up to it." -- Lindor, who bobbled the ground ball that led to Santana's infield single in the fifth
UPON FURTHER REVIEW
With a 1-1 count on Nunez in the fifth inning, Salazar made a quick throw to first baseman Mike Napoli in an effort to pick off Santana. First-base umpire Doug Eddings ruled that Santana was safe on the close tag play, but Francona challenged the call to be sure. The ruling on the field stood after a replay review lasting two minutes, 12 seconds. Salazar then attempted another pickoff but was called for a balk by home-plate ump Jeff Nelson. That sequence helped set the stage for Minnesota's three-run outburst in the inning.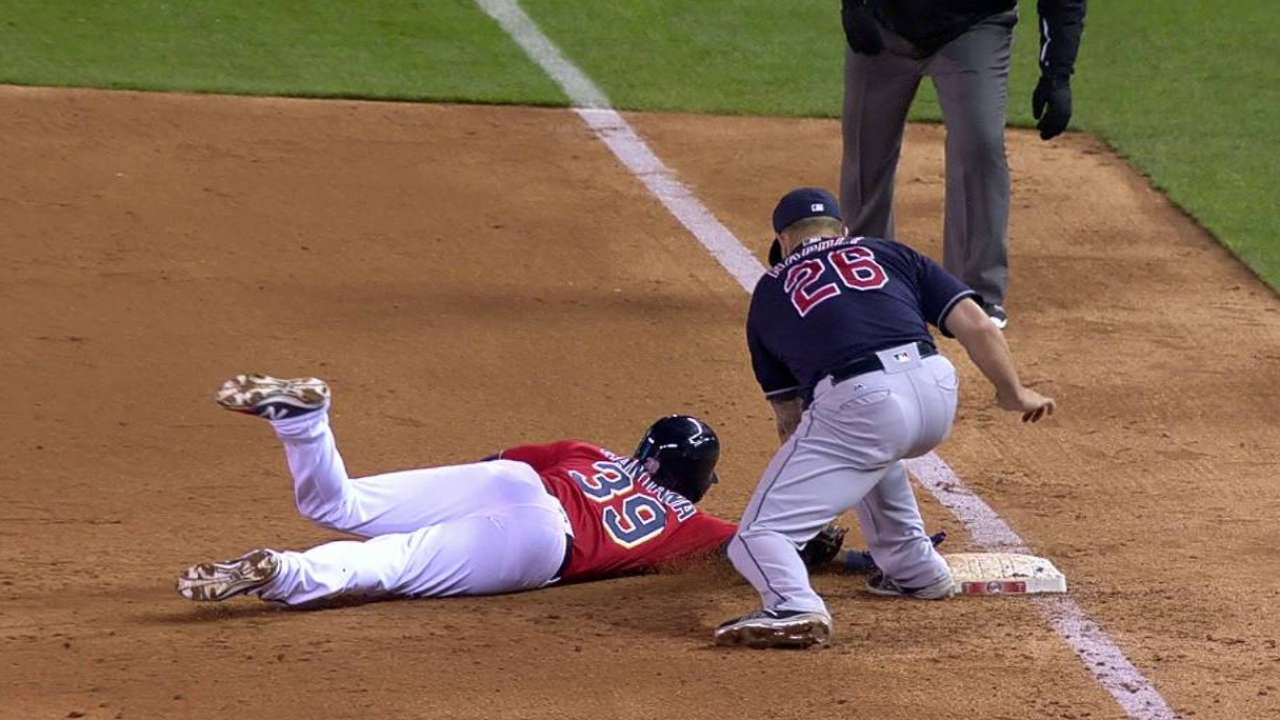 "Very much so," said Francona, when asked if he was surprised the call wasn't overturned. "I really thought he was out."
The Twins won a challenge in the sixth, when Gomes was ruled safe at first base as shortstop Escobar was charged with an error. But after a review, the call on the field was overturned, and Gomes was ruled out, taking away the error.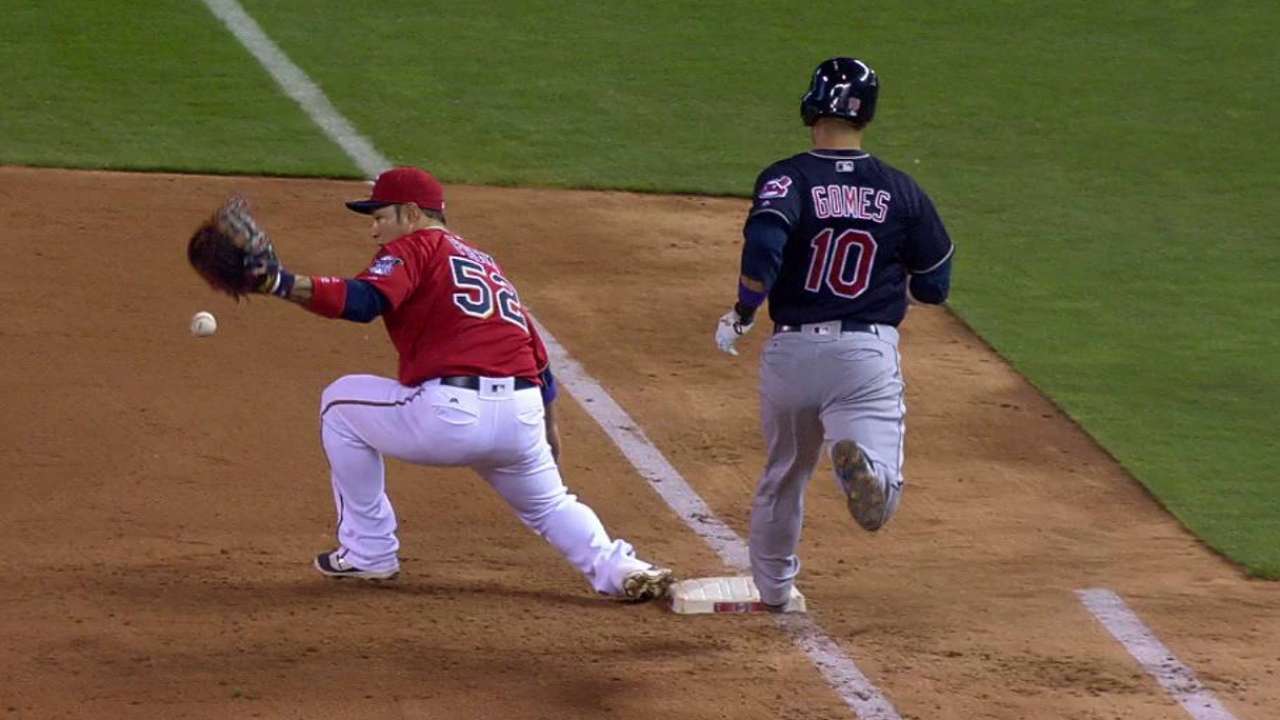 WHAT'S NEXT
Indians: Cody Anderson (0-1, 7.53 ERA) will take the ball for the Tribe in an 8:10 p.m. ET divisional clash with the Twins on Tuesday at Target Field. Last year, the right-hander ended his season with two stellar starts (one run allowed in 13 2/3 innings) against Minnesota, helping him net the American League Pitcher of the Month honor for September, when he went 5-0 with a 1.38 ERA.
Twins: Right-hander Ricky Nolasco is set to start at 7:10 p.m. CT for the second game of this three-game series. Surprisingly, Nolasco has been Minnesota's best starter this season, going 1-0 with a 2.66 ERA through three starts.
Watch every out-of-market regular-season game live on MLB.TV.
Rhett Bollinger has covered the Twins for MLB.com since 2011. Read his blog, Bollinger Beat, follow him on Twitter @RhettBollinger and listen to his podcast.

Jordan Bastian has covered the Indians for MLB.com since 2011, and previously covered the Blue Jays from 2006-10. Read his blog, Major League Bastian, follow him on Twitter @MLBastian and listen to his podcast.

This story was not subject to the approval of Major League Baseball or its clubs.