Weiss, Raburn tossed for arguing strike zone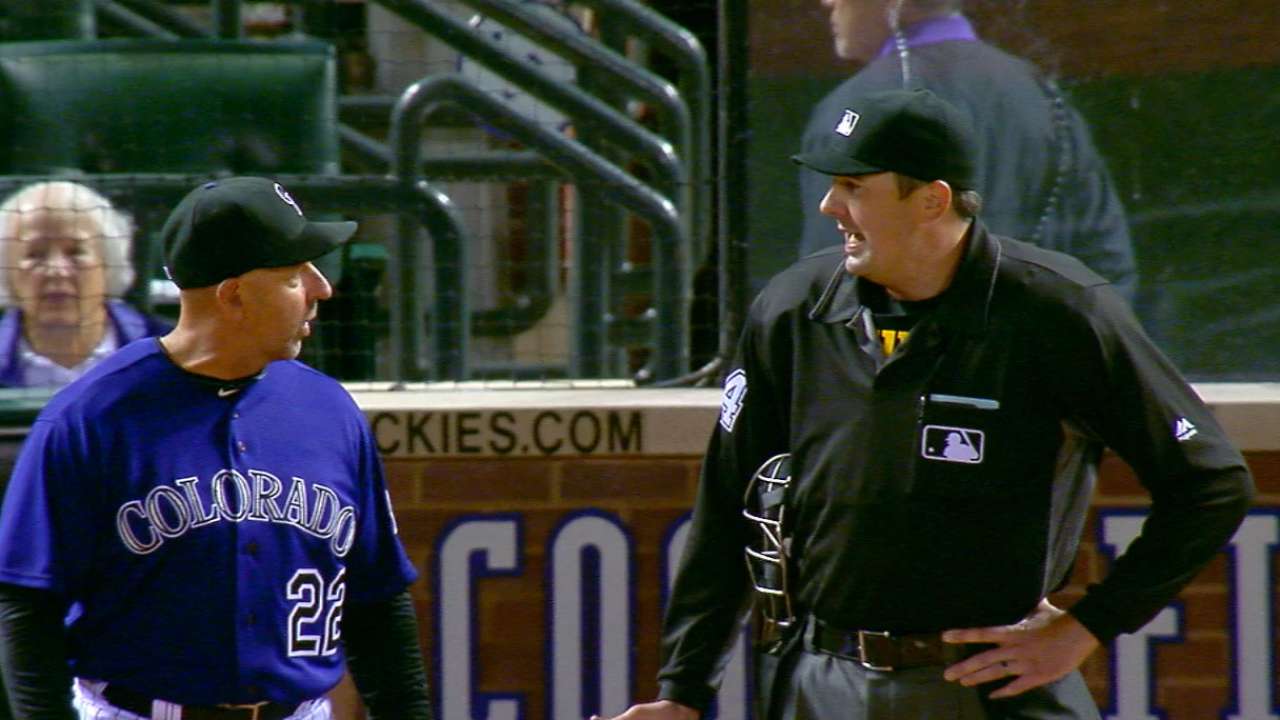 DENVER -- Rockies manager Walt Weiss saw his fourth-inning ejection during a 6-1 loss to the Pirates on Monday night as a necessary part of his job. Left fielder Ryan Raburn thought his sixth-inning ejection was completely unnecessary.
Throughout, Colorado players groused that home-plate umpire Lance Barrett's strike zone was too generous, as evidenced by the six strikeouts looking -- five against Pirates starter Jeff Locke -- that an aggressive-swinging Rockies team absorbed. Raburn went down looking twice, and even Nolan Arenado took just the 26th strikeout looking of his career.
Weiss, who said he made sure Barrett ejected him rather than catcher Nick Hundley, diplomatically said that Barrett's zone was the same for both teams, but, "They [the Pirates] dealt with it a little bit better than we did."
Bench coach Tom Runnells assumed the managerial duties following Weiss' ejection.
But Raburn didn't believe his protest -- as he walked toward the dugout with his back toward Barrett -- warranted the goodbye thumb.
"I didn't have any idea -- I saw T.R. [Runnells] running out and I looked at 'Hundo' and said, 'Who did he just throw out?'" said Raburn, who was replaced by Ben Paulsen in left field. "And he said, 'It was you.'"
The Rockies thought some strikes were low and some were well off the plate.
"It's unfortunate for a hitter -- you can't cover that much," Raburn said. "We work on hitting strikes. When they're not strikes, it's frustrating."
Hundley tried not to say anything that would draw the attention of the league office, but didn't hide his feelings.
"I don't know how much I want to get fined right now, so I'll leave it at that," Hundley said. "You guys watched the game. The plate is supposed to be 17 inches wide. Do whatever you want out of that."
Under baseball rules, arguing balls and strikes is an automatic ejection. As common practice, umpires give some leeway. Raburn thought he deserved more because he was moving away.
"I tried to tell them it ain't strikes," Raburn said. "I guess he didn't like it. But we're playing our tails off, our pitcher [Chad Bettis] is out there battling his tail off, we've got a one-run ballgame and a lof of close pitches he's not getting, either. It's unfortunate, but I don't think I did anything that terrible to get run out."
I disrespected the game tonight and for that I am sorry to all the baseball fans out there. I let my frustration get to me.

— Brandon Barnes (@TheBarnyard15) April 26, 2016
Reserve outfielder Brandon Barnes took a called third strike in the ninth and showed his frustration, then apologized in a tweet.
Thomas Harding has covered the Rockies since 2000, and for MLB.com since 2002. Follow him on Twitter @harding_at_mlb, listen to podcasts and like his Facebook page. This story was not subject to the approval of Major League Baseball or its clubs.