Crawford's return from DL pushed back a day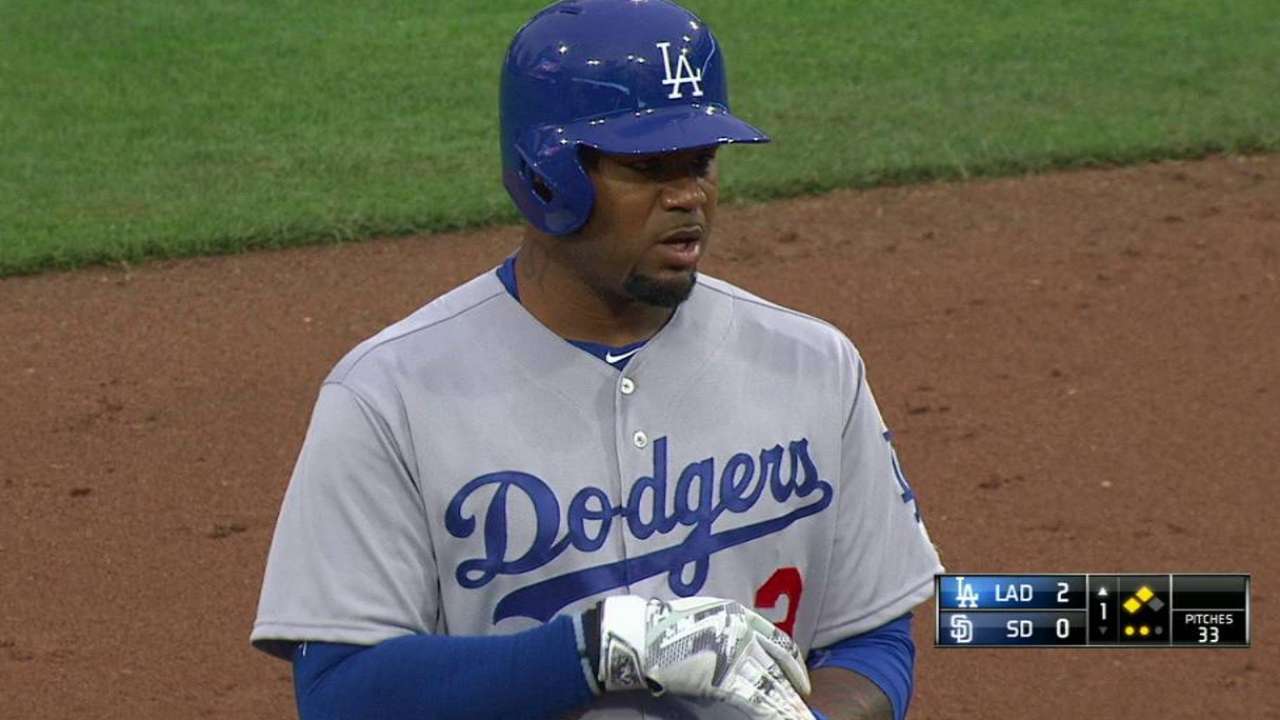 LOS ANGELES -- Dodgers outfielder Carl Crawford (back) was expected to be activated from the 15-day disabled list before Monday's series opener against the Marlins, but he will have to wait a day longer to return.
With Miami left-hander Wei-Yin Chen on the mound and the Los Angeles bullpen gassed after Sunday's game in which six relievers were used, Dodgers manager Dave Roberts made the decision to delay the outfielder's activation until Tuesday.
"As far as Carl, he wasn't even going to be in the lineup today," Roberts said. "He feels good, had a good rehab assignment and we expect him back tomorrow."
The outfielder hasn't seen the field for the Dodgers since the fifth game of the season and was placed on the DL on April 9. He went 4-for-11 with two doubles in a three-game rehab assignment with Class A Advanced Rancho Cucamonga and Triple-A Oklahoma City.
It's understandable that Crawford would not have been in the lineup against Chen, considering the fifth-year pitcher has held left-handed batters to a .653 OPS in his career. In fact, there wasn't a single left-handed batter in Monday's starting lineup, with Yasmani Grandal and Charlie Culberson subbing in for Adrian Gonzalez and Corey Seager.
Upon his return, Crawford is expected to be in the mix for left-field playing time alongside Enrique Hernandez and Trayce Thompson, but Crawford should see the most starts, given that he is the only left-handed hitter of the group.
"Whatever the team needs me to do, I'm ready for it," Crawford said. "With the way I'm getting hurt, it's probably better that it's a rotation like that. That way, our guys stay rested and healthy."
More injury news
• Hyun-Jin Ryu (shoulder) will throw a 20-25-pitch bullpen session on Tuesday. The left-hander was sidelined for the last week due to a groin strain, but continued to perform arm-strengthening activities while he rested.
• Yimi Garcia hit the DL Saturday with a sore biceps and remains a few days away from baseball activities, but his pain has begun to diminish.
"He's not going to pick up a baseball yet," Roberts said. "He said it's more localized in the biceps, it's not as painful as it was before. So that's progress, but he's still a few days away from even picking up a baseball."
• Scott Van Slyke (back) has not yet resumed baseball activities, continuing to do core work and breathing exercises.
• Roberts hasn't heard any plans for a rehab assignment for Alex Guerrero (knee), who remains in Glendale, Ariz.
Jack Baer is a reporter for MLB.com based in Los Angeles. This story was not subject to the approval of Major League Baseball or its clubs.