Neither A-Rod, Hicks expected to hit DL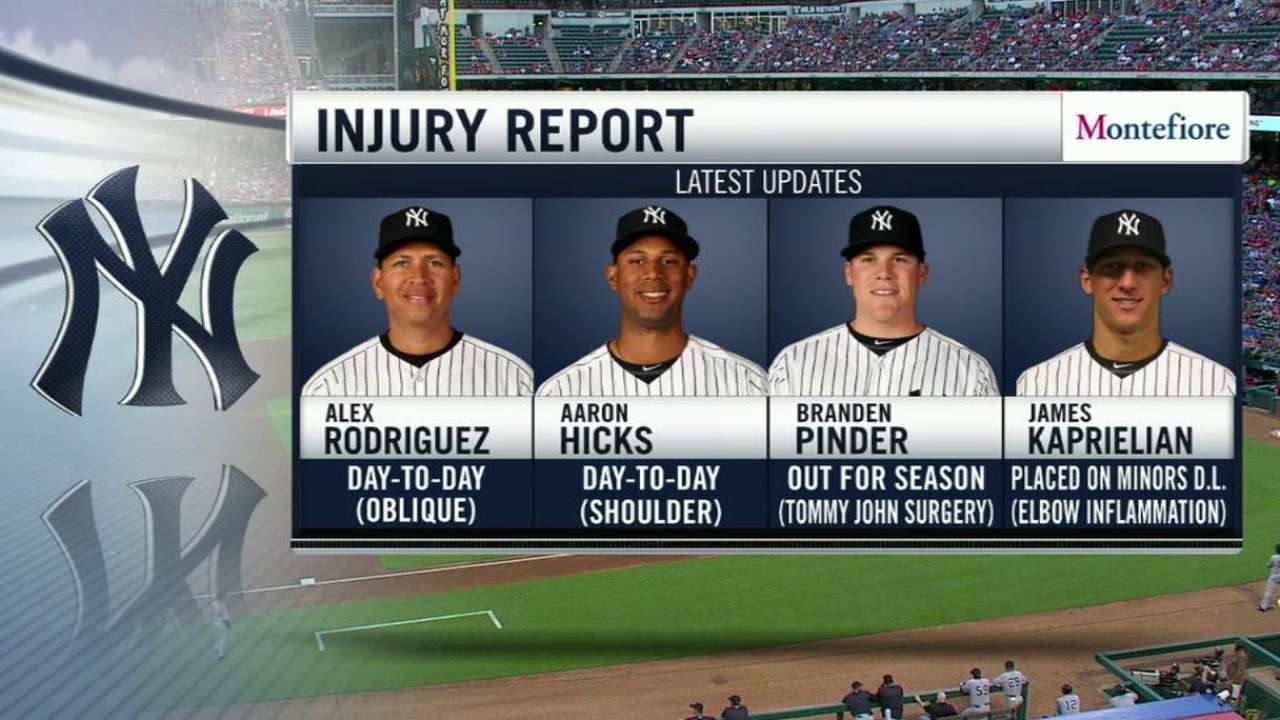 ARLINGTON -- The injuries sustained by Alex Rodriguez and Aaron Hicks over the past few days apparently aren't serious enough to warrant sending either to the disabled list, but both remained out of the starting lineup on Monday against the Rangers, leaving the Yankees with a thin two-man bench.
Rodriguez left Sunday's game in the sixth inning with soreness in his left oblique; Hicks has missed the past two games after injuring his left shoulder diving for a ball on Friday.
The 40-year-old Rodriguez was removed from Sunday's game after he felt something wrong in his left side and lower back while taking a warmup swing in the batting cage in preparation for his next at-bat. He said on Monday that being cautious was the prudent move.
"We just want to be extra careful," Rodriguez said. "Especially at my age, it was probably the smart thing to do. ... I think it was wise to stop when I did. Because it was practice and not the game, I was able to avoid major damage."
Rodriguez had an MRI after the game; results were negative. He could be back during the series vs. the Rangers and even told manager Joe Girardi that he might be able to pinch-hit on Monday.
"I feel good, I feel ready to go," he said.
The timeframe for Hicks' return is more uncertain -- he is mostly limited to mobility exercises, though Girardi said he threw before Monday's game. Hicks, too, is hopeful he'll be back soon, perhaps by this weekend.
"It's gradually getting better and better," Hicks said. "I'm able to do more stuff every day. ... I've been making pretty good progress."
Without Rodriguez and Hicks, Girardi had only catcher Brian McCann and infielder Ronald Torreyes available as substitutes on Monday night.
"I've done it before," Girardi said of having a two-man bench. "You know that you can't make as many moves, and you tell your guys not to get hurt."
Bombers bits
• With Hicks out and Carlos Beltran having started six consecutive days, Dustin Ackley made his first career start in right field on Monday night. The sixth-year veteran has started 235 games in left and center combined, but he had played in right only two innings over two games in his career prior to Monday.
"I've taken a lot of balls over the past week shagging in the outfield and batting practice," Ackley said. "That's made my comfort level a lot higher than it would have been."
• The Yankees acquired lefty specialist Phil Coke from the Atlantic League on Monday; Coke, who played his first two Major League seasons with the Yankees (2008-09), will report to Triple-A Scranton. Coke, 33, pitched for the Cubs and Blue Jays last season, totaling 12 2/3 innings over 18 appearances. He spent the previous five seasons with the Tigers.
• Right-handed prospect James Kaprielian has been placed on the high Class A Tampa disabled list with inflammation in his elbow after compiling a 1.50 ERA with 22 strikeouts in 18 innings.
"The MRI came out good for us -- we'll be cautious because we can," Girardi said. "He should be fine. Maybe you take a little bit longer than you would if he was in the big leagues and you needed to get him back in the rotation."
• First baseman Mark Teixeira ranks among the all-time leaders at Globe Life Park with 91 homers (tied for eighth), 94 doubles (ninth) and 312 RBIs (eighth). His .953 OPS in Arlington is the highest of any of the 16 ballparks in which he has played at least 16 games. Teixeira played for the Rangers from 2003 to 2007.
Dave Sessions is a contributor to MLB.com based in Arlington. This story was not subject to the approval of Major League Baseball or its clubs.