Hurdle pleased with 'pen in extra-inning victory
Bucs manager confident in guys throwing in high-leverage situations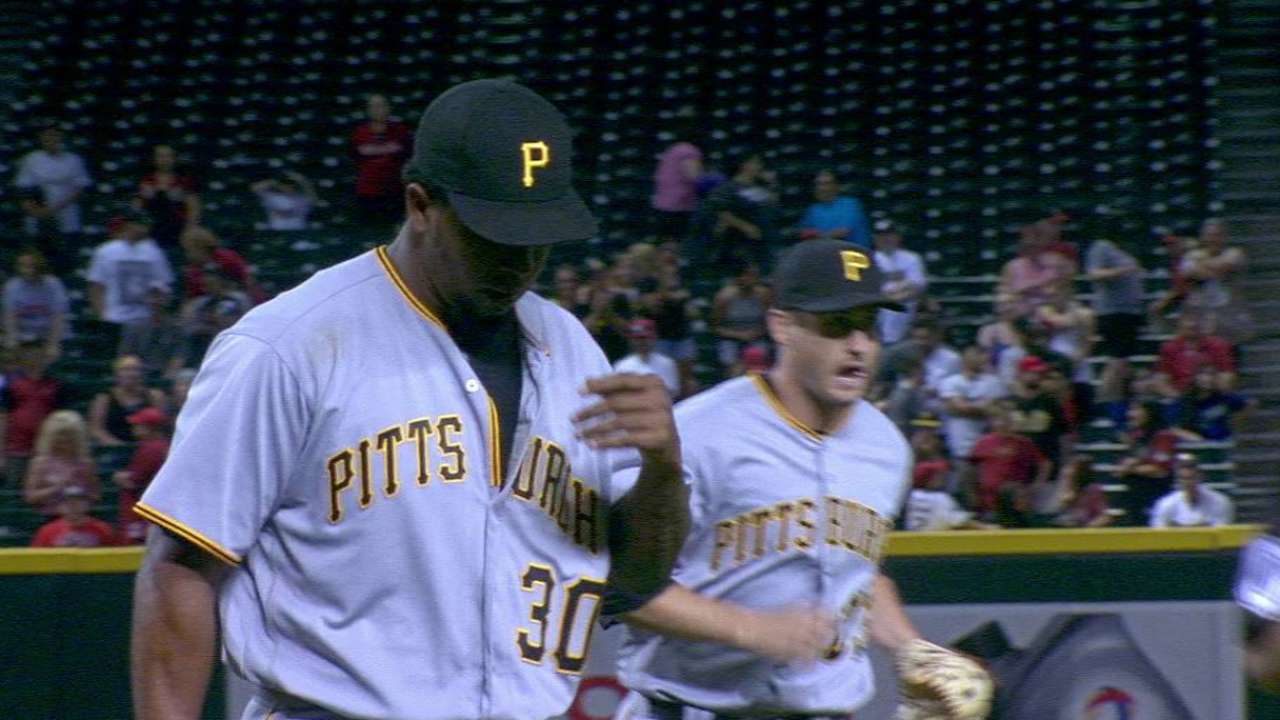 DENVER -- The Pirates used six of their eight relievers in a 13-inning game against the D-backs on Sunday, and though it looked like a hiccup for the 'pen to give up six runs in seven innings, manager Clint Hurdle was happy with the job his relievers did on the way to a 12-10 victory.
"I was proud of [Neftali] Feliz yesterday and proud of [Mark] Melancon, [Kyle] Lobstein as well," Hurdle said before Monday's series opener against the Rockies. "Thirteen times, we pitched yesterday with the [potential] winning run in scoring position and shut them down. Those opportunities are the ones you're proud of. Sure the game got away from us, the game got tied, but we didn't lose the game at the end of the day."
Melancon entered Monday with four saves in nine appearances with a 3.12 ERA, eight strikeouts and no walks. He blew his first save opportunity of the season on Sunday when Paul Goldschmidt hit a two-run homer in the ninth.
"Mark Melancon didn't get a save yesterday," Hurdle said. "Are you going to not give him the ball today in a save situation? No. He's going to look at the pitches and say, 'I left the ball up. Move on.' [Tony] Watson, the base hit that scored the other run -- up over the plate. Move on. They've got enough experience at doing it right, they've got enough tape about what they were doing, doing it right. The biggest thing I can do is continue to give them the ball, show the confidence in them to put them back into those good opportunities that they've all had in the past."
The bullpen has been a strength, with the Bucs going 8-0 when leading after six or seven innings and 9-0 when leading after eight entering Monday. Sunday's game resulted in some elevated ERAs and a couple blown saves added to individual tallies, but the ultimate result was another Pirates win.
"I want to give them every opportunity to prove to themselves that they're going to be resilient, that they're going to have a hiccup here and there," Hurdle said. "They're going to not get things done every once in a while, and that's not the end of the opportunity."
Hurdle's preliminary report was that Lobstein (two innings on Sunday) and Feliz (appearing in three of four games) would be unavailable for Monday's series opener at Coors Field.
Outfielder Andrew McCutchen was out of the lineup on Monday, missing his first start of the season.
"He's the only one who hadn't sat out a game yet, so I said, 'Let's do that," Hurdle said.
McCutchen entered Monday batting .213 (12-for-75) and was 1-for-6 with four strikeouts on Sunday.
"I thought it was a real good day to give him a day, given yesterday," Hurdle said. "The length of time. All of it."
Owen Perkins is a contributor to MLB.com based in Denver. This story was not subject to the approval of Major League Baseball or its clubs.