Arenado having walks competition with CarGo
Rox third baseman having fun with his teammate after career-high 3 on Sunday
DENVER -- Rockies third baseman Nolan Arenado couldn't have thought it possible that he'd receive so much attention for not swinging.
Sundays' 12-10 loss to the Dodgers was crazy in many respects, one of which was Arenado's career-high three unintentional walks in a game. He has nine walks this season -- a height he didn't reach last year until May 26. Of course, you don't get runs for walks, and Arenado did well enough at the things that put runs on the board -- 42 home runs and 130 RBIs. In the eyes of some stat-oriented folks, the fact Arenado doesn't walk much downgrades him.
Although the interest in his walks elicited a bemused eye-roll and a sardonic, "Great topic," Arenado had fun with the subject, and with teammate Carlos Gonzalez.
"The great part about it is my whole goal in walking is to beat CarGo in walks," Arenado said. "He's mad at me. He makes fun of me about how I never walk, so all I want to do is beat him this year. I go up to him and go, 'I've got nine now.'"
Gonzalez screamed in mock agony when it was noted that he had just five going into Monday's game against the Pirates. "He's beating me by four right now," Gonzalez said.
In all seriousness, Arenado's approach is one that errs on the side of aggression, so he'll never look to walk. But the elevated early walks and low strikeouts (five) could be read as positives.
"I'm not making the greatest contact I'd like as a hitter, but I'm seeing the ball well," said Arenado, who, by the way, entered with seven homers. "I'm laying off pitches that in the past I would swing at. I'm being patient and waiting on my pitches, but I've got to take advantage when they make mistakes.
"I struck out a lot last year. But I'll definitely take the strikeouts with the production. Last year, I started off with fewer strikeouts in April, then that went away."
The early numbers are not the result of some attempt to raise his walk rate for rate's sake, but a sign of greater experience for a fourth-year player. Arenado has shown he can hit the inside pitch out of the park, but this year, he has been laying off some pitches designed to go so far inside that he can't hit them.
"I know who I am as a hitter," Arenado said. "I don't know what the pitcher is going to do, but I have an idea of what he's trying to do to me."
Gonzalez, who hit 40 home runs and had 97 RBIs last year after a slow start, likes the idea of competition with Arenado.
"I'm not a walker ... I wish I was," Gonzalez said. "But I've got five. This year, we try to push ourselves, like we always do.
"I've got work to do."
Worth noting
• Gonzalez accidentally clipped a 7-year-old girl in the stands with his shoe when he flipped into the stands while unsuccessfully going for a ninth-inning foul popup.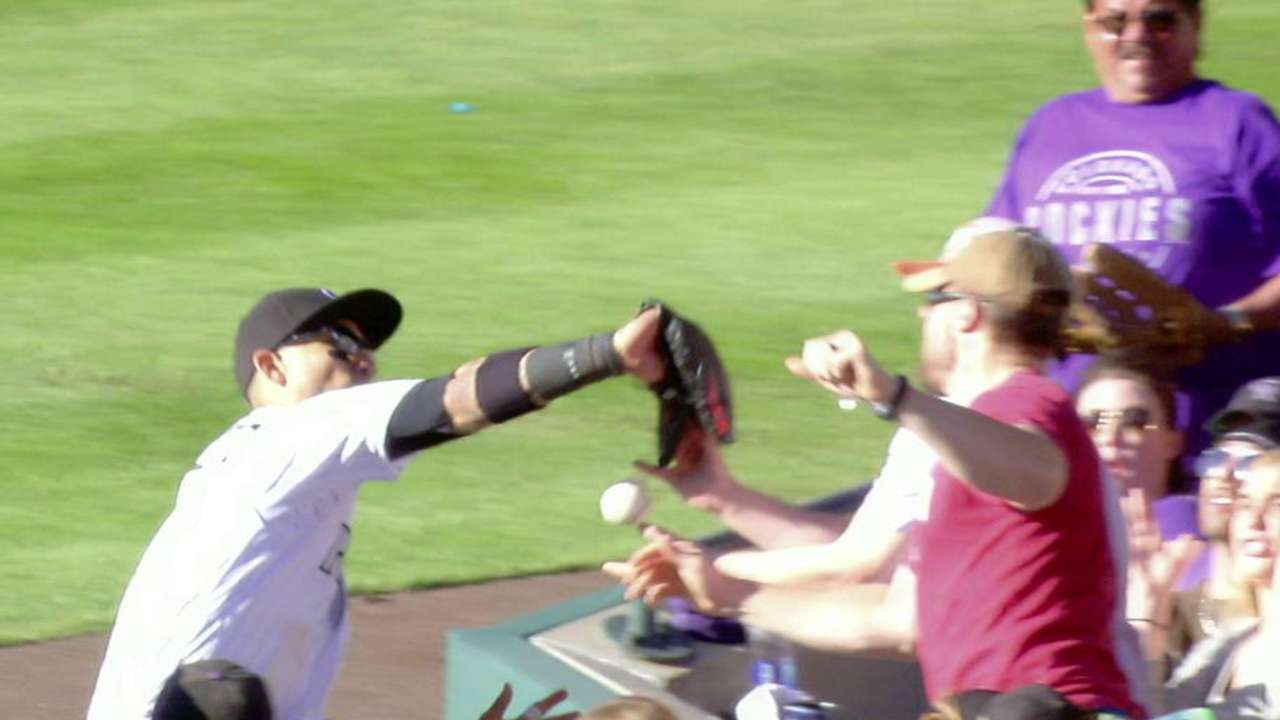 "They said she had a couple of stitches in her forehead, but she's doing good, so I'm planning on having her soon over here and I have a little surprise for her," Gonzalez said, smiling.
"I couldn't stop thinking about her. Even right after that play, I still have three outs left, but it was hard for me to concentrate because I saw her bleeding. She's little. She's only 7. I have daughters and I know how difficult it is to see a little princess bleed. The organization did a tremendous job. They gave me an update. I wanted to know how everything was."
Thomas Harding has covered the Rockies since 2000, and for MLB.com since 2002. Follow him on Twitter @harding_at_mlb, listen to podcasts and like his Facebook page. This story was not subject to the approval of Major League Baseball or its clubs.