Papi likely won't start in short Atlanta series
After long night, Farrell giving 40-year-old DH a break during two-game set in NL park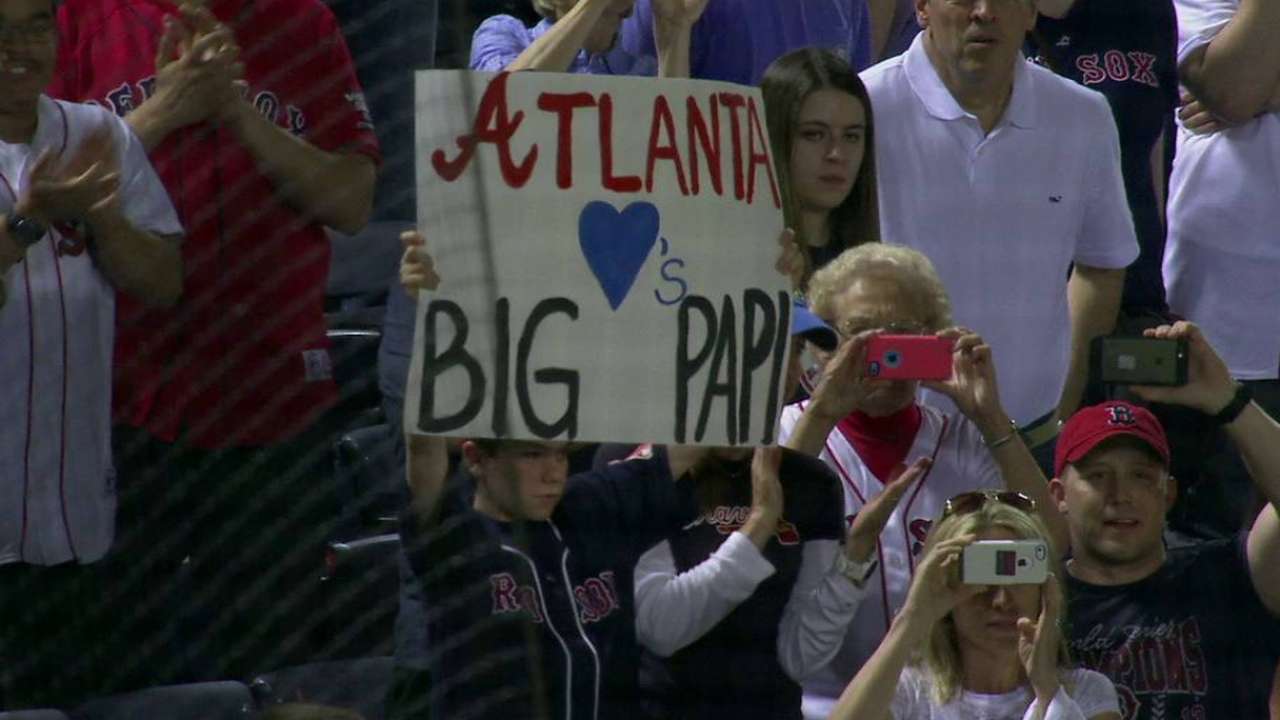 ATLANTA -- The Red Sox arrived to their hotel at 5:30 a.m. ET on Monday morning following Sunday night's 12-inning win in Houston, prompting manager John Farrell to adjust accordingly.
The main cause and effect? David Ortiz was out of the lineup for Monday night's series opener, and he isn't likely to start on Tuesday either. There is no designated hitter for the two games in Atlanta, and Hanley Ramirez -- who didn't start on Monday either -- is projected to play first base on Tuesday.
Ortiz typically starts at least one game at first base in National League parks, but the taxing schedule led Farrell to handle the situation differently this time for his 40-year-old slugger.
"Hanley had been in every game, and we were trying to find a spot for him," said Farrell. "David as well. Just trying to keep everybody involved and get some fresh legs on the field today. That's a difficult travel schedule and went with the lineup we've got tonight."
Farrell also canceled on-field batting practice and didn't arrange for any team bus to leave the hotel before 3 p.m.
When Farrell arrived to Turner Field at noon, the one player who walked in with him was second baseman Dustin Pedroia, who can hardly ever resist getting to the ballpark six or seven hours before a game.
In this particular case, Farrell was pleased Pedroia was the only player who decided to arrive so early.
"Just tried to give guys an ample amount of sleep and not make guys feel like they have to be here," Farrell said. "Typically guys are in here at noon, but we needed to use some common sense, push the day back and condense as much as possible."
Ian Browne has covered the Red Sox for MLB.com since 2002. Read his blog, Brownie Points, and follow him on Twitter @IanMBrowne. This story was not subject to the approval of Major League Baseball or its clubs.