Prospect Triggs thrilled about callup, debut
Righty reliever throws perfect eighth in A's loss to the Tigers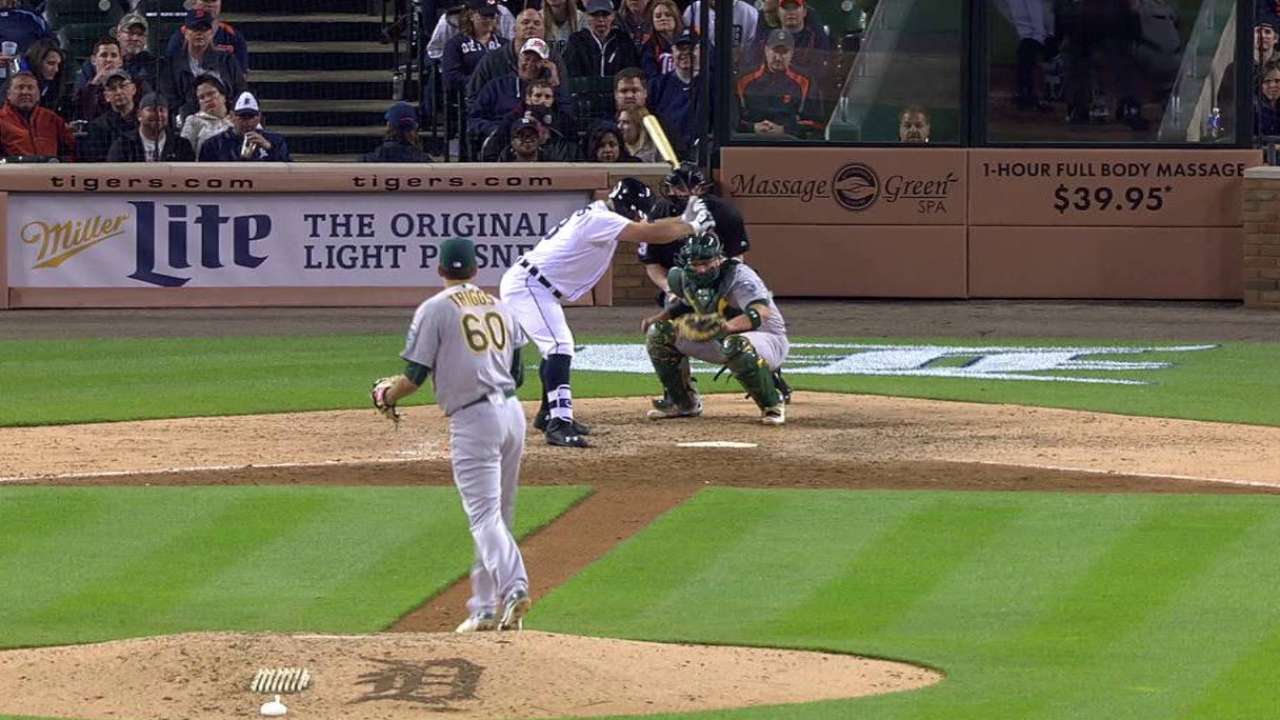 DETROIT -- On Sunday, Andrew Triggs got called into the office of Triple-A Nashville Sounds manager Steve Scarsone and was told he'd broken a walkie-talkie. Triggs was confused, until Scarsone said his next sentence.
"You broke the walkie-talkie. You have to go buy a new one in Detroit."
That's how Triggs, 27, was informed he was getting his first callup to the Majors to join the A's bullpen after the club optioned lefty Eric Surkamp to Nashville. Triggs pitched a perfect eighth inning in his Major League debut, a 7-3 A's loss to the Tigers.
Triggs threw 14 pitches, including 10 strikes, and recorded one strikeout.
"It was nice to get it out of the way," he said. "I was throwing strikes with all my pitches, maybe too good of strikes with the breaking ball, but I was attacking with the fastball.
The right-hander has been a part of the Royals, Orioles and A's organizations over the past 13 months. The A's acquired him off waivers in Spring Training and immediately optioned him down with the first cuts, so he wasn't very familiar with his new teammates. Manager Bob Melvin said the big league staff hadn't seen him throw yet, and Melvin hadn't met him until Monday.
But Triggs said the bouncing around hasn't been hard.
"Nah. In baseball, there's no more than one degree of separation with almost everybody," he said. "You're used to moving around and making friends all over the place. It's baseball."
He allowed six hits and four earned runs in seven innings of relief for the Sounds, along with nine strikeouts, three walks and two hit batters. MLBPipeline.com has him ranked as the A's No. 29 prospect.
"It was good to see, good to get him in a game," Melvin said after Monday's performance. "He gets here, gets in a game, has a clean inning. Obviously there's going to be some nerves your first time out, but you go out there and have a nice clean inning, not only is it a night you remember, it gives you some confidence going forward."
Triggs is from Nashville, and his parents flew up to Detroit to catch Monday's game, with his dad canceling a work engagement. It might not be a long stint if the A's decide to bring Jesse Hahn up later this week for the rotation, but Triggs hopes to give similar performances. He was given the balls from his first pitch and his first strikeout after the game.
"It was pretty thrilling," he said. "I don't know if I have words for it. It was obviously a once-in-a-lifetime experience. I'm hopeful to get the opportunity a few more times."
Chris Vannini is a contributor to MLB.com based in Detroit. This story was not subject to the approval of Major League Baseball or its clubs.